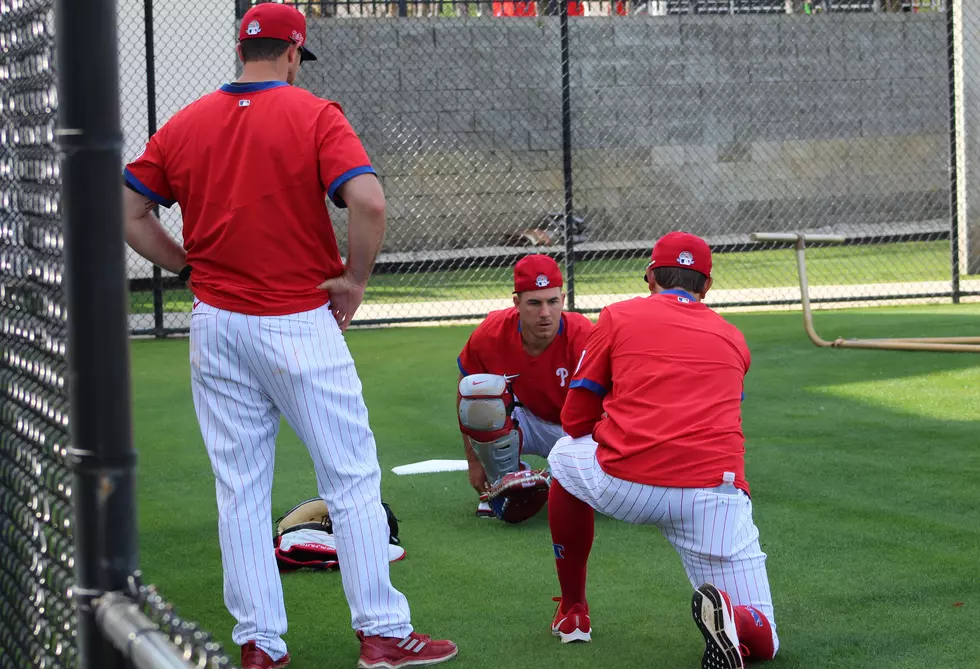 Realmuto Playing Hardball Should Be No Surprise to the Phillies
J.T. Reamuto does drills with catching coaches Bob Stumpo and Greg Brodzinski (Frank Klose/Sports Talk Philly)
The headlines have gone in multiple directions the last couple of days surrounding catcher J.T. Realmuto and the chances of the Phillies signing a contract extension with their backstop.  Some have suggested he's a lock for free agency, with NBC Washington already exploring Realmuto as an option for the Nationals.  Others have highlighted Realmuto's own words stating that he "loves" Philadelphia.   But the fact remains that Realmuto is about to start the 2020 season and is not signed.  That should not be a surprise.
Enter your number to get our free mobile app
Let us consider the situation that brought Realmuto to the Phillies in the first place.
Of course, Realmuto went nowhere in the 2017-2018 offseason. With three years left on his rookie deal, Realmuto was in no place to demand a trade.  Even though the Marlins had traded 
Giancarlo Stanton and 
Christian Yelich, the latest Marlins rebuild would have included Realmuto.  But Realmuto's agent, Jeff Berry, continued to agitate the Marlins. Then came the 2018 trade deadline.  Rumors swirled around Realmuto, perhaps due to his agent's pressure.  Ultimately, Realmuto stayed in Miami. The following offseason, Berry started putting the
"J.T. has informed the Marlins' ownership, he's informed their front office, he's not going to sign an extension in Miami," agent Jeff Berry told MLB Network Radio. "It makes sense, when you have one of the more valuable trade assets in baseball, to move him. Period."
Berry even did the radio circuit to publicly put pressure on the Marlins to trade Realmuto:
The pressure finally ended the week before pitchers and catchers were to report to Spring Training.
So should anyone be surprised he is doing the same with the Phillies right now?  Did the Phillies think that Realmuto's agent was only going to be tough against the Marlins?  That a club like the Phillies would be one that he would negotiate a deal with?
Berry calls the compensation for catchers "outdated".  Realmuto has called the business with the Phillies "not personal".  So no matter how much Realmuto loves Philadelphia, Berry and Realmuto seem to be a on a mission: set a new precedent for catchers.
To do that, they'll likely test free agency.  It should not be a surprise to the Phillies or anyone else.
KEEP READING: Phillies Major Award Winners Since 1980