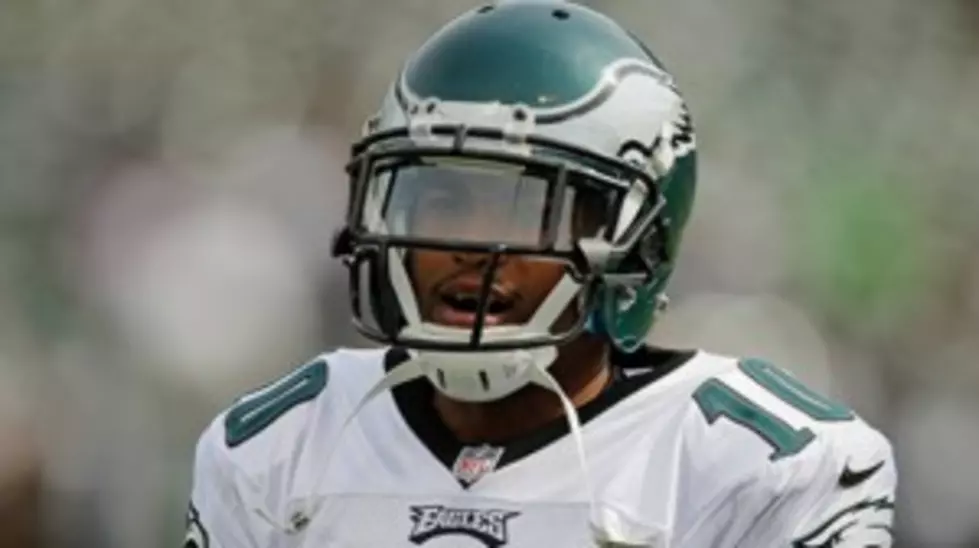 Redskins Land DeSean Jackson with 3-Year Deal
Redskins agreed to terms with WR DeSean Jackson, formerly of the Eagles, on a three-year contract. (Getty Images)
The Redskins have agreed to terms with wide receiver DeSean Jackson, formerly of the Eagles, on a three-year contract. Jackson had left Redskins Park earlier in the day, but planed to stay in town with hopes of striking a deal - tonight he got that deal.
Jackson spent about three hours at the Redskins facility Tuesday afternoon. This was after he arrived in town on Monday.
Jackson has drawn interest from at least eight teams since being released by the Eagles, but ended up signing with the team he made his first official visit with.
On March 28, the released Jackson, as speculation began that the team was becoming very concerned about Jackson's pattern of behavior away from the football field. According to reports, Jackson became a problem with missing team meetings, and the Eagles reportedly believe his friends were becoming a powerful, negative influence.
On Friday of last week, the Newark Star-Ledger reported Jackson's off-field behavior, particularly his connection to a Los Angeles street gang, was the Eagles' chief concern and main reason they released him.
However, was that the real reason Jackson is playing for one of the Eagles main rivals today?
Many have suggested that the Eagles simply didn't want to pay Jackson the $10.7 million price tag that was attached to him in Philadelphia. Others believe that he and head coach Chip Kelly simply didn't see eye-to-eye and that if Kelly wanted Jackson in Philly, he would still be an Eagle today.
Instead he is heading to the nation's capital, to play with Robert Griffin III and Pierre Garcon to give the Redskins offense a huge weapon in the pass game under new head coach Jay Gruden.
Will this move come back to hunt the Eagles?
The Eagles did not release Jackson because of his on-field production. He's coming off an 82-catch, 1,332-yard season and nine touchdowns.
How will this effect Kelly's offense?
How will this effect Riley Cooper, LeSean McCoy and most importantly Nick Foles?
Jackson took a tremendous amount of pressure off the other players and gave them much more room to work with due in large part to his big-play ability.
Regardless, the answer to the above questions, this could end up being a defining decision for Chip Kelly, one that he will forever be remembered for if it doesn't work out and if Jackson comes back to burn Kelly's Eagles twice a year for the next three seasons.
In the end, time will tell.