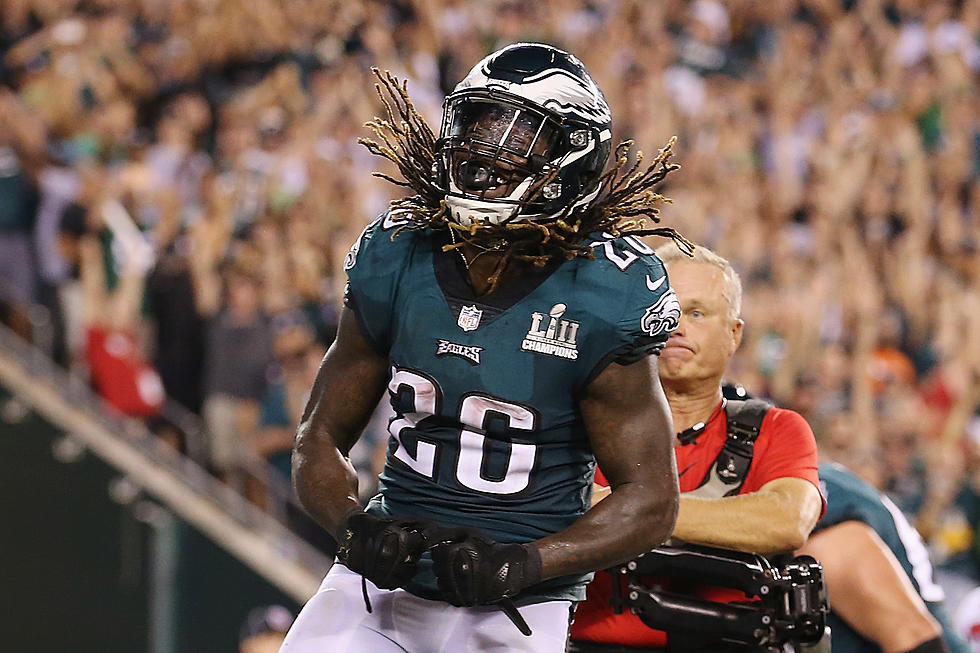 Rehab Leads to 'Family' Reunion for Ajayi
(Photo by Mitchell Leff/Getty Images)
PHILADELPHIA (973espn.com) - It took 13 months but Jay Ajayi is back with family after agreeing to return to Philadelphia for the rest of the 2019 season.
A Super Bowl LII hero, Ajayi's 2018 campaign was cut short in October when he tore his ACL and his time with the Eagles was thought to be over with an expiring contract.
There was no hurry for other teams when it came to Ajayi, 26, because he wasn't fully cleared until August and didn't feel like himself until a full calendar year after the injury. It was then that Ajayi started to take workouts with teams like Arizona and Detroit.
The Boise State product got good feedback but no offers until the Eagles interest was generated by a season-ending torn hip flexor to Darren Sproles as well as a shoulder stinger to lead back Jordan Howard.
It was a whirlwind for Ajayi, who was contacted last Thursday night, flew in for a workout and physical before signing Friday and was on the field at the NovaCare Complex for a walkthrough on Saturday. Just over 24 hours later he was dressed for the New England Patriots but only in case of emergency.
"Once I was in the building, just to see all the people, my old teammates, and everyone was kind of excited to see me," Ajayi said when asked about his return to South Philadelphia. "Even the people in the cafeteria, the staff members, it was like family being here. I was here when we did something special, so the memories and everything, those will last forever, and those relationships will as well. So it's just a blessing to still have that positive reaction when I came back."
Ajayi was a little closer to playing against the Pats than most realized because Miles Sanders was forced to the sideline for a couple of series with a head injury but once the rookie was cleared, Ajayi's second stint in Philly was delayed for a week.
"I think it was just the coaches' decision at the end of the day," Ajayi said. "I just got in on Friday, maybe they wanted to see a week in practice. There was nothing wrong with me, so just staying ready."
Rehabbing the torn ACL was not always easy for the former Pro Bowl selection, who would stay away from the television on Sunday afternoons, cognizant of what he was missing.
"I knew my competitiveness would get me kind of upset that I wasn't playing yet," Ajayi said. "I tried to keep my mind on other things throughout the whole process and just staying on my training."
As for the future, the Eagles included a right of first refusal in Ajayi's contract, something that will essentially make him a restricted free agent in the spring with Howie Roseman reserving the right to match any offer the running back might get on the open market.
-John McMullen covers the Eagles and the NFL for 973espn.com. You can reach him at jmcmullen44@gmail.com or on Twitter @JFMcMullen