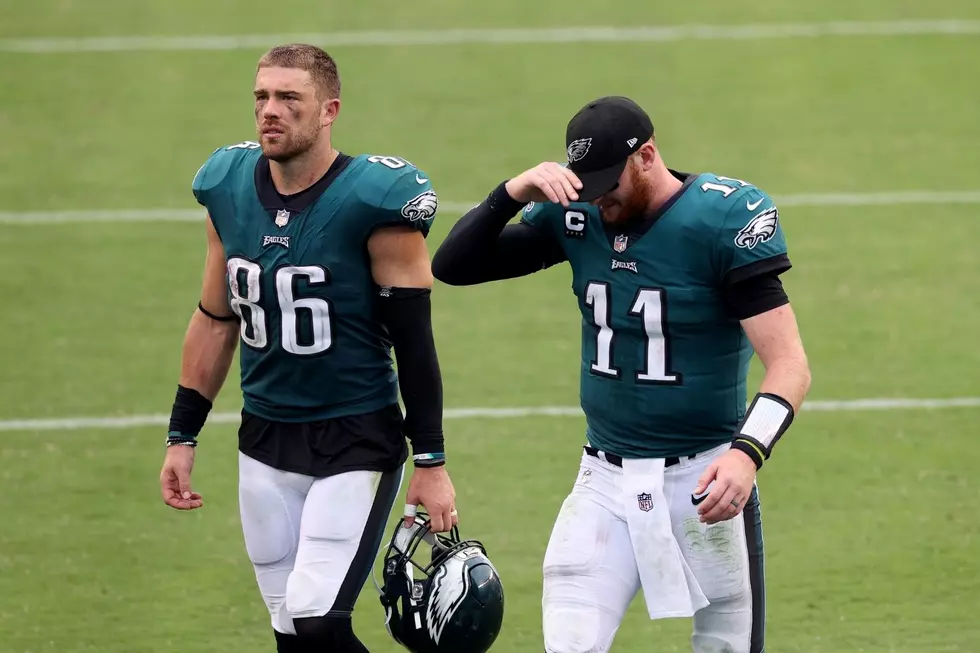 Report: Eagles Talking to a Pair of Teams About Trading Zach Ertz
(Photo by Rob Carr/Getty Images)
Its no secret the Eagles desire to part ways with Carson Wentz, but he's not the only big name the team is looking to move this offseason.
Tight end Zach Ertz, the former second-round pick, who has been with the team since 2013, is the teams all-time leading receiver at the position. Like Wentz, he is also likely to be traded.
This all started back before the season began when Ertz asked for a contract extension but the Eagles weren't willing to negotiate with their all-pro tight end. However, after an injury filled season where he caught just 36 passes for 336 yards and one score, the team appears ready to move him.
Two teams that could be in play, according to Ed Kradcz of Sports Illustrated's Eagles Maven, the Colts and Seahawks.
An NFL source said that the Eagles have had conversations about Ertz with the Seattle Seahawks and Indianapolis Colts.
Sending Ertz to Seattle would have him replace Greg Olsen, who the team signed last season.  He retired this offseason after a disappointing season in Seattle. Sending him to the Colts would reunite him with Frank Reich.
Kracz suggests that the Eagles could trade Ertz and Wentz together in a package, but that it seems unlikely.  However, a deal that involves just Ertz would fetch not much more than a fourth-round pick.
One other scenario that the writer suggests is that the team could package Ertz with a player like Andre Dillard.  The former first-round pick could lose out to Jordan Mailata, who proved to be capable of playing the position, making Dillard an expendable trade piece.
Erz is a former First-Team All-Pro in 2018, a three-time Pro Bowler and the NFL single-season record holder for receptions by a tight end (116 in 2018).  Now at 30-years of age, he might be finally showing signs of slowing down.
The Eagles entered 2020 with both Ertz and Dallas Goedert, but its likely that the team will start to build the offense with Goedert and try to find a way to move Ertz.
Eagles First Round Draft Pick Busts