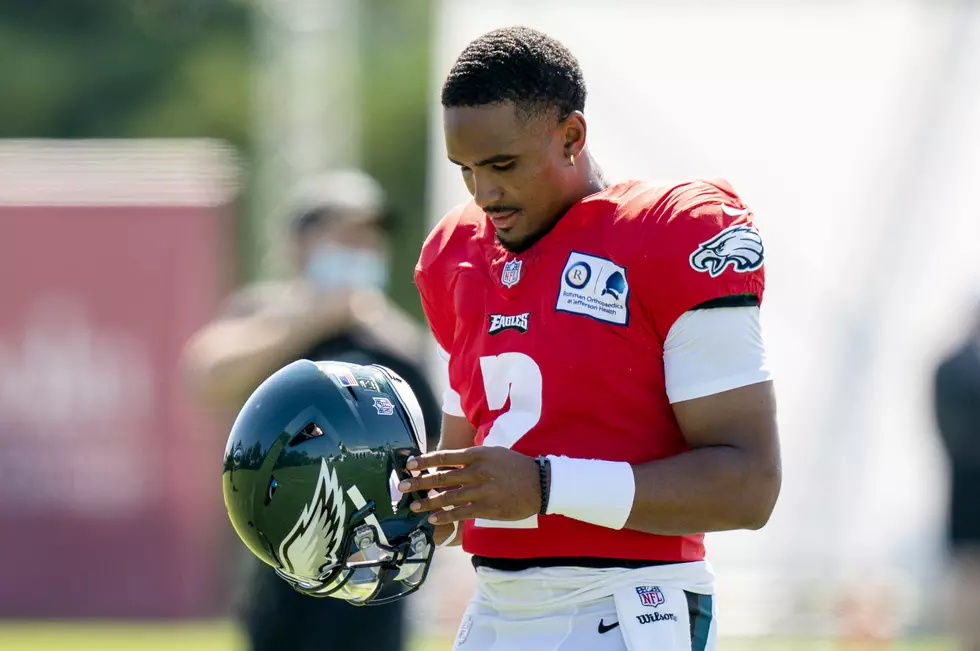 Report: Jalen Hurts to Receive Increased Playing Time
Getty Images
Its been no secret that Carson Wentz has struggled this season.
The fifth-year quarterback has thrown 14 touchdowns and 14 interceptions, along with 10 fumbles, losing four.
"He knows, just like I know, that things aren't going the way we had hoped for," said Eagles head coach Doug Pederson on Saturday. "He and I are in this together. We're going to get this thing turned around and fixed. Got a lot of confidence in him that he'll get it done. Got confidence in myself that I can get it done."
While Wentz will start and receive most of the playing time on Monday night against the Seattle Seahawks, his playing time will reported to see a hit.  According to NFL Network reporter Ian Rapoport, rookie second-round pick Jalen Hurts will see increased playing time in the game.
Jalen Hurts is expected to receive increased playing time at quarterback, and unlike on previous snaps, Wentz won't be on the field. It will be the first time in 2020 that this dynamic will take place.
In very limited play this season, Hurts has 12 carries for 56 yards, one catch for three yards and 2-of-2 passing for 27 yards.
"I've seen great leadership, great poise," Eagles head coach Doug Pederson said. "Obviously, he works extremely hard, working with the young guys after practice, things that he's done all season."
"He's had a really good week of practice."
The interesting part of this situation is - what if Hurts gets some extended play, and plays well. The Eagles have so much invested in Wentz, do they even want to see Hurts play well and put a major decision on their plate.
Releasing Wentz is not an option, he has a huge dead cap number, making it virtually impossible and irrational. So what if Hurts moves the ball well, and the offense looks fluid and more creative with Hurts at the controls.