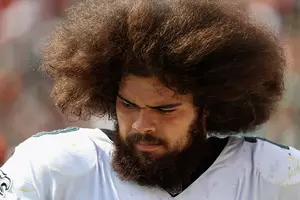 Seumalo is Set to Return at LG
(Photo by Rob Carr/Getty Images)
PHILADELPHIA (973espn.com) - The Eagles feel they are a better football team with Isaac Seumalo at left guard and that hasn't changed despite veteran Stefen Wisniewski doing a solid job over the past three weeks while Seumalo was nursing a pec injury.
Seumalo is close to returning and was taking the first-team reps at LG at the portion of practice open to the media on Thursday, a clear indication he's the likely starter in Chicago on Sunday as Philadelphia ramps up to handle perhaps the most dangerous defensive front in football.
"He's doing good. He's doing better, improving each day," coach Doug Pederson said Friday before practice. "We have to get through obviously a full day today if we can with him and see where he's at at the end of the day."
While Khalil Mack gets most of the publicity on the edge of Vic Fangio's 3-4 defense, interior option Akiem Hicks has been every bit as dominant and it certainly seems like the Eagles want as much athleticism on the line as possible against the Bears.
Seumalo and Wisniewski have ping-ponged the position over the oast two years with Seumalo beginning the 2017 season as the starter before ultimately being benched, first for Chance Warmack and then for Wiz, who was the starter through the Super Bowl LII victory over New England.
Wisniewski opened the 2018 season as the guy before being benched for Seumalo after four games, a decision Wisniewski did not necessarily agree with. After Seumalo injured his pec at Dallas on Dec. 9, Wisniewski again took over for the past three games as Philadelphia closed out the regular season as a three-game winning streak.
According to ProFootballFocus.com, Seumalo has graded out as the better player this season, as No. 35 of the 79 guards who played enough to be graded this season. Wisniewski is No. 58. Pro Bowl right guard Brandon Brooks is No. 7.
A team source, meanwhile, indicated that Seumalo's size, length, and athleticism makes him the preferred option even if Wisniewski may be the safer one.
"The biggest thing is the fact -- the health of Isaac," Pederson said. "I have to make sure he's 100 percent. I don't want to risk anything further with him if we made that move."
-John McMullen covers the Eagles and the NFL for 973espn.com. You can reach him at jmcmullen44@gmail.com or on Twitter @JFMcMullen