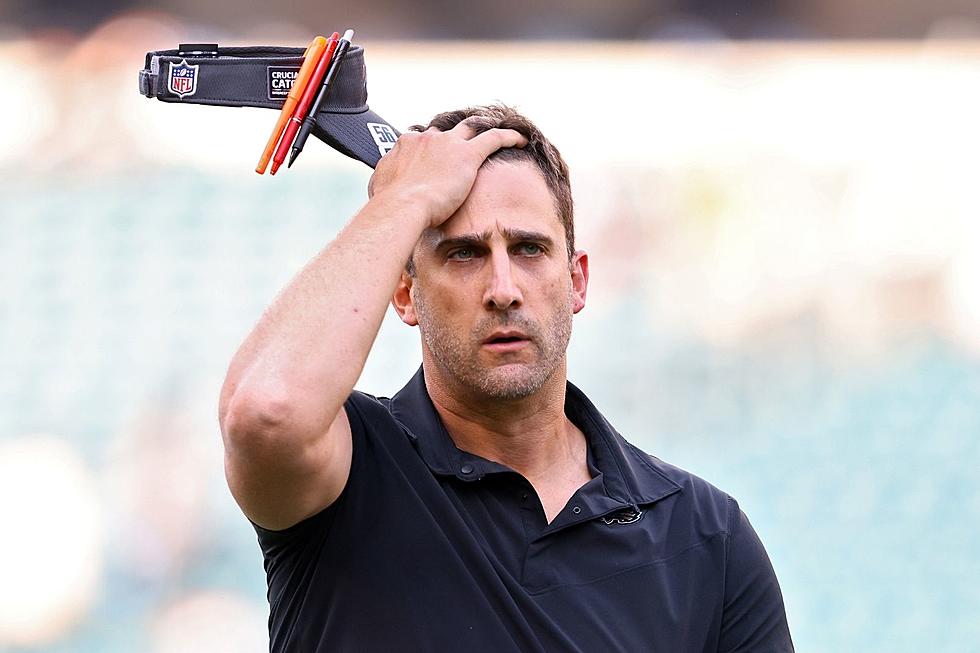 Sirianni and Hurts did their job but Penalties still doom Eagles
(Photo by Mitchell Leff/Getty Images)
One of the mantras of the early months for this offseason from Eagles Head Coach Nick Sirianni was that the Eagles want to be "One Percent Better" every day while Jalen Hurts has become famous for his "Rent is Due" every day. In Sunday's loss to the Kansas City Chiefs, the Eagles fans at Lincoln Financial Field saw both men finally fulfill those mantras and keep their promise to be better than the Monday Night Football embarrassment.
The Offensive Gameplan and play calling from Nick Sirianni was a stark improvement from the last two weeks as the Eagles Offense got back to having some balance on offense with more production from the Running Backs and Tight Ends. We saw Miles Sanders and Kenneth Gainwell combine for 136 Total Yards while Zach Ertz and Dallas Goedert combined for 11 catches for 116 Receiving Yards.
We also saw Jalen Hurts bounce back from a frustrating performance versus the Cowboys and underwhelming play versus the 49ers to have one of the best games of his short NFL career. In his eighth NFL start, the 23-year-old Quarterback had the most Passing Yards in a game (387) while throwing for at least two Touchdowns and no Interceptions for the third time in eight starts. By comparison, that's more two touchdown and no interception games in his first eight NFL starts than Peyton Manning, Russell Wilson, Lamar Jackson, Ben Roethlisberger, and Aaron Rodgers. Now I'm not saying Hurts is going to be as good or better than those QBs but Hurts playing better than some people want to give him credit for and his teammates believe in him at a level that was missing when Carson Wentz was under center last year.
The problem for the Philadelphia Eagles still comes down to the Penalties as this is the fourth straight game with at least 8 penalties and on Sunday's game we saw Penalties wipe out Touchdowns. How different does that game play out if JJ Arcega-Whiteside didn't commit that unnecessary stiff arm on the Zach Ertz touchdown catch that was nullified due to JJAW being flagged for a Penalty??
The Eagles have now committed 44 Penalties this season which accounts for 281 Penalty Yards. People can point to injuries on both sides of the ball all they want but I cannot get over the reality that there is a serious lack of discipline by these players on the field. Against the Chiefs, you saw the team play without four starters on the offensive line that was there for Week One and the Eagles are without the "Heart and Soul" of the Birds' Defense Brandon Graham. But being without those players is not an excuse to commit mental errors and make unnecessary mistakes; being without starters means you have to get back to basics and be more focused on the fundamentals.
Last year the Eagles Offense struggled to score, averaging 20.9 Points Per game and their season-high was 29 Points versus the Steelers in Week Five. The 2021 season has been a different story with Sirianni's Offense scoring at least 30 Points twice in four weeks. After NFL Week 4 Sunday Games, Jalen Hurts is eighth in the NFL in Passing Yards (1,167) and Rookie Devonta Smith had his first 100 Receiving Yard game in Sunday's loss while Miles Sanders and Kenneth Gainwell have combined for 472 Total Yards in four games.
So the Eagles Offense has talent and when Nick Sirianni calls a solid game plan, they can score points any week in the NFL. But the plethora of Penalties is self-destructive and there are serious questions about the Eagles Defense that has now allowed a combined 83 points the last two weeks after allowing just a total of 23 Points the first two weeks of the season. But the question I have about the Eagles Defense is how much do we criticize them when they allow 42 points to one of the best Offenses in the NFL today and how many of those Points were scored because penalties put the Chiefs in a position to be more successful?
At the end of the day, I have to give Nick Sirianni and Jalen Hurts credit for taking responsibility for the embarrassing Cowboys loss than actually being better versus the Chiefs. The Eagles must get better at cutting out the unacceptable penalties if they have any chances to win any games this season but we know they can be better because Sirianni and Hurts showed you that being "One Percent Better" each day is possible. So what is the rest of the team's excuse?
Eagles vs Kansas City Chiefs, Sunday Oct 3 2021