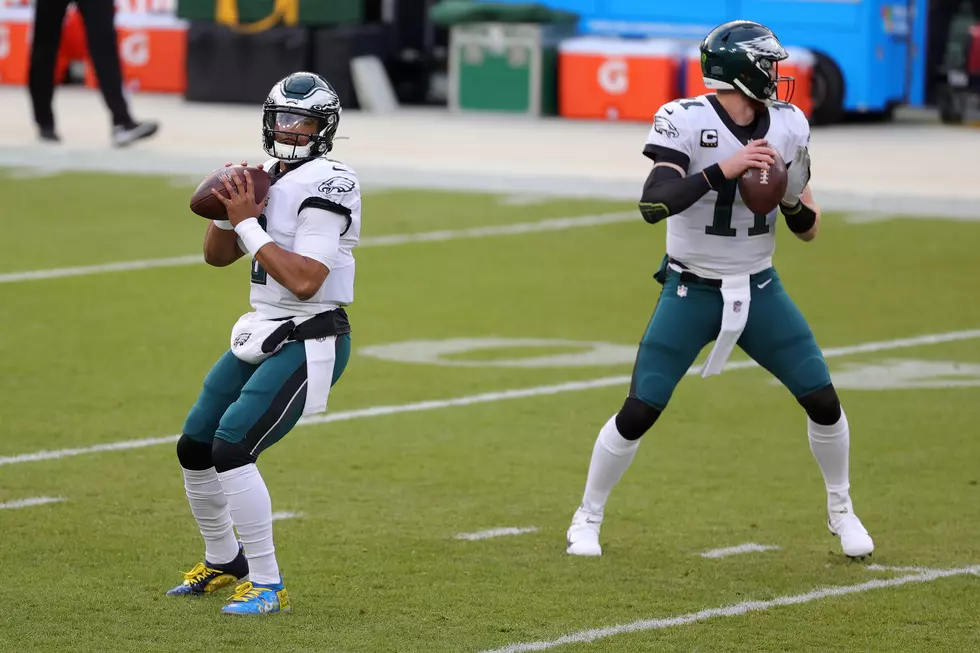 Sirianni Discusses Eagles QB Situation, Will Call Plays
Getty Images
New Eagles head coach Nick Sirianni made his first official appearance as leader the leader of the franchise.
In Sirianni, the Philadelphia Eagles hope they found their next great head coach.
Ever since the Los Angles Rams hired Sean McVay in 2017, NFL teams have been looking to find the next young innovated mind and the Eagles are hoping Sirianni is that.
However, Sirianni walks right into a quarterback conundrum, with Carson Wentz having his worst season as a professional, and 2020 second-round pick Jalen Hurts also on the roster, the new coach will have to make a very difficult decision at the most important position.
But on Friday he gave no indication which way he was leaning.
"We have two quarterbacks in Carson Wentz and Jalen Hurts that are top-notch," said Sirianni, They're top-notch quarterbacks. A lot of teams don't have any. Just really excited to work with both of them."
I'm not ready to say that either way yet," Sirianni continued when asked if there would be an open competition at quarterback if both quarterbacks return. 
We're just evaluating our players, evaluating every position. Every position, right? We don't know any of these guys really yet from what we've seen on tape so far because we haven't watched any.
Every position is going to be evaluated and every position is going to be open, I guess to say. We can't wait, again, to start watching the tape and seeing what our players can do."
While Sirianni wasn't ready to show his cards when it comes to the teams quarterback, he did revel that he would be the one calling the plays for whoever is under-center, not new offensive coordinator Shane Steichen, who will be a part of a collaboration on game day.
"When you call plays in the NFL, it's a collaboration, it's a collaboration of everybody," explained Sirianni. The hard work of how you call plays is Monday through Saturday. It's truly Monday through Saturday. Being in those meetings together, everybody being in the meetings together, thinking about the plays first, then taking that game plan and spelling it out to the quarterback and seeing what they like.
We've done that together as a staff in Indianapolis. We did that together as a staff in the San Diego Chargers. I'm more than ready and excited to call a game here."
So what will a Nick Sirianni offense look like?  While he has never called plays, he has been a part of putting together multiple styles of offense, with the multiple quarterback he has worked with, like Andrew Luck, Jacoby Brissett and Philip Rivers.
"We're going to be multiple. We can attack multiple ways," Sirianni said. I'll just use the example here from Indianapolis. We had Andrew Luck as our quarterback. That followed up with Jacoby Brissett as our quarterback then Philip Rivers as our quarterback. Those three teams looked different. They were all different in their own ways of how we attacked defenses and how we played the game.
It's an ever-changing offensive philosophy. Sure, we have our core plays in place that we want to do, that we want to be good at, because that's what we do. But a lot of it is going to depend on our personnel and utilizing our personnel to their strengths and their weaknesses."
The Eagles personnel might have a different look in 2021, with questions all over the field.  The team will certainly have a new look on the offensive line. The wide receiving core mat also have a different look and the team likely will have to replace their all-time receiving leader at tight end, in Zach Ertz.
Heck, they might even have to replace Wentz.
"I can't answer that," said Sirianni. Again, evaluating everything. Evaluating everything. Again, there's a lot of things to go through. Evaluating everything."
Well starting now the fans are evaluating you.
Good luck coach.
Eagles Head Coaching Wins All-Time