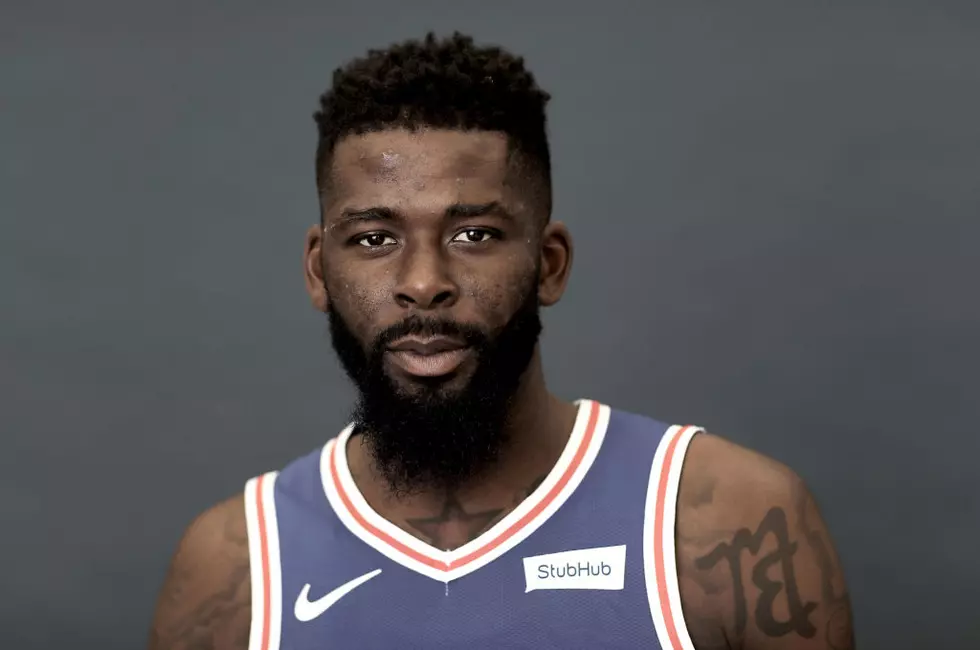 Sixers Veteran James Ennis Thrilled to be Back for Another Season
Elsa, Getty Images
CAMDEN, NJ (973espn.com) -- Over the summer, Philadelphia 76ers veteran James Ennis weighed his options out before deciding on his future in the NBA. At the start of the 2018 NBA season, Ennis was on a one-year deal with the Toronto Raptors, looking to prove himself for some long-term stability for once.
After playing in 58 games for the Raptors, then 40 games for the Rockets, neither Houston nor Toronto saw a bright future with the small forward. Therefore, the Rockets dealt Ennis to the Philadelphia 76ers at the trade deadline months after trading for him. With 18 regular-season games and 11 postseason matchups in Philly, Ennis only had the opportunity to offer the Sixers a small sample size before he became a free agent.
After averaging 21 minutes off the bench in the playoffs, the Sixers liked what they saw from Ennis. Although they didn't have the better offer for him on the table in terms of money, Ennis showed he wasn't worried about the dollar signs. He liked it in Philadelphia and embraced the idea of signing on for a year, with another option available.
Fast forward to October, and Ennis is absolutely thrilled to be back. The six-foot-seven-inch small forward approached a group of reporters on Friday with a bright smile on his face, evidently excited to discuss his progress at this point in the offseason. The Sixers had just wrapped up the fourth and final day of training camp, and Ennis couldn't be happier.
"I'm excited, so that's why I'm smiling," Ennis said as he gleamed over having the opportunity to talk about the Sixers once more."Just playing with this team -- you can feel the energy in the building, so I know it's going to be fun this year."
'Fun' has been the theme of the Sixers training camp so far. While the team is all about their business and competing, everybody from within the practice facility keeps it lighthearted so everybody is having a good time. The cheerful vibe from within shouldn't be taken as confusion for a soft team, though.
While these guys are having fun, that doesn't mean they aren't coming into the 2019 season without a 'dog mentality.' James Ennis won't have to start too many games for the Sixers in 2019, but he will be a frequent player to come off the bench.
And this year, the Sixers' bench depth is much more secure with motivated veterans, who are ready to eat. When asked to describe what the Sixers' 2019 bench is like, Ennis only used one word to explain -- Bulldogs. "Whoever is on the second team will be bulldogs."
Led by names such as Ennis, Mike Scott, Kyle O'Quinn, and more, it shouldn't come as a surprise that Ennis feels this way about the Sixers' second-team. "We're competing," Ennis said. "We're pushing each other, and everyone is gelling. We're getting ready."
You would think somebody like Ennis would feel bitter about what he's been through during his past NBA tenures. As the Sixers became his sixth team, after being traded to multiple teams in three different seasons, Ennis is just happy to feel like he's got some stability in his career with a two-year contract inked in Philly.
"Knowing you have stability, it takes a lot off your shoulders," Ennis stated. "I feel more comfortable -- I'm having a lot of fun -- and that's what it's about, you know?" As Ennis and the rest of the team gear up for the Sixers' Blue and White scrimmage on Saturday, the veteran simply cannot wait to get back out on the floor in front of a sold out crowd in Delaware for a sneak preview of what's to come this season.
Justin Grasso covers the Philadelphia 76ers for South Jersey's 97.3 ESPN. You can follow Justin on Twitter: @JGrasso_