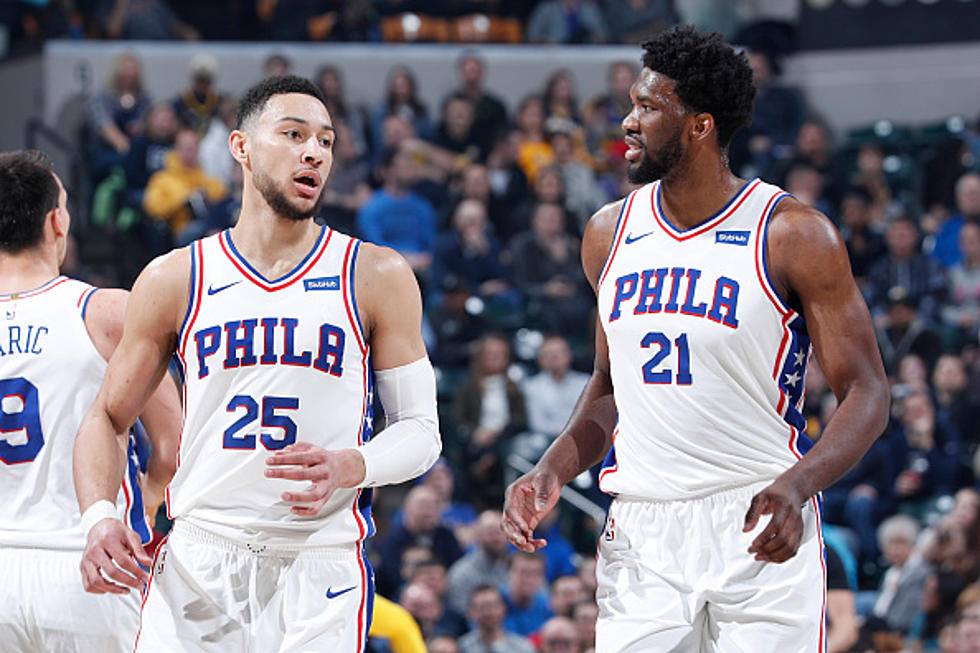 Sixers Ranked No. 5 in ESPN's NBA Future Power Rankings
(Photo by Joe Robbins/Getty Images)
After being at the bottom of the barrel, the Philadelphia 76ers are one of the top teams in the NBA trending in the right direction, according to ESPN's Kevin Pelton and Bobby Marks.
Philadelphia actually moved down one spot from their ranking of No. 4 last season. After a exciting year, that included the No. 3 seed in the eastern conference, a first-round playoff victory over the Miami Heat, and a record of 52-30.
The Process yielded initial dividends in the spring, as the Sixers went 22-5 after the All-Star break and won their first playoff series since 2012. As Sam Hinkie envisioned, Philadelphia remains positioned to add around a young core headlined by budding stars Joel Embiid and Ben Simmons. The 76ers should again have max cap space next summer and have a shot at landing the No. 1 pick from the Kings, thanks to a deal made on Hinkie's watch.

Perhaps the biggest long-term question in Philadelphia is who will be calling the shots in the front office. The 76ers have yet to replace Bryan Colangelo after a Twitter scandal led to his resignation, and ESPN's Adrian Wojnarowski recently reported that ownership is meeting with potential candidates. If the Sixers find a strong decision-maker and add a star next summer, they could climb even higher in the rankings.
In addition to selecting Embiid and Simmons, the Sixers are hoping that last year's No.1 overall pick Markelle Fultz begins to pays dividends. The team also has plenty of talent around them with Dario Saric, J.J. Redick and Robert Covington.
Unfortunately, they will play most of the season without their 2018 first-round pick, Zhaire Smith, who they acquired in a draft night deal for forward Mikal Bridges. The athletic and talented defender, suffered a Jones fracture in his foot and will miss at the very least the start of the season.
Pelton and Marks ranked the Sixers tied for third in players, tied for 15th in management, tied for eighth in money, 18th in draft ranking and tied for 17th in market. In spite of their odd front office situation,  the team ranked in the middle of the pack in management, indicating that despite the bizarre Bryan Colangelo situation, Philadelphia made solid decisions throughout the offseason. With a similar roster returning, along with head coach Brett Brown, the team is looking to take another step forward this season.
Even after a hectic summer, it's clear that the Sixers have become one of the top teams in the NBA.