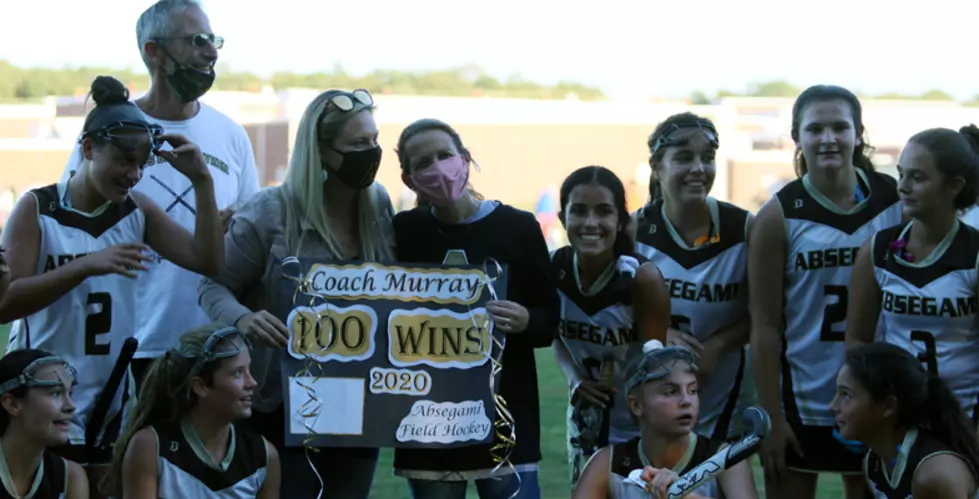 South Jersey Sports Report: Gami Coach Notches Her 100th Win
Photo: Glory Days Magazine, Sully
GALLOWAY TOWNSHIP — Absegami field hockey coach Denise Murray thought she'd reach 100 career wins a year ago, but her Braves struggled to a 7-13 record. It's probably fitting, however, that Murray reached the milestone today — during breast cancer awareness month — with the Braves' 4-1 victory over district rival Oakcrest.
Enter your number to get our free mobile app
Murray took on the toughest opponent of her life a few years ago when she battled breast cancer, and now she's four years cancer-free, has a 1-year-old daughter, and just notched career win No. 100 during a coaching career that has brought her from Lower Cape May to Absegami. And, to boot, the sun was shining and it was about 75 degrees at Absegami High School. A post-game hug from mom and dad completed a day that Murray will never complain about in the years to come.
"This was definitely one of my coaching milestones and it meant a lot to me to do it with this group of girls," said Murray, who notched 49 wins during her five years at Lower Cape May and now has 51 in seven years with the Braves. "All my seniors have been with me all four years, so to get your 100th win with a team that has gone through your program and believes in your philosophy is really important."
This was anything but a layup, however, as Oakcrest (0-2, 0-2 Cape-Atlantic League North Division) came out strong and put a lot of pressure on the Absegami defense in the first quarter (field hockey teams are playing four quarters this year instead of the tradition two halves). But after a scoreless first quarter, Absegami (2-1, 2-1 CAL North) got on the board first when Amber Conway scored. The Falcons answered back a few minutes later when Katie Haye poked in a shot after a scrum in front of the goal to tie the game, 1-1.
That's where it stood until late in the third, when Livia Pino tapped in a crossing pass from Makayla Edwards to give Absegami the lead for good at 2-1. Edwards added a pair of goals down the stretch to give the Braves a little more breathing room.
"It was a very frustrating game. I don't think we played that well the first three quarter — we had chemistry issues and just couldn't gain any momentum," Murray said. "But we made some adjustments in the fourth quarter to generate some offense — I took a risk and pulled some of my defenders and put them in more offensive positions. Thankfully, the risk paid off and we were able to put some goals in to secure the win."
"It's always a good, competitive game against them since we're in the same school district. We had a rough start, but we came together," said Absegami senior captain Brooke Felix. "Our halftime talk was about focusing on the fundamentals, and we pulled through. We just had to make some connections. Monday, with the rain, we didn't get to practice and then Tuesday we just had a quick practice, so I think we just had to get ourselves moving in the first half."
Felix said that even though her coach had to wait a year to pick up her milestone win, it was still worth it to see her reaction.
"It was great. We thought we'd get it for her last year, but this is great with my other senior girls being able to get it for her. I'm sure she's very excited," Felix said. "She's a really good mentor to me and I look up to her a lot. We have a really close relationship and we all appreciate her. She helps us with math — she's a great math teacher — and she's a great coach on the field. She keeps a positive attitude and has been a really good coach for us."
Murray said she credits field hockey — and more specifically her players and assistant coaches — with being a major reason she was able to beat breast cancer four years ago.
"Field hockey is my escape, and I think part of the reason I got through breast cancer the way I did was because I coached through it and was able to keep some normalcy in my life," she said. "To get a win like this four years later really shows what this program and this school mean to me."
What's next: Absegami travels to Cedar Creek on Oct. 21 at 4 p.m. Oakcrest travels to Holy Spirit on Friday at 4 p.m.
Contact Dave O'Sullivan: sully@acglorydays.com; on Twitter @GDsullysays