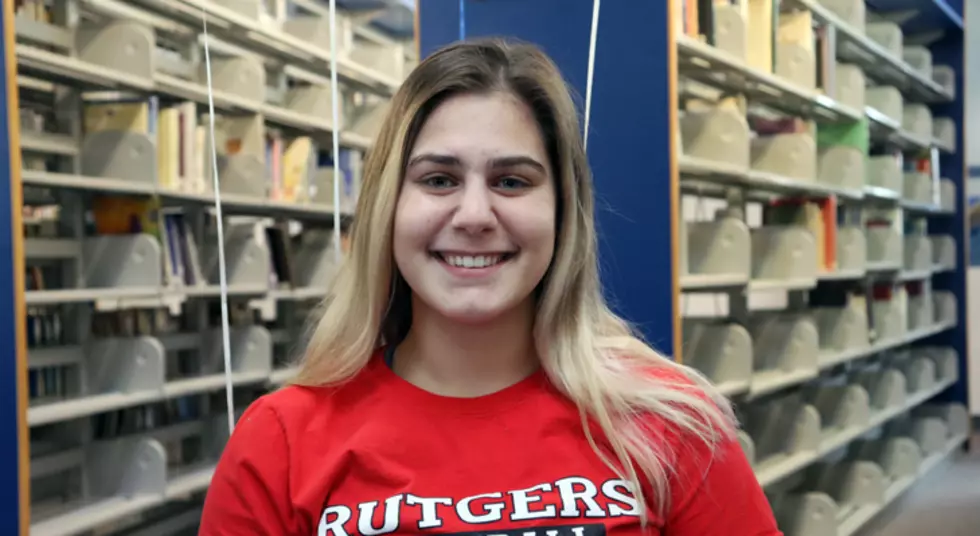 South Jersey Sports Report: Landing at Rutgers a Dream Come True for AC Softball Star Gabi Hendri
(Glory Days photo/Dave O'Sullivan)
The Atlantic City softball team isn't the kind of club that gets a lot of media fanfare. The Vikings don't have a lot of players who come up through the travel ball circuit and in many seasons head coach Anthony Nistico and his staff are trying to coach up a roster filled with novice players, as is evidenced by a 20-39 record the past three seasons, including 7-23 in the Cape-Atlantic League American Conference.
But the past couple of years the core of this team has been led by a couple of outstanding players, both of whom are now NCAA Division I recruits.
Last fall, senior do-it-all infielder, outfielder and pitcher Katie Master signed on with Central Connecticut State, and recently shortstop Gabi Hendri joined her as a DI recruit as she signed a National Letter of Intent with Rutgers University.
Rutgers plays in the Big Ten Conference, which houses some very powerful teams, including the likes of Michigan, Northwestern, Minnesota, Ohio State and Wisconsin — all of whom won at least 32 games a year ago. Rutgers finished sixth in the conference, going 25-20 overall and 11-13 in conference play.
"The recruiting process was really a struggle for me. I had a lot of interest, but also a lot of rejection. I didn't really want to base a school solely on softball. I really wanted it to impact my whole college career. If I got hurt, would I like (a particular school) if softball was taken away from me? That's really what stuck with me through the whole thing, am I going to like it? I wanted to chose a school I wanted to go to if I wasn't going to play softball," Hendri said earlier this month. "Rutgers is a dream, to be able to play at the level of the Big Ten. Playing Division I was my ultimate dream. Just going to camps, talking to coaches, showing them my all and just talking to them — you have to keep pushing and emailing, and eventually you start getting some feedback. I kept persevering and pushing, and it happened."
"One thing I want to share, and these are 2019 stats: in the country, there are 370,000 young ladies playing high school softball. Five percent of them go on to play collegiate softball. That number is about 20,000, and of that, only 1.5 percent make it to Division I. That number is 345," Nistico said when addressing Hendri's teammates and friends who were gathered at the signing ceremony at the school's library. "So, out of 370,000, only 345 go on to play Division I softball, and I think that's an amazing achievement (for Gabi)."
Not only is Hendri one of the better defensive middle infielders in the Cape-Atlantic League, she can also handle the bat pretty well, too. In the past two years she has hit better than .400 with 45 hits, including 11 doubles, seven triples and three home runs, has 21 RBIs and 26 runs, and has stolen 14 bases. Her on-base percentage during those two seasons is .465 and her slugging percentage is .615.
Expect more of those same kinds of numbers when, and at this point, if, the 2020 season gets underway.
"It was an amazing feeling knowing that I'll be able to play at that level, but it's also a reality check. I got here, but now I have to stay here, so I have to keep working hard and pushing myself to be the best I can be when I get there in the fall, and when I finish my senior year," Hendri said. "(Atlantic City) is a way better team than people think and I think this year we have a lot of new core freshmen who — like when Katie and I were freshmen — they play travel ball and have more of a background (in the sport) so I think that's really going to help me and Katie in our senior year to help push us through."
Signing on to play at Rutgers University is a dream come true for Hendri, the daughter of John and Kara Hendri.
"This is surreal. It's a dream," she said. "You watch kids on TV (at their signings) and you think, 'I want to get there someday. I want to be playing teams like Michigan, Michigan State, Ohio State — some of the best schools in the country — and sitting here knowing that in a year, that's where I'm going to be.' It's crazy."
Added Nistico, "Gabi and Katie are perfect examples of dedication. They don't pick up the glove in March and put it down in May, they do it all year long. This is perseverance. If you need a role model for what you want to achieve, they are perfect role models."
(Editor's Note: As of today, the NJSIAA said it is hoping to have a spring sports season once many schools are scheduled to reopen on April 20. Due to the Coronavirus pandemic, however, nothing is certain yet about whether or not spring sports in New Jersey will be held.)
Contact Dave O'Sullivan: sully@acglorydays.com; on Twitter @GDsullysays