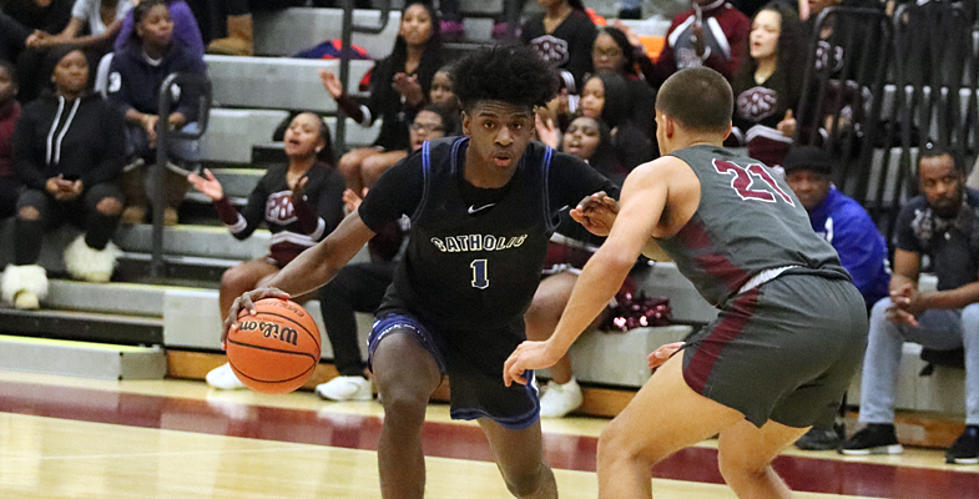 South Jersey Sports Report: Wildwood Catholic Pulls Away from Pleasantville
(Glory Days photo/Dave O'Sullivan)
PLEASANTVILLE — The Wildwood Catholic boys basketball team is one of the top squads in the state and has plenty of showcase games scheduled this season to highlight the likes of Taj Thweatt, Jahlil White and Dasean Lopez, but the first order of business is winning a Cape-Atlantic League United Conference title and, ultimately, the league tournament championship.
The Crusaders used a 12-3 run to end the third quarter on Wednesday night, breaking open a 41-40 game and cruising to a 75-56 victory over the host Greyhounds — Wildwood Catholic's chief competition in the CAL United race, along with St. Joseph. The win came on the heels of Monday night's 73-28 blowout win over rival Middle Township, and the Crusaders improved to 6-2 overall and 2-0 in the CAL United coming off a tough loss against Elizabeth in this past weekend's Seagull Classic at Holy Spirit.
Thweatt, a West Virginia University recruit, had 11 points in the first half but was held in check in the second, mostly due to foul trouble, as he picked up his fourth foul late in the third quarter. But the Crusaders didn't need him in the fourth as White picked up the pace, scoring 10 points in the fourth as the Crusaders pulled away, stretching that 12-3 run into an 18-3 burst and a 59-43 lead.
Stretching the lead: Wildwood Catholic seemed to always have an answer for anything from Pleasantville (4-3, 1-2), even after a conventional three-point play by Elijah Jones shaved the Crusaders' advantage down to 41-40 with 3:28 left in the third. The Crusaders ripped off seven straight points, including a couple of baskets from White, who did the heavy lifting with Thweatt in foul trouble.
"He's playing very hard and very well, and doing everything we're asking him to do," Crusaders coach Dave DeWeese said of White, a Temple commit. "I think he feels more confidence with his knee now, he took the brace off and has a little spring in his legs. He's playing better and I think you'll only see bigger and better things from him down the road."
White finished with a game-high 29 points, including 14 in the second half, and he also got off to a hot start with 10 points in the first quarter, including a pair of 3-pointers.
Defense leads to offense: Coach DeWeese said he knew Pleasantville would come out and try to shoot threes early on, and that his team just had to weather the storm. The Greyhounds nailed five 3-pointers in the first half, including three by Marquise McLaughlin and a pair from Julz Sanchez. A three from Sanchez after a steal cut Wildwood Catholic's lead to 28-24 in the second quarter, but White answered a few minutes later with a 3-point play to make it 35-27, and the Crusaders went into halftime holding a 37-30 lead.
"They hit shots early on and we knew they would. They are a good shooting team and they are aggressive. We had some turnovers in the first half that gave them some easy opportunities, but we tightened it up a little bit and played much better in the second half," DeWeese said. "This is a very difficult place for us to play, always, and for us to come up here and get a win is a good thing. I don't think we played our best the first three quarters, but in the fourth quarter we really turned it on."
Wildwood Catholic got some solid contributions from its guards, as Jacob Hopping scored six points in the first half and finished with 10, while junior Martin Anguelov added seven points.
"Our defense was the key. We switched to the 1-3-1 halfcourt trap and that really turned things around," DeWeese said. "That turned things around really quick, and I think it got our energy up. I didn't think we were playing hard enough before that, but our energy started to ramp up after we started getting some turnovers."
For Pleasantville, Jones led the way with 18 points while McLaughlin added 14, including four 3-pointers. Sanchez finished with 10 points and Rahim Muhammad added six.
What's next: Wildwood Catholic travels to Cape May Tech on Friday at 7 p.m. Pleasantville travels to Buena Regional on Friday at 5:30 p.m.
Contact Dave O'Sullivan: sully@acglorydays.com; on Twitter @GDsullysays