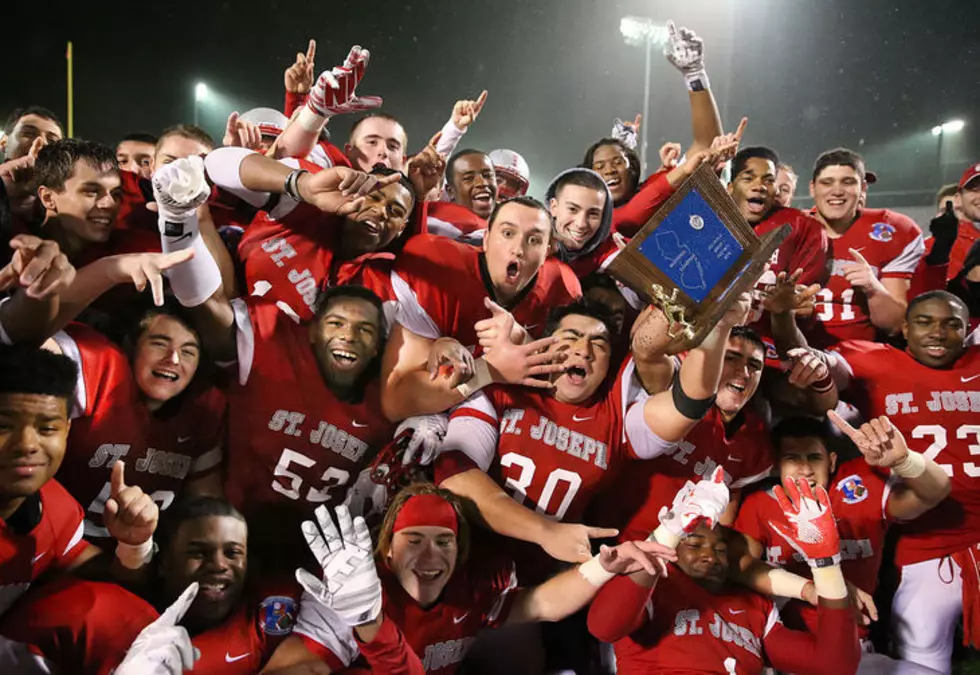 St. Joseph Makes it Six Straight, Holy Spirit Hits a Wall, and More
St. Joseph celebrates with trophy after the win. St. Joe won 55 -0. Saturday December 6 2014 St. Joseph Hammonton wins over St. Anthony Jersey City Non-Public I State Football Final, Kean University, Union NJ. (The Press of Atlantic City / Ben Fogletto)
The only two teams from the Cape Atlantic League still playing football in December did exactly what most people thought they would.
These guys will go down as one of the best teams in St. Joe history
The Wildcats of St. Joseph High School in Hammonton proved again that they are the best team in the CAL and possibly in all of South Jersey.
They capped off an undefeated season with another state title, their sixth straight and 17th since 1993, leaving St. Anthony in their dust... literally. The Wildcats won 55-0 to become the state's Non-Public Group 1 champions.
St. Joe took a 41-0 lead into halftime as senior C.J. LaFragola had already visited the end zone three times. The Horne brothers had also each contributed a touchdown on the ground. The signal calling-half of the Horne brothers, Salaam, who according to the Press of Atlantic City was feeling sick early on Saturday morning, threw for the half's other two scores.
Following just a dominating win, Coach Paul Sacco told the Press of A.C. that the 2014 St. Joe Wildcats may just be the best team St. Joseph has ever fielded.
---
Beating Holy Cross at their home field and then making it here is a blessing
As for the other Cape-Atlantic League team looking to hold on to that momentum and grab a state title, well, they just got overwhelmed by a better opponent.
Holy Spirit shocked the South Jersey football community when the Spartans stormed through the Non-Public Group 2 bracket, including an impressive upset of top seed Holy Cross.
But, as the Press of Atlantic City details, they learned firsthand why Kareem Walker is considered by many to be one of the top high school football players in the country.
DePaul Catholic's star tailback scored three touchdowns on his first five carries to lead the Spartans past our Spartans, 42-0.
Spirit coach John Iannucci told the media that he's proud of his kids, who most experts did not think would make it to Rutgers in December. Senior quarterback Andrew Light, who put the Spartans on his back and willed them to win multiple times this season, said Spirit has nothing to be ashamed of. "Beating Holy Cross at their home field and then making it here is a blessing," Light said.
---
Here are the rest of the finals from South Jersey. All games were played over the weekend at Rowan University.
South Jersey Group 1 Final:
South Jersey Group 2 Final:
South Jersey Group 3 Final:
It took overtime to do it, but Delsea managed to upset top-seed Allentown 42-35 to win their third straight South Jersey Group 3 title.
South Jersey Group 4 Final:
South Jersey Group 5 Final: