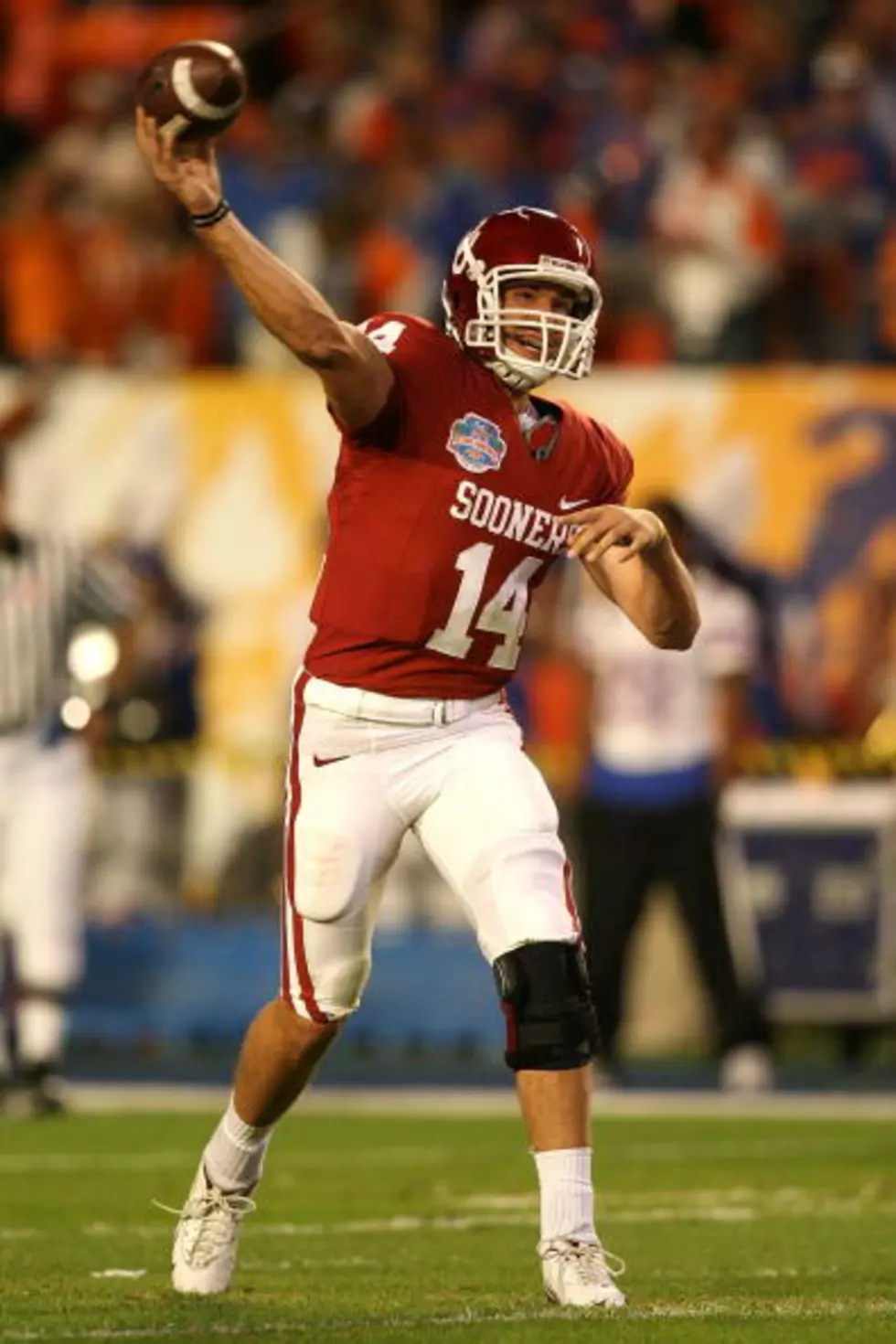 The Embellishment Of Sam Bradford, Part 2
Doug Benc/Getty Images
Sam Bradford was drafted number one overall in the 2010 NFL Draft after his career at Oklahoma which included winning the 2008 Heisman Trophy.  That season he threw for 4,720 yards and 50 touchdowns.  In a draft class that included Tim Tebow, Jimmy Claussen, and Colt McCoy it's understandable why Bradford was far and away the highest rated Quarterback prospect in 2010.
ESPN NFL Nation Eagles Insider Phil Sheridan, as a guest on The Sports Bash on Wednesday, dropped this bomb on the radio:
"You know what was interesting to me last year Jeff Lurie was explaining the Bradford move and he said back in 2010 Andy Reid and his staff they evaluated Bradford as better than any Quarterback that they had seen come out (of college) since Peyton Manning. So that includes Donovan McNabb by the way, and Aaron Rodgers, and a lot of other guys that were drafted, Eli Manning, Joe Flacco; so there's a lot of guys who have come out and been successful and the Eagles had Sam Bradford rated higher at that point in time."
Hold on a minute, Andy Reid and his staff came away with that high of an evaluation of Sam Bradford?  Best Quarterback prospect since Peyton Manning?
-In 1999 Donovan McNabb and Daunte Culpepper were prospects with high ceiling but not NFL ready because they came from watered down offensive schemes
-In 2000 the best Quarterback drafted was Chad Pennington who was very accurate, had high football IQ, but was considered high floor and low ceiling as a prospect
-In 2001 Drew Brees was drafted in the 2nd round because his lack of height and perceived average arm strength caused him to drop in the draft.  Meanwhile Michael Vick was a super athlete with raw talent and a powerful arm. Tom Brady was drafted in the late rounds because he was underwhelming physically and wasn't a full time starter most of his time at Michigan
-In 2002 David Carr and Joey Harrington came from Spread Formation-Shotgun offenses and neither was fully ready for the NFL game; Carr had the most potential while Harrington's arm talent was more polished
-In 2003 Carson Palmer was coming from a Pro-Style offense with elite level arm talent, good football IQ, and above average athleticism. Also Byron Leftwich had a powerful throwing arm with above average accuracy and good football IQ.
-2004 featured Eli Manning, Philip Rivers, and Ben Roethlisberger as 1st round picks and all high level prospects. Manning and Rivers came from Pro-Style offenses while Big Ben played in a hybrid offense.
-In 2005 Alex Smith and Aaron Rodgers came from Spread Offenses that did not place as many responsibilities on them. Smith was an underrated athlete with high football IQ while Rodgers had an underrated arm and high ceiling potential.
-The 2006 Quarterback class was underwhelming featuring a Pro-Style Quarterback with sub par arm talent and low ceiling (Matt Leinart), a Spread Offense-running Quarterback who came to the NFL as a raw talent (Vince Young), and a Quarterback who came from a mediocre football program where he displayed exceptional arm talent but limited Football IQ (Jay Cutler).
-2007 was the year of the Quarterback busts: JaMarcus Russell and Brady Quinn
-2008 featured two Quarterbacks from lesser known football programs who had experience playing in Pro-Style offenses and they were projected to have high ceilings to be franchise type Quarterbacks: Matt Ryan and Joe Flacco
-2009 featured three very different players: Matthew Stafford was one of the most talented players coming out of college with elite arm talent, above average athleticism, and projected to be a Franchise QB; Mark Sanchez came from a Pro-Style offense and showed good accuracy, average arm strength, and a high ceiling; Josh Freeman had a powerful throwing arm but considered a raw talent who needed development.
So in review, Matthew Stafford and Carson Palmer are two of the most talented Quarterbacks to come out of college over the last 18 years.  Eli Manning and Philip Rivers were as NFL ready as any Quarterbacks to come to the league over the last 18 years.  Coming out of college, all four of these players could be rated as better prospects than Bradford for various reasons:
-Palmer had better footwork, pocket presence, and athleticism than Bradford; similar arm strength and accuracy; Bradford has better Football IQ
-Stafford had better arm talent and athleticism than Bradford; similar accuracy and footwork; Bradford has higher football IQ
-Eli Manning had better footwork, pocket presence and football IQ than Bradford; similar arm strength and accuracy; Bradford is a better athlete
-Rivers had better footwork and deep ball accuracy; similar pocket presence and athleticism; Bradford had better arm strength and football IQ
So why on earth would Andy Reid and his staff rate Sam Bradford higher than all four of those guys?
Teams and coaches became enamored with the statistics and the infamous pre-draft workouts showcasing scripted scenarios. When you watch the games, you see what happens when players have to execute under pressure. Running around in shorts only shows you what a player can do if circumstances are perfect.
Sam Bradford has talent and has yet to live up to the potential seen in him six years after he was draft 1st overall. But many fell in love with him based on statistics, individual workouts, and overestimating projected potential.
Bradford is not the first nor will he be the last player that teams and coaches overestimate their potential. We forget that Bert Jones, Vinny Testaverde, Jeff George, and Ryan Leaf were all "Highly Rated Quarterback Prospects" who never lived up to expectations for various reasons.
Is Bradford any better than those guys? If not for injuries after winning the 1976 NFL MVP Bert Jones could have been one of the best Quarterbacks of the 1970's.  Vinny Testaverde played 21 seasons in the NFL and was selected to the Pro Bowl twice but was never considered a top 10 Quarterback during his playing days.  Jeff George couldn't get along with coaches and that turned him into a "Hired Gun" Journeyman Quarterback playing for five teams over 12 seasons.  The you have Ryan Leaf who is one of the most infamous NFL Draft busts in history.
Bradford has only started 16 games twice in five seasons so we have yet to see him play consistently. Hindsight may be 20-20 but if we are being objective and weigh everything about Sam in comparison to other players along with the circumstances around his ascension, we know that Andy Reid and his staff were full of hyperbole.
Checkout more from ESPN NFL Nation Eagles Insider Phil Sheridan as he spoke about Eagles OTAs, Jim Schwartz, Carson Wentz and more