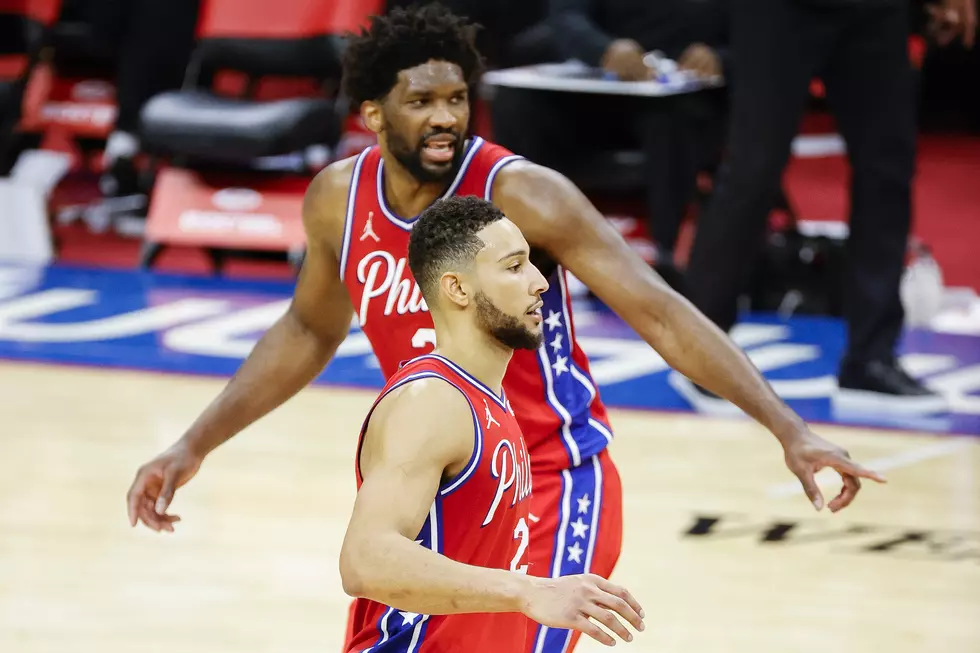 The Evolution of the Embiid-Simmons Duo
Tim Nwachukwu, Getty Images
The Sixers are an Eastern Conference-leading 11-5. The team's new-look starting five is a spotless 8-0. Joel Embiid has people thinking MVP. Seth Curry and Tobias Harris are playing the best basketball of their careers.
With the way everyone in Philadelphia was freaking out over the play of Ben Simmons, you wouldn't have known things were going so well.
Of course, Simmons himself didn't hear any of the noise.
"I think it's been good," Simmons said when asked how he thought the season was going. "I don't go on Instagram, I don't go on Twitter to answer that question in terms of what people are saying. I don't give a f---, honestly.
OK, then.
Simmons was outstanding down the stretch and Embiid dominated throughout the Sixers' 122-110 win over Boston Friday night. It was the kind of game that gets you thinking about their potential together.
Simmons had been getting beat up on social media and sports talk radio for what was seen as a lack of aggressiveness and regression in his offensive game. For at least one night, he put those concerns to bed with an 11-point fourth-quarter burst that helped the Sixers put the game away.
The 24-year-old finished with 15 points, 11 assists, two steals, a block, and just two turnovers. Simmons also reminded people why he was a First Team All-Defensive pick last season and a serious contender for Defensive Player of the Year this season. He supported Embiid, who scored 38 points in a little over 30 minutes because of foul trouble. Embiid scored 80 points on just 34 field-goal attempts in the home series against Boston.
Simmons' scoring numbers being down this season coincided with the Sixers being unable to land James Harden, one of the most prolific scorers in NBA history. While fans and some pundits had grown frustrated, Doc Rivers has fiercely defended the two-time All-Star.
"He didn't [score much] until the end of the game, but he was already playing great, and that's the point I'm trying to make to everybody," Rivers said. "He's doing so many things for this team. His winning formula is amazing. Last game, he got no credit and he was so important to why we won that game. …
"Focusing him on just scoring, he's too good for that to me. It would be a waste if that's all we focused on for him. What I did like is he went downhill tonight more and finished at the basket. That's what he has to do. That's what we're working on."
Perhaps this is a sign that Simmons is finding his groove. There are a few factors for why Simmons might have gotten off to a slow scoring start.
He had knee surgery that ended his 2019-20 season. The offseason was short for everyone, but it was even shorter for Simmons in that sense. Then factor in a new coach, a new system and yet another new set of teammates, it makes sense that Simmons has needed a little time to get going in the scoring column.
But Embiid has helped Simmons – and not just by playing at an MVP level. The Embiid-Simmons relationship has been fine over the years, but this season it's evolved. You can see them communicating more on the sidelines.
On Friday, Simmons joined Embiid in the "cool down zone" behind the basket and the pair exchanged thoughts more than we've seen them do in the past.
"It's been like that all season," Embiid said. "This year – not that the previous years we haven't been very close on the court – but this year it's just been different. I can't even explain it. It's just been different. I love playing with him and I'm sure he loves playing with me, too. I don't even know how to explain it. It's just been fun."
Simmons shared that sentiment.
"For me and Jo, I think it's our relationship continues to grow," Simmons said. "We talk a lot more now in terms of being on the floor and certain things we see – knowing where he wants the ball, all the sets and getting in the flow of the game and just trying to read it the right way.
"The other day he texted me and said, 'Yo, I missed you too many times on your duck-ins. I'm going to find you.' So just little things like that, it continues to help the team chemistry grow."
For years, the All-Star duo has faced questions of whether their games fit and if they can win a championship together. The team potentially trading for Harden, a perceivably better fit with Embiid, did little to quell that noise.
More games like Friday would.
"He's been great," Embiid said. "I love playing with him. Tonight, that fourth quarter starts on the defensive end. He was a monster. ... In the half-court [offense], in the pick-and-roll, it was attacking, it was aggressive and he made plays. ... He was huge tonight."
Sixers First-Round Picks Since 2000