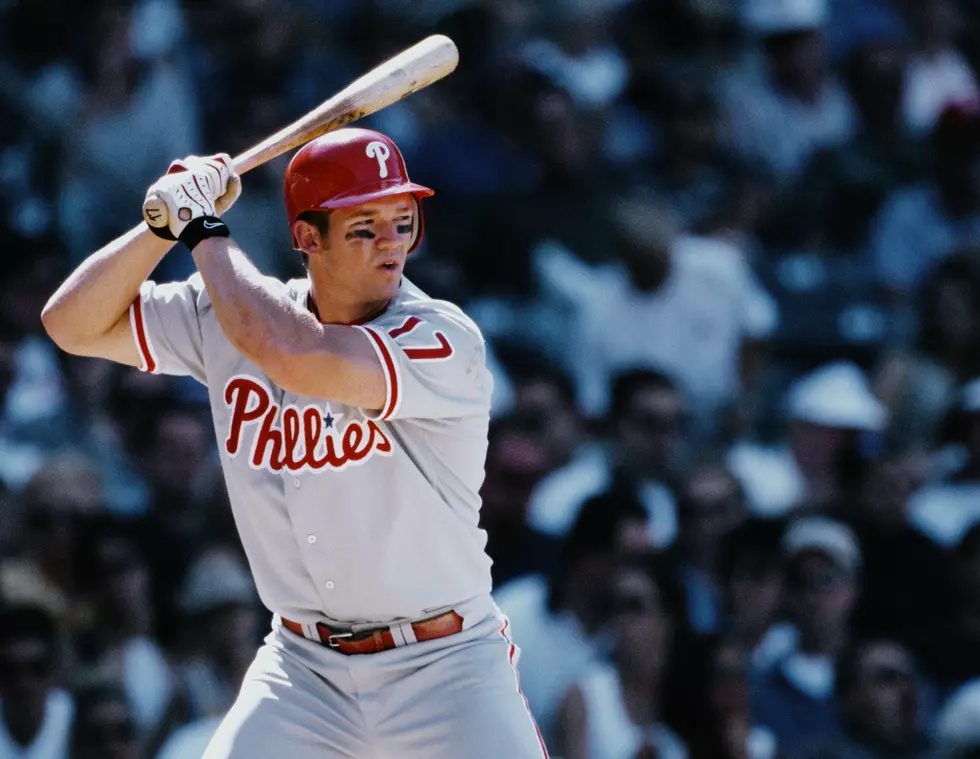 Third Baseman Scott Rolen is Elected to the Hall of Fame
Photo by Tom Hauck/Getty Images
The National Baseball Hall of Fame announced their 2023 Hall of Fame Class just after 6:00 p.m. on Tuesday evening.  The Phillies had several candidates on the ballot, including former National League MVP and frequent All-Star Jimmy Rollins.  But there was one former Phillies player who was the lone 2023 inductee from the BBWAA vote: third baseman Scott Rolen.
Rolen premiered with the Phillies in 1996, after a rapid rise through the Phillies season.  A second round draft pick, many felt that Rolen would play college basketball.  Instead, the Phillies were able to convince Rolen to sign.  And he was a clear talent from the start.
Rolen was summoned from Triple-A during the 1996 season and immediately displaced Todd Zeile, originally signed to hold third base down until 1997.  Rolen got 130 at bats into his rookie season, when a Steve Trachsel pitch hit Rolen on the elbow, breaking it.
130 at bats was the limit one could have before being part of Rookie of the Year voting.
Rolen returned in 1997, capturing the award with a fine rookie season. Rolen batted .283 with 21 home runs and 93 runs batted in.  While the offensive numbers were good his rookie season and beyond, what set Rolen apart was his glove.
Rolen earned seven gold glove awards.  Rolen is eighth all-time among third basemen with a career WAR of 70.1. 21.2 of that came on his defense during a 17-year career, according to Fangraphs.
The Hall of Fame announcement features Rolen in a Phillies uniform. .Could he enter the Hall of Fame wearing a Phillies cap?  It's possible.
Rolen spent eight season with the Phillies and played 844 of his 2038 games with the Phillies.  He played 661 over six seasons with the St. Louis Cardinals.
Rolen's exit from Philadelphia was not a pleasant one.  Constantly upset with the artificial turf of Veteran's Stadium and what he felt was a lack of an opportunity to win, Rolen did not wish to sign an extension with the Phillies as he approached free agency.
Rolen told then-ESPN reporter Jayson Stark that he left the Phillies to win:
I looked at this whole thing. I looked at history. I looked at the whole deal. And let's start with a fact. Let's go back 15 years. Thirteen times in the last 15 seasons, (the Phillies have) had losing seasons. That's history. That's fact. And that's a 15-year period. That's a long time.
Upon a trade to St. Louis during the 2002 season for Placido Polanco, Bud Smith, and Mike Timlin, Rolen referred to St. Louis as "baseball heaven."
After five straight All-Star appearances with the Cardinals, it was no longer "heaven" for Rolen.  Rolen found himself once again in a feud with this manager and with this organization.  Tony LaRussa and Rolen no longer got along, and Rolen disagreed with the Cardinals organization on how to rehabilitate an injury, even reportedly threatening legal action at one point.
Rolen was then traded to the Toronto Blue Jays straight up for third baseman Troy Glaus.
Rolen would move one more time, to the Cincinnati Reds. The Reds acquired Rolen at the July 31 trade deadline in 2009 in exchange for Edwin Encarnacion.  Rolen reportedly asked for a trade back to the Midwest.
Tim Kelly of Phillies Nation noted that Rolen would have welcomed a trade back to Philadelphia in 2008.  Imagine what could have been: an infield of Rolen, Rollins, Chase Utley, and Ryan Howard.  Rolen appeaed in two more All-Star games with the Reds.
In recent years, Rolen has made appearances around the Phillies team, visiting Clearwater Spring Training in 2014 and occasionally watching from the stands now and then in a much less formal capacity.   All seems well between Rolen and the Phillies organization, who congratulated Rolen warmly on social media upon the announcement of his Hall of Fame election.
And what about Rolen's number 17 that he wore from his Rookie of the Year season in 1997 through his departure in 2002? He is now a Hall of Famer with more years service than Jim Thome and Roy Halladay.  If he happens to enter the Hall of Fame as a Phillie, would they consider such a thing?
No matter what Rolen's long-term legacy is in light of Rolen's contentious exit, the Phillies have one more Hall of Famer among their alumni.