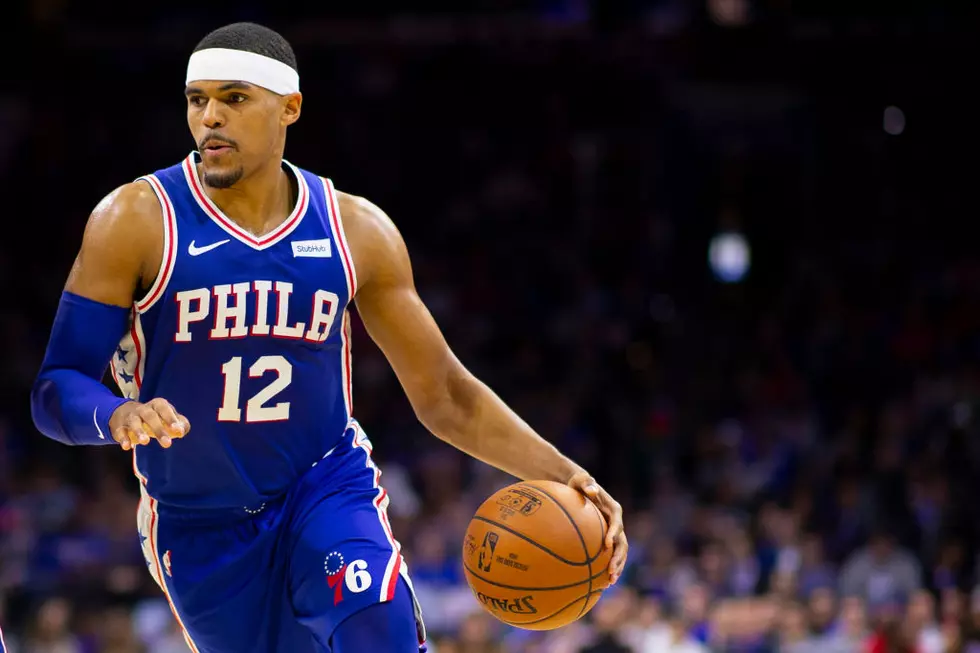 Tobias Harris Battled Through Illness and Struggles vs. Cavs
Mitchell Leff, Getty Images
PHILADELPHIA, PA (973espn.com) — The long-range shooting struggles continued this past Tuesday night for the Philadelphia 76ers. Coming off of a sloppy win against Charlotte on Sunday, the Sixers looked to polish up their game against the visiting Cleveland Cavaliers. Little did everybody know, the Sixers were going to look a bit more sluggish on Tuesday in comparison to Sunday's matchup, despite having their starting point guard back on the court.
The main problem for the Sixers on Tuesday happened to be the focal point of their struggles this entire season so far — shooting from beyond the arc. As a team, the Sixers only managed to drain eight of their 38 attempted three-pointers on Tuesday. Outside of Joel Embiid, nobody was reliable from long-range against the Cavs. Especially not the Sixers' supposed best shooter in Tobias Harris.
Before Tuesday's game, Brett Brown discussed Harris' play so far this season and how he wants the veteran forward to "just rise up and shoot it," so he can become the team's new JJ Redick. As the Sixers miss Redick's reliability from shooting the three-ball in the starting lineup, Brown expects his max contract man, Tobias Harris, to fill that void.
Just a couple of hours later, Harris proved he's not entirely fit to fill that role quite yet as he drained zero of his eleven three-point shots. However, in an attempt to justify the struggles, Brett Brown revealed that Harris' off-night is likely a result of having a stomach virus. The Sixers didn't reveal anything wrong with Harris beforehand, but there was no hesitation from Coach Brown to discuss the setback after the win on Tuesday.
"For almost the entire day, I didn't think he was playing," Brown said in regards to Harris. "When I came into the arena this afternoon for a four o'clock film session, only then did I learn he was going to play." While Brown acknowledged the obvious struggles from Harris, the Sixers head coach still credited his forward for stepping up and playing, putting on a "pretty good" performance, defensively.
As for a couple of Harris' teammates, they aren't precisely frustrated or disappointed either. Josh Richardson, who struggled from long-range as well, "commends" Harris for not only playing on Tuesday — but for remaining aggressive and staying vocal while leading the team throughout the game. Joel Embiid, who knows a thing or two about playing sick, fully understood the struggles too. "You're going to battle through stuff," Embiid said following the game. "Shots are going to fall, and [sometimes] they're not — but when it matters, he showed up."