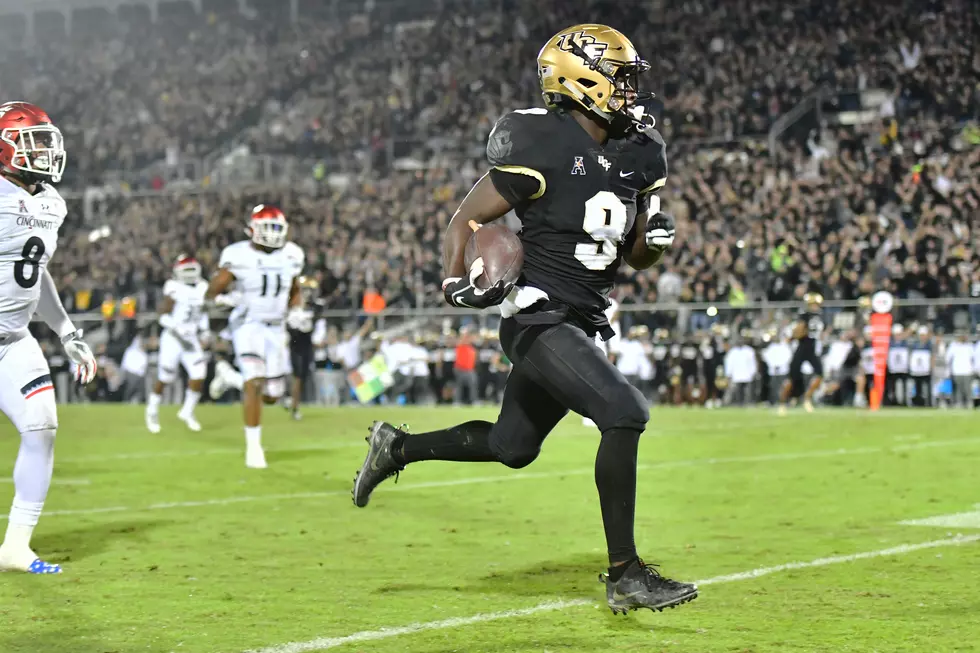 Undrafted RB Garners Praise from Doug Pederson as Cutdown Day Looms
Julio Aguilar/Getty Images
Miles Sanders and Boston Scott sit atop the Eagles' backfield pecking order, and Corey Clement has rediscovered his explosiveness after spending the better part of two seasons on the mend.
With three spots virtually etched in stone, is there room to conceivably force the team's hand into storing four running backs on the 53-man roster?
When the Eagles finalized their impressive haul of undrafted free agents shortly after the conclusion of the 2020 NFL Draft, Cincinnati running back Mike Warren was considered to be among the class's crown jewels.
The 5-foot-9, 218-pound bruiser was coming off a productive junior season for the Bearcats in which he carried the ball 261 times for 1,265 yards and 14 touchdowns.
It seemed like a foregone conclusion that Warren would contend with holdover Elijah Holyfield for what would presumably be the third or fourth spot on the depth chart.
It was almost as if his undrafted counterpart, running back Adrian Killins, was written off entirely.
While Warren or Holyfield would undoubtedly fill a need as a between the tackles grinder, Killins boasts game-breaking speed and the ability to change direction on a dime.
Generously listed at 5-foot-8, 177 pounds, Killins served as an all-purpose weapon over his four years at Central Florida. As a senior, Killins registered 87 carries for 629 rushing yards and seven touchdowns and added eight receptions for 120 yards and a touchdown as a receiver. He also yielded 206 yards on 11 kick returns, parlaying a productive senior campaign into an invitation to participate in the East-West Shrine Bowl.
For his Knights' career, Killins totaled 406 carries for 2,459 rushing yards and 25 touchdowns, contributed 70 catches for 864 and eight touchdowns in the passing game, and returned 47 kicks for 1,025 yards and a touchdown. His 2,459 rushing yards and 25 touchdowns both rank fifth in school history.
Despite Killins' consistency and on-field impact over his four-year collegiate career, he failed to receive an invite to the 2020 NFL Scouting Combine -- an event where Killins would have been a legitimate contender to record the fastest 40-yard dash.
Killins' winding path has led him to Philadelphia, where he battles long odds to make the roster. However, with Sanders and Scott missing practice time, the diminutive sparkplug has maximized his opportunities by earning his keep at running back, wide receiver, and special teams.
The undrafted rookie is a prime example of a young player that likely needed a preseason to optimize his stock, however. If he Eagles opted to go heavy at running back, the chances are it wouldn't be for a one-dimensional utility player.
Limitations aside, Doug Pederson values what Killins brings from a speed, acceleration, and versatility perspective.
"I do," Pederson said in a Zoom call with reporters on Wednesday. "I really -- obviously he's getting, as you mentioned, a lot more reps because with [Eagles RB] Miles [Sanders] being out right now and then [Eagles RB] Boston [Scott] being limited in practice and making sure he's good and whatnot there. But [Killins] has really come in -- I'll tell you, I've been impressed from the standpoint of his knowledge and understanding. We've made him a running back. We've made him a receiver. We've put him in some tough situations. He's handled it extremely well, and he does a nice job as a receiver in that receiving role out of the backfield. He's got really good speed and quickness that is definitely, for a guy his size, beneficial.
"So I'm just looking forward to -- again, it's unfortunate not having preseason games to be able to watch these young players play, but just being able to see him in practice and what he can do and where he can possibly help us this season if that's the case."
Enter your number to get our free mobile app
Sixers Head Coaches With Most Wins In Franchise History