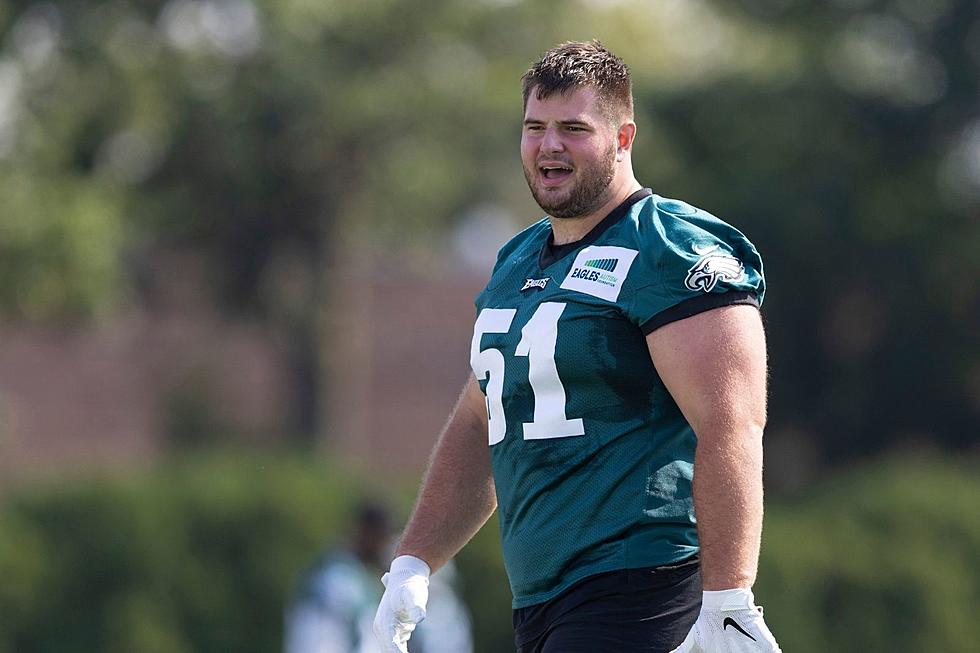 What All-Pro Offensive Lineman is Dickerson being compared to?
(Photo by Mitchell Leff/Getty Images)
Since Landon Dickerson took over at Left Guard, the combination of Dickerson with Left Tackle Jordan Mailata has been a force of nature in blocking for the Eagles Offense. According to Pro Football Focus, in Landon Dickerson's 11 starts he has allowed only Two Sacks. The Eagles Offensive Line currently ranks Third in ESPN's Run-Block Win Rate (74%) and also sixth in their Pass-Block Win Rate (66%).
According to Eagles Head Coach Nick Sirianni, the Eagles Rookie Dickerson reminds Sirianni of another Guard that he used to coach:
"I know this is high praise, but I do see some of the physical movements kind of like Quenton Nelson had - There are some things that I see (him do) and I'm like 'That looked like Quenton right there.' - I just see Landon playing tough and playing physical and playing nasty, right? Which is what you want out of your offensive line."
This is very high praise considering that many people consider Quenton Nelson the best Guard in the NFL today, The Colts' Nelson is a three-time First-Team All-Pro Selections in his first three years in the NFL after being drafted sixth overall in the 2018 NFL Draft.
The Eagles Head Coach is not the first person to compare Landon Dickerson to the Three-time All-Pro Offensive Lineman; NFL Network Analyst and former NFL Offensive Lineman Brian Baldinger said this about Dickerson before the NFL Draft:
"Four years ago, I was clamoring for Quenton Nelson out of Notre Dame (and) I said 'This guy is going to be an All-Pro!' - I feel the same way about Landon Dickerson; In fact, I haven't seen an (Offensive) Lineman come out (of college) that played the game with the ferver, the attitude, and the mentality of Quenton Nelson (until) this Landon Dickerson. Just watch the games, he's putting people on their backs, he finishes (blocks), he's just flat-out nasty, he can play Guard (or) Center and he's massive. There's nothing not to like about Landon Dickerson."
The negative against Dickerson coming out of college was he had suffered multiple injuries that kept him from finishing the season on the field. But these type of comparisons and high praise has to make you wonder how high his potential can be for the Eagles. If he can stay healthy and play a minimum 13-15 games every season, the Philadelphia Offensive Line can continue to be a force of nature for years to come.
The question is will he stay at Left Guard or move to Center whenever Jason Kelce retires? I would keep him at Left Guard because the combination of Dickerson with Mailata is a total of 698 pounds bearing down on opposing defenses. Also, the Eagles could move Isaac Seumalo to Center whenever Kelce retires; At Oregon State, Seumalo played more Center than any other position in his college career.
Look Back at Past Philadelphia Eagles' Uniforms
We have your look back over the decades of Eagles' uniforms.