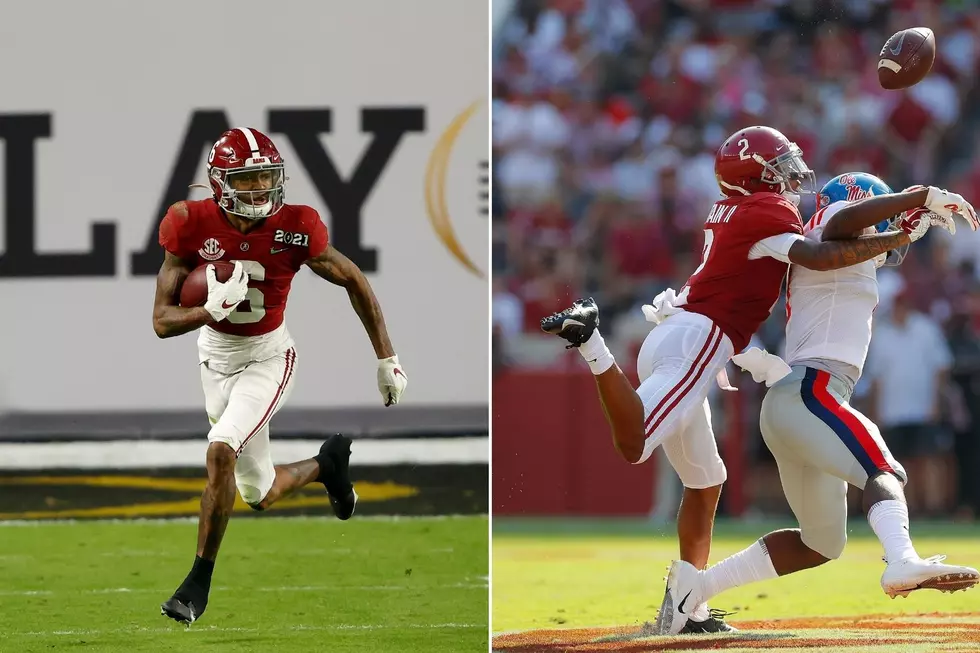 What Are Some Of The Options For The Eagles At Sixth Overall?
*DeVonta Smith: (Photo by Sam Greenwood/Getty Images) *Patrick Surtain II: (Photo by Kevin C. Cox/Getty Images)
With the Sixth overall pick in the 2021 NFL Draft, the Philadelphia Eagles will be in position to select a player in the top ten of the draft for only the fourth time in since 1999.  With those picks, the Eagles have selected two Pro Bowl Quarterbacks (Donovan McNabb and Carson Wentz), a Defensive Tackle who compiled 32 Sacks and 194 Solo Tackles in 78 Starts (Corey Simon), and an All-Pro Right Tackle (Lane Johnson).  So what are some of the Eagles best options if they stay at Sixth overall in this year's NFL Draft?
NFL Draft Analyst for Pro Football Network and Co-Host of the Bleav in NFL Draft Analysts Podcast Tony Pauline joined GameNight with Josh Hennig on Monday to discuss the Eagles options at Sixth Overall in the 2021 NF Draft:
"(Eagles have) got to figure out if Andre Dillard is in their future plans or if they are going to move on from him and then hope (Oregon Offensive Lineman) Penei Sewell slides down (but) I don't think that is going to happen.  You know they need a Receiver, I doubt (LSU Wide Receiver) Ja'Marr Chase is going to be there, do they look to (Alabama WR) DeVonta Smith? - (The Eagles) are in a tough position in the sense that they got an early pick, they should get a good player, but it may not be the player that they want or the player that many of the fans are hoping for."
Both Penei Sewell and Ja'Marr Chase opted out of the 2020 College Football season, so both players missed an entire year of Football Development meaning teams will be drafting them on potential and their 2019 game tape.  If Devonta Smith is available for the Eagles at Sixth overall, he is an interesting prospect.  Many people know that Smith is the 2020 Heisman Trophy Winner while leading all of FBS College Football in Receptions (117) and Receiving Touchdowns (23).  But there are questions about Smith's size: He is listed at 6'1" and 175 Pounds according to Alabama's Athletic Department, but he refused to weigh-in or take physical measurements at the 2021 Senior Bowl.  Tony Pauline says this is part of the "Red Flags" for DeVonta Smith ahead of the NFL Draft:
"It's not just that (DeVonta Smith) didn't weigh-in, he didn't do anything; I mean, what the hell is he doing in Mobile (at the Senior Bowl)?  He didn't practice, he didn't take repetitions, he wouldn't weigh-in, why was he on the roster?  Why was he taking someone else's spot? - DeVonta Smith is a great receiver, there is no doubt about it....But he's got a smaller frame (compared to other Alabama Wide Receivers), so he's not a good fit for every offense."
If the Eagles decide to not go with an offensive player with the Sixth Overall pick, one option maybe be another Alabama Player: Cornerback Patrick Surtain II.  Surtain II is consider the best Cornerback prospect available in the 2021 NFL Draft and is the son of former All-Pro Cornerback Patrick Surtain.
Tony Pauline gave his prospect breakdown for Patrick Surtain II:
"(Surtain II) has great size, incredible athleticism, obviously the (NFL) Bloodlines are there; This is the day and age of your taller (Defensive Backs), he's going to (measure) at 6'1", he plays fast, he plays physical.  Sometimes he plays out of control, sometimes he doesn't make plays with his back to the ball, but I think he is one of those guys who has huge upside.  - He's not as polished as many of the Ohio State Corners that we've seen come out and be early (draft) picks and been immediate starters, but he's got huge upside....If you get the best of Patrick Surtain II and you can coach him to get the best out of him, you got a lockdown Corner for years to come."
Checkout what NFL Draft Analyst Tony Pauline had to say about the top performers at the 2021 Senior Bowl, perspective on the potential first round Quarterback draft prospects, and more.
Eagles QBs Drafted Outisde Of The First Round Since 2000