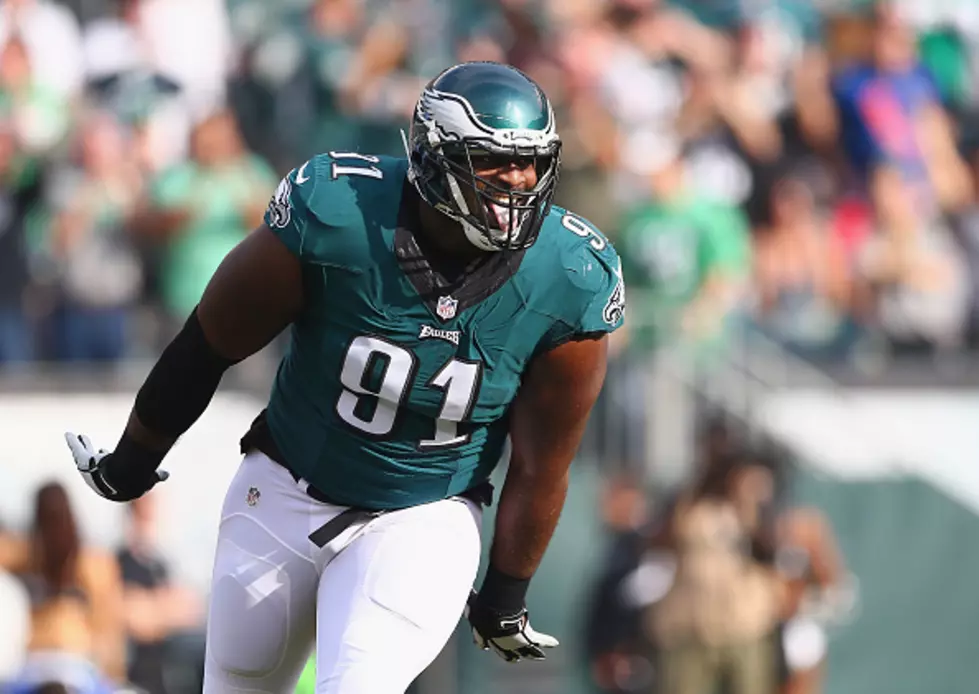 What Does Fletcher Cox Deal Say About NFL Defenders?
Mitchell Leff/Getty Images
The Philadelphia Eagles and defensive end Fletcher Cox have agreed to a record breaking contract extension. On June 14, the former Mississippi State Bulldog agreed to sign a $103 million extension with $63 million in guaranteed money. That is the highest guaranteed money allocated to a non-quarterback in league history. Expectations are sky high for Cox this season, as the Eagles switch from 3-4 defensive end to 4-3 defensive under new defensive coordinator Jim Schwartz.
ESPN NFL Nation Eagles Insider Phil Sheridan joined Mike Gill on Wednesday and gave an interesting perspective on Cox's new deal:
"I think Jim Schwartz ought to get a cut of that deal. Ndamukong Suh and Marcell Dareus are guys who have made a lot of money these past two seasons and Schwartz is a big reason why these two got paid."
Fletcher Cox is just twenty-five years old, so his best football is certainly ahead of him.  Cox is coming off a career season and is a fantastic player in his own right, with or without Jim Schwartz as his defensive coordinator.  Cox had a career high 9.5 sacks, which is the most of any Eagles in 2015 and he was tied for the most Tackles For Loss on the Eagles with 11.
But what does Fletcher Cox huge pay day say for guys like Von Miller or 2017 free agent defensive end Chandler Jones? Von Miller is coming off his second all pro season, while accumulating 11 sacks and a Super Bowl MVP trophy as well. It is duly noted that Miller does not want to play under his current franchise tag.  On Thursday Miller posted a picture to his Instagram account stating that he is not playing the 2016 season under his current franchise tag." He has stated that he wants to be the highest paid defender in the NFL.
Former New England Patriots Defensive End Chandler Jones was dealt to the Arizona Cardinals this offseason. The Patriots traded the talented pass rusher because they could not afford to bring him back after the 2016 season. The Cardinals dealt a second round pick and guard Jonathan Cooper for Jones' services.
The NFL's marquee positions are Quarterback and Defensive End, and they are paid accordingly. The Top 20 highest paid players according to NFL.com includes 18 quarterbacks, while only 2 defenders are on the list: Ndamukong Suh is on there list at number 13 and Fletcher Cox rounds out the list at number 20.
Fletcher Cox has been paid and Eagles fans can finally rest easy. Cox now has his sights set on an even better 2016 campaign.  All eyes will be on Fletcher Cox to anchor the Philadelphia Eagles defense, and rightfully so. Because with great power, comes great responsibility.
Author  is Victor Fabietti, a Communication Studies Major and Sports Journalism Minor at Saint Joseph's University. He is a 2016 intern for 97.3 ESPN.
Checkout what Sheridan had to say about the impact of Jim Schwartz of getting Cox this contract and the outlook for the Eagles with the new defensive scheme