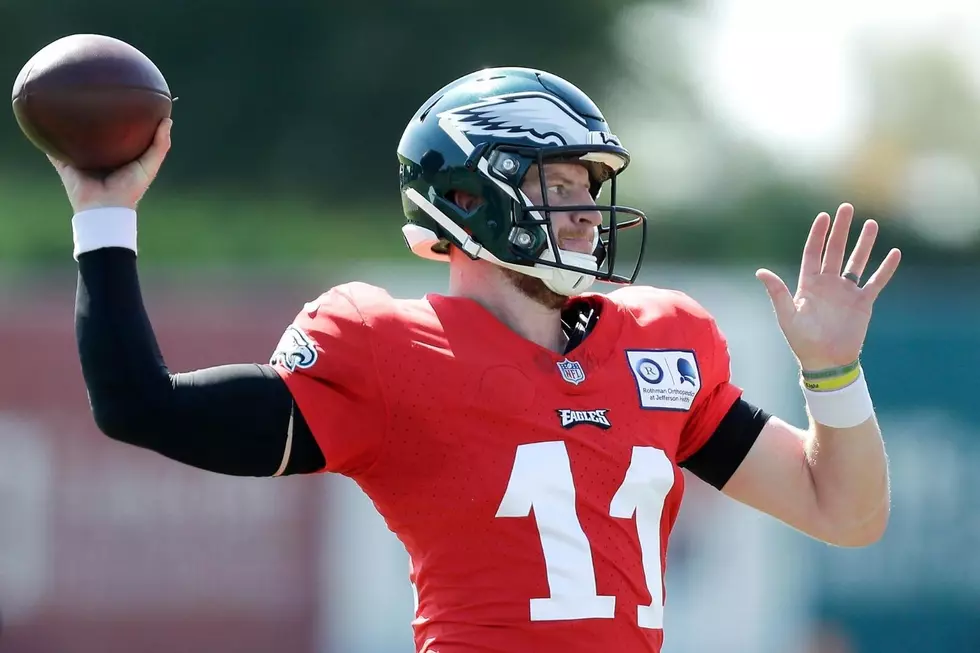 Where Does Carson Wentz Stand In NFL Quarterback Rankings?
(Photo by Yong Kim-Pool/Getty Images)
As we countdown the days to the start of the NFL season, many of the eyes of Eagles' fans will be on the franchise Quarterback entering his fifth season in the NFL: Carson Wentz.  Despite the team suffering numerous injuries last season, Wentz still played all 16 games while finishing top ten in the NFL in Passing Yards (4,039 - 9th), Passing Touchdowns (27 - 5th), and Game Winning Drives (4 - 4th).
Yahoo Sports published their Quarterback Rankings based on specific criteria: This ranking is for this season only; Also the list is of the projected Week 1 starters for each NFL team.  They ranked Wentz as the Sixth Best Quarterback heading into the 2020 season:
I believe fully in Wentz's talent. Had the Eagles not whiffed on multiple draft picks at receiver — JJ Arcega-Whiteside over D.K. Metcalf, really? — he'd be putting up better numbers. He still did OK with virtually nothing left at receiver late last season. I'm unsure if the Eagles have helped him enough this past offseason, but I do think he's one of the most talented quarterbacks in the NFL.
The emphasis on Wentz's talent seems to be what puts him so high on the list, ahead of big names like Tom Brady (Eighth Overall) and Aaron Rodgers (Tenth Overall).  Wentz is also higher than the other talent Quarterbacks from the 2016 NFL Draft, with Dak Prescott ranked Seventh Overall right behind Wentz on the list:
Prescott is set up to have a fantastic season. He has three fine receivers, a potential breakthrough tight end in Blake Jarwin and teams will always have to respect Ezekiel Elliott in the run game. Prescott threw for 4,902 yards last season and is in a better situation this year. He's going to have a huge season.
Interesting that the reasons for Prescott's ranking is about the talent around him heading into the 2020 season while Wentz's ranking is based on his individual talent.  Conversely, Jared Goff was the number one overall pick in the 2016 NFL Draft but in these rankings he lands at 19th overall:
Goff got a massive contract and then looked like an average quarterback in 2019. His numbers will be better due to some expected positive regression, but the hope that he's a true franchise-changing player probably needs to be reeled in a bit. Even if he's paid as one of the NFL's best.
When comparing the three Quarterbacks from the 2016 NFL Draft, Wentz has the fewest Interceptions (35 vs Prescott with 36 and Goff with 42) and tied with Prescott for the most Passing Touchdowns (97 vs Goff with 87).  With Prescott playing on the Franchise Tag while Wentz and Goff entering the first season of their four year contract extensions, it will be interesting for all three of those Quarterbacks to live up to the high expectations placed on them.
Eagles QBs Drafted Outisde Of The First Round Since 2000