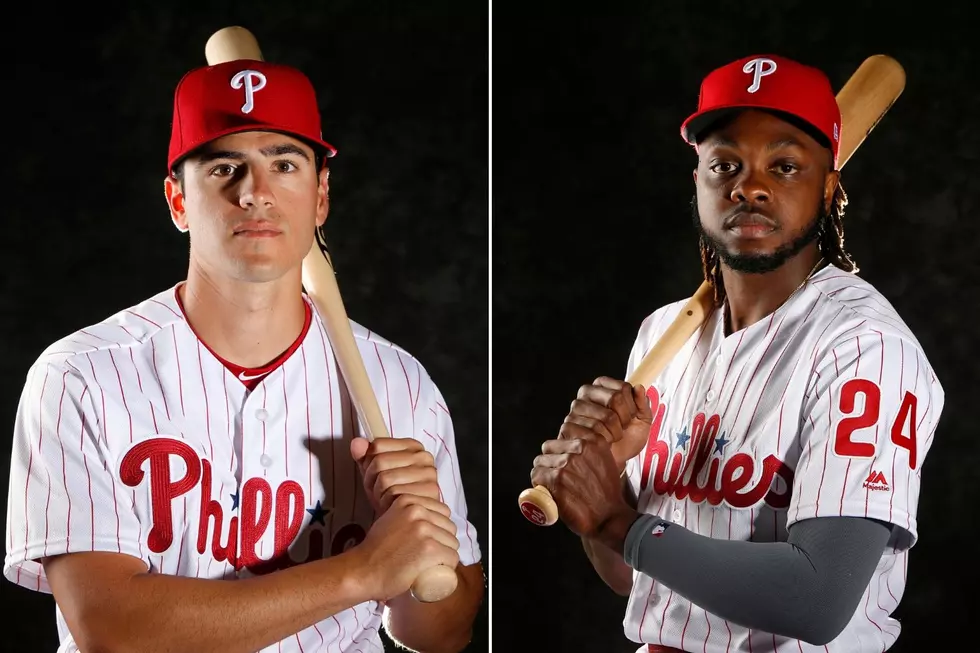 Who Should Be Phillies Starting Center Fielder: Haseley or Quinn
-Adam Haseley: Photo by Brian Blanco/Getty Images -Roman Quinn: Photo by Brian Blanco/Getty Images
The countdown is on for the start of the Phillies 2020 season and one of the biggest questions to be answered is who will be the starting Center Fielder.  Philadelphia has a history of talented players in the center of the Outfield from Lenny Dykstra to Doug Glanville to Aaron Rowand to Shane Victorino.  This season the competition for the Center Field comes down to Roman Quinn and Adam Haseley.
Both players have a limited sample size at the Major League level, with Haseley only playing 67 games and Quinn appearing 109 games, which presents many questions that there may not be a right or wrong answer to.
The biggest issue with Roman Quinn is his extensive injury history: In his eight seasons between the Minor Leagues and Majors, Quinn has suffered torn quadriceps, a torn Achilles tendon, a strained elbow, a torn ligament in his middle finger, a concussion, right groin muscle strain, and a broken toe.  Quinn was the Phillies second round pick in the 2011 MLB Draft, during his Minor League Career his best season was 2016 when he played at Rookie Ball and Double-A when he combined to hit .302 Batting Average with 36 Stolen Bases and 64 Runs Scored in 77 Games Played.
Adam Haseley was drafted Eight Overall in the 2017 MLB Draft and has played a total of 176 Games before 2019 when he made his Major League debut.  One of the concerns with Haseley is he was not primarily an Outfielder in College; at the University of Virginia, Haseley started 29 Games and appeared in Six Games as a Relief Pitcher with a Collegiate Career 2.51 ERA.  It wasn't until he got to the Phillies Minor League System his primary focus was on being an Outfielder.  The most games Haseley played at any level was at Double-A with 83 Games over two seasons, he had a .289 Batting Average with a .375 On-Base Percentage and a .482 Slugging Percentage.
The X-Factor for Roman Quinn is undeniably his Speed compiling 186 Stolen Bases over his Eight Years in the Minor Leagues.  Quinn has started 68 Games at the Major League Level where has 23 Stolen Bases.  Despite his Speed and Athleticism, Quinn has a .978 Fielding Percentage at the Major League Level and just .971 Playing Outfield in the Minor Leagues.
On the flip side, Fielding has been one of the strengths for Haseley who posted a .992 Fielding Percentage last season with the Phillies while playing all three Outfield positions.  In the Minor Leagues, Haseley played 126 Games in Center Field and had a .985 Fielding Percentage.
At the end of the day, the biggest question in the Center Field competition is which guy can give you the most consistency at the plate.  Haseley has 242 Plate Appearances at the Major League Level with a .266 Batting Average and .324 On-Base Percentage.  Quinn has not performed much better in 334 Plate Appearances with .243 Batting Average and  .321 On-Base Percentage.  The bigger sample size is the Minor Leagues where Quinn has a serious eye sore on his stat sheet: Roman Quinn had 404 Strikeouts in 441 Games (0.92 Strikeouts Per Game) along with 88 Strikeouts in 109 MLB Games (0.81 Strikeouts Per Game).  Contrast those numbers with Adam Haseley who in the Minor Leagues had 166 Strikeouts in 238 Games (0.697 Strikeouts Per game) but performed worse at the MLB level with 60 Strikeouts in 67 Games (0.895 Strikeouts Per Game).
So who should be the Phillies starter in Center Field on Opening Day?  Roman Quinn has the sizzle with his speed and athleticism but Adam Haseley is reliable as a fielder and doesn't have the history of missing games due to injuries.  The old saying is "Your best ability is your availability" - So I say go with the guy who you know will be available to play every day and that is Adam Haseley.  Let's see what he can do in year two!
Phillies Major Award Winners Since 1980