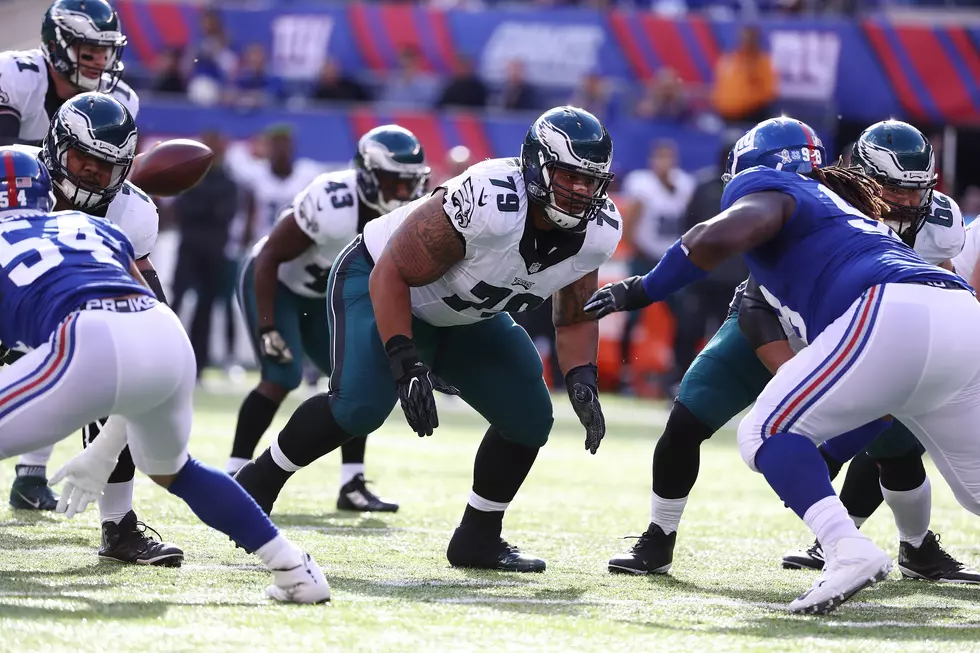 With Brandon Brooks Injury, What are Eagles Options?
Al Bello, Getty Images
The 2020 NFL season is months away, but the Philadelphia Eagles were dealt a devastating blow on Monday as right guard Brandon Brooks tore his Achilles tendon working out at the NovaCare Complex.
"My heart sunk when I got the news about Brandon's injury," Eagles head coach Doug Pederson said today on a Zoom call.
The injury is in the opposite leg from the tear he suffered at the end of the 2018 season.
Less than two weeks ago, Brooks was named to Pro Football Focus' Top 50 players entering this season, so the blow is a massive one to a unit that would surely have been at the top of the league.
When Brooks suffered the injury in 2018, he managed to return on a expedited timeline of eight months. That timeline would put him in position to return in March, so he figures to miss the entire 2020 campaign.
The injury occurred during some jogging at the Novacare Complex. Brooks was in the building since he was returning from his previous should injury that ended his 2019 season.
The injury likely means that his last three campaigns have been ended by a serious injury.
"We are still looking at a lot of options. Starting with our own roster," admitted Eagles head coach Doug Pederson today on a zoom conference call. "We've got some time before training camp."
The Eagles depth chart on the offensive line is pretty bare and Matt Pryor, whose two games of play make him the most experienced backup, figures to replace him in the lineup.
Pryor — a second-year sixth-round pick got the start in the Eagles Wild Card Playoff game against Seattle and played pretty well.
Jason Peters remains available, and has stated that he would move to guard if needed, but has never played the position. The team could use peters at left guard and shuffle current starting left guard Isaac Seumalo to the right side.
The team also invested in a fourth-round pick on Auburn's Jack Driscoll.
Veteran NFL insider Adam Caplan, from Insidethebirds.com, a contributor to Football at Four on The Sports Bash every Thursday gave a list of available players at the position.
Of this group that Caplan mentions,Warford is the most attractive name. The former Saint offers plenty of starting experience on the right-side.  He was released by the Saints as a cost-cutting measure after grading out as Pro Football Focus' No. 30 guard out of 82 qualifiers last season.
Brooks has been named to the Pro Bowl the past three seasons, been named a First Team All-Pro and won a Super Bowl since joining the Eagles and publicly seeking help for his anxiety and improving his game in the process.
"We feel for him," Pederson said. "To have to go through this again, he'll push through, we're very confident there."
Brooks is under contract for four more seasons after 2020, but the team does have an option following the 2021 season.
Paul Bowman is an Eagles contributor for 97.3 ESPN and Eagles editor for SportsTalkPhilly.com. Follow him on Twitter @PhillyBallPaul.
Eagles First Round Draft Pick Busts