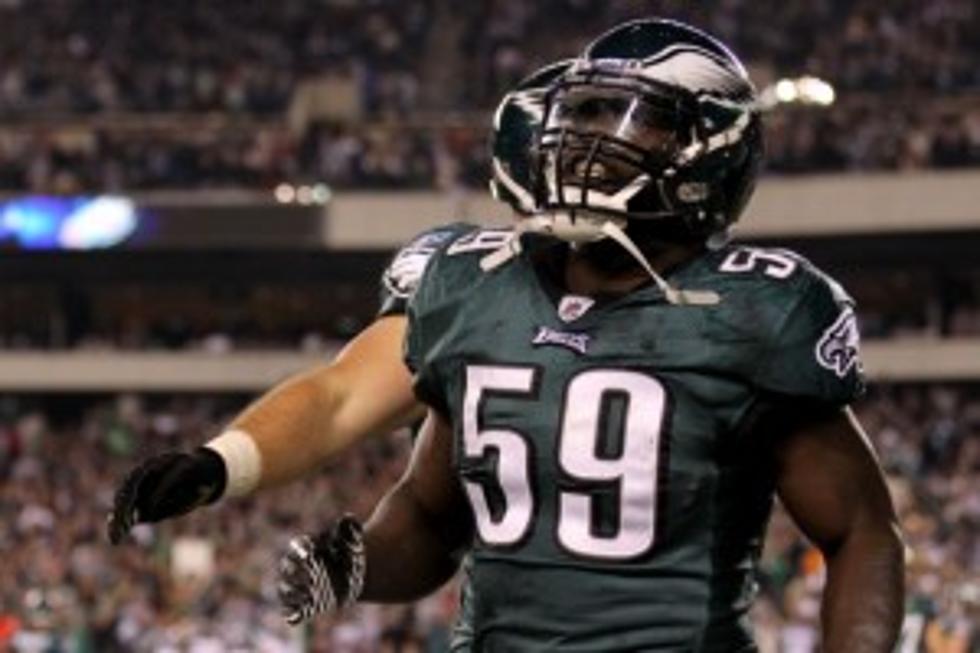 With Roster Moves, Eagles Eye Special Teams Improvement
Brian Rolle was the starting weak side linebacker for most of 2011. (Photo by Nick Laham/Getty Images)
After the Eagles beat the Giants 19-17, one weakness had been highlighted so glaringly that the Eagles didn't wait too long to take action.  Philadelphia released linebacker Brian Rolle today and signed linebacker Adrian Moten in a likely attempt to improve special teams coverage.
Rolle had only four tackles through four games and hadn't made any noticeable special teams plays.
The Giants had significantly better field position than the Eagles off of kickoffs – their own 33-yardline compared to the Eagles own-19.  David Wilson averaged 36.2 yards per return for the Giants, which was as much a result of poor kick coverage as it was his own return ability.
Rueben Randle also averaged 9.7 yards on three punt returns after the Eagles had released punter Chas Henry and re-signed Mat McBriar in order to get more hang time on punts and shore up their returns.
The Eagles were without two of their best special teams players - safety Colt Anderson and linebacker Akeem Jordan. Anderson has a knee injury, while Jordan has a hamstring strain. Still, head coach Andy Reid made no excuses.
"Special teams-wise, we've got some work to do on the kickoff coverage and kickoff return units," Reid said Monday. "There's no reason we should be playing like we are in those spots."
Reid said he met with special teams coordinator Bobby April on Monday morning and identified areas they could improve this week. The next day, Rolle was gone and Moten was brought in.
The Eagles rank 31st in the NFL in opponent's average starting position off kickoffs, with opposing teams averaging the 27.1 yardline.
Through four games, the Eagles rank 21st in the NFL in net punting average, another sign of poor kick and punt coverage units.