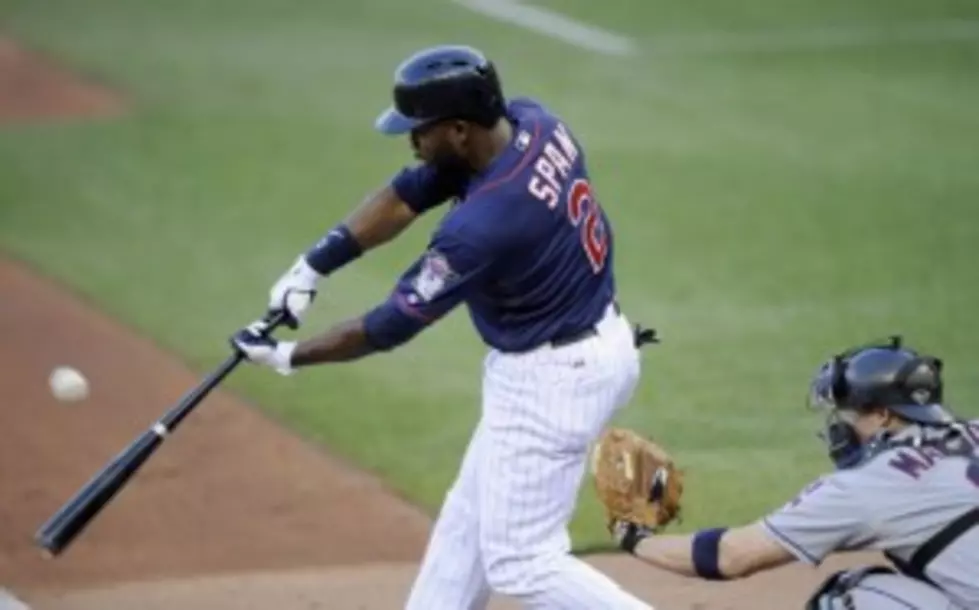 Your Move Phillies; Nationals Trade For Denard Span
Denard Span is heading to Washington (Photo by Hannah Foslien/Getty Images)
For the second straight day, a center fielder figured to be at the top of the Phillies wish list has landed elsewhere. For the second straight day, feel free to shrug.
Whenever Pagan signs (make it three-in-a-row tomorrow?) the two will be comparably priced.  Span is due $11.2 million through 2014, an average annual value Pagan is likely to command.  But neither offer the clubhouse presence of Juan Pierre, 34, who was deemed to old and left-handed to be retained despite putting up better production than both. So there that goes.
Ultimately, the sensible, practical, rational trade target is Dexter Fowler of the Rockies, a right-handed 26-year-old who's arbitration eligible through 2015 starting this year. He earned $2.35 million in 2012. But even he doesn't come without caveats.
Some can be argued away. For instance, Fowler's strikeouts -- 158 in two years -- relative to his power numbers are comparable to that of B.J. Upton, whose loss to the Braves was eulogized by Philadelphians near and far yesterday -- even though he cost Atlanta $75 million. Further, Fowler's strikeout-to-walk ratio (0.53) was twice that of of Upton (0.27, who ranked 12th worst in MLB). So there goes that argument, especially since Fowler's played half (four) of Upton's big-league seasons (eight) and so has infinitely more hopes of developing plate patience.
Others, not so much. Much of Fowler's production can be pegged to his work in Coors Field, which has a major league-leading hitter-friendly park factor of 124. (By comparison, Citizen's Bank Park is 102.) If you juxtapose his home-to-road splits, and consider only his work at normal altitudes reliable, congratulations, you've essentially reduced him to the guy we just brushed off: Span.
Still, Fowler represents promise, more than any one player – and any other one player – can. In 2012, he posted a .300 average last season and major league-leading .390 batting average on balls in play, both specialties that the Phillies lack. No, his BABIP isn't sustainable -- for a slew of reasons -- but it wasn't far off his career average of .353, either.
That aside, trading for Fowler opens doors: The Phillies could all at once (1) patch a hole at center field, (2) get younger, (3) ward off stagnancy (trading for Fowler is the anti-Shane Victorino signing), (4) bargain for a top third base prospect (Nolan Arenado ranked No. 42 in Baseball America's pre-2012 prospect list, one slot higher than the Rangers Mike Olt), and, maybe best of all, (5) a shot to dump Cliff Lee's contract.
Why Colorado would be interested in taking on Lee's $72 million through 2015 and $27.5 million club option for 2016 with a $12.5 million buyout kicks logic in the teeth. But, even if they're not win-now or big market, the Rockies are reportedly dangling Fowler in the hopes of landing a premier starting pitcher -- even with, it's reasonable to conclude, a premier starting pitcher price tag.
What that comes down to? (The money the Phillies would have to eat aside.) Would the team rather keep the rotation intact, giving them a shot at a distinct strength (pitching), than risk team-wide mediocrity, seeing that outside of Fowler they have little power and consistency and, with or without Lee, many sure-things from the rotation. (See: Halladay, Kendrick, Worley. Cloyd. Anyone else not named Hamels.)
Speaking of the cash, though: How's this for a balance? The Phillies, who've been speculated to have passed on Upton because of how well he (wouldn't) fit in Philadelphia, couldn't have more reasons to be endeared to Michael Bourn, 29, who they drafted in 2003 before trading to Houston in 2007. Except for the bit about him being a Scott Boras client and rumored to actually be asking for more than Upton.
One-upping that, though, we're completely neglecting the Josh Hamilton possibility. Reports had the Phillies pulling out of the bidding for Hamilton, 31, a week and a half ago, which, while it should seem sensible, considering the argument could be made that Hamilton is no surer a thing than Darin Ruf, and wouldn't cost the Phillies, literally, thousands of times Ruf's $480,000 minor league, demands suspicion.
Simply, how Ruben Amaro would it be, if nothing else from the surprise factor?
That alone gives it credence, and instills fear. Not only from the obvious bust potential, but because it would represent the essence of everything wrong with the current roster that's old and over paid and, consequently, at risk of growing complacent. Same goes for a short-term deal, considering Hamilton wouldn't sign for the three years that would enable the "all-in" argument (committing everything for one final push for a roster set to turn over between 2014-15) -- and wouldn't for anything less than an average annual value ($25 million, easy) that would enable the clubhouse contentedness.
While Hamilton should be avoided at all costs -- for reasons requiring more words than attention spans and space limits permit -- the underlying strategy does require merit. If signed, Hamilton would likely slide to right field, saving the left for Darin Ruf and banking on Domonic Brown in center. Brown certainly has the arm -- remember this? -- and the range for it, and misconceptions about his instincts and angles are fueled more by conventional wisdom than hard evidence.
Whether the Phillies move in that direction or not, openness to the idea -- as outsiders aren't -- obviously gives the Phillies more free agent and trade options (and not all of them would require the Phillies No. 12 overall 2013 draft pick like Nick Swisher would), but also bargaining leverage with player agents and team execs to haggle down the dollars and players/prospects for the most favorable deals.
That might be the biggest theme here: To take the developments of the past few days, and Ruben Amaro's steadfast silence throughout it, and assume that in play is an out-of-the-box strategy in play, creativity that, frankly, the Phillies will need to make out this winter -- and contend in 2013.