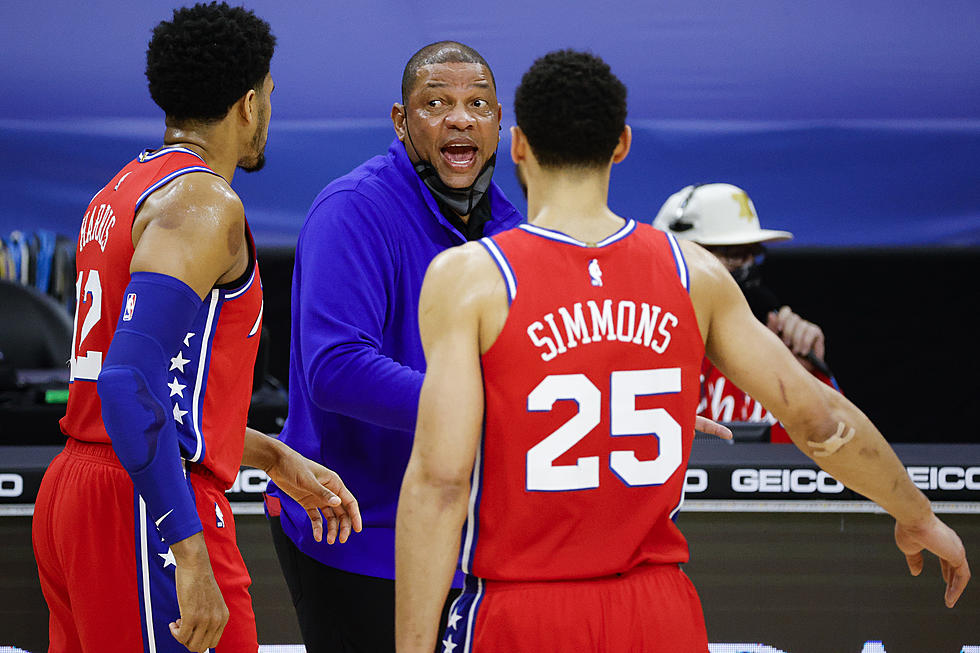 4 Questions For the Sixers Ahead of Tough Stretch
Tim Nwachukwu, Getty Images
So far, it's fair to say the 2020-21 Sixers have surpassed expectations. If you thought they'd be at the top of the East for most of the regular season, you're a better prognosticator than most.
But here we are in mid-April and the Sixers are right there with the loaded Brooklyn Nets for the No. 1 seed in the conference. Joel Embiid has looked like an MVP. Tobias Harris is having a career year and coming through as the team's closer. Ben Simmons has been his typical dominant self defensively – though still befuddling at times offensively.
Daryl Morey's strategy to build the roster in a similar vein to the 2017-18 team has paid dividends. Embiid and Simmons are surrounded by three starters all shooting above 40 percent from three. The bench has been a concern but the acquisition of George Hill – and the shrinking of the rotation in the postseason – should remedy that some.
As if the season-long six-game road trip and the four-game roadie that quickly followed weren't enough, the Sixers embark on another brutal seven-game stretch. The Sixers play three of the top-six teams in the league, including a road series against the Milwaukee Bucks.
It's a stretch that will tell us an awful lot about this basketball team. With that in mind, let's look at some of the biggest questions that need answering.
Can Joel Embiid stay healthy?
Embiid deserves all the credit in the world for the season he's having. He dedicated himself to taking care of his body and staying on top of his fitness level. He's been excellent handling double teams and is shooting at the most efficient rate of his career while living at the free throw line.
Unfortunately, injuries are a concern for Embiid again. Earlier this year, Embiid missed time from lingering back soreness. Now, he's back after missing three weeks with a left knee bone bruise. He's wearing a brace on the knee, which he's admitted has bothered him.
This question is first because, frankly, if the answer is "no," it makes all the other questions moot. The good news for Embiid and the Sixers is there's only one back-to-back over the next seven games. It's hard to even quantify how important Embiid is. The recent 7-3 stretch without him was encouraging, but the reality is so much of this rests on Embiid's shoulders.
If he can stay healthy and look like the player he has for most of the season in these upcoming games, you have to feel pretty good about things. The schedule lightens up in a big way over the last 12 games. There will be ample time to balance Embiid's health and fitness while making sure he's still in rhythm for the postseason.
What is Ben Simmons offensively?
From the very beginning, Doc Rivers has refused to put a traditional label on Simmons, simply calling him a "facilitator." That's fine, but for the most part, Rivers has used him as a point guard. Simmons is certainly not a traditional point guard, and, to Rivers' point, he has not treated him as such.
With that said, it seems like Simmons would benefit from another ball handler – perhaps a true point guard – to play alongside. In the win at Oklahoma City Saturday, Simmons was used more as a four with Tobias Harris resting. Simmons seemed to flourish in that role, even making a couple of short jumpers in the paint. While the "snug" pick-and-roll shouldn't be used as a primary action, it seems to be something both Simmons and Embiid like and feel comfortable running.
Is there enough ball handling in the starting unit with Seth Curry -- and occasionally Harris -- to help Simmons? Against a few elite defensive teams, we'll see. It's also fair to note that Hill could be a factor closing games and perhaps helping to get the most out of Simmons offensively late in games.
What may be most intriguing is to see how Rivers handles the Simmons-Dwight Howard combo. To put it mildly, it's been bad. While you'd ideally like to always have one of Embiid or Simmons on the floor, it seems more beneficial to the Sixers to have Embiid and Simmons play together. Again, Hill's presence could be a big factor here. It would behoove Rivers to have Hill on the floor instead of Simmons during Howard's minutes.
Can Tobias Harris continue to be the closer?
Harris is easily playing the best two-way basketball of his career. He's been efficient offensively, become a bit more of a playmaker and his defense is clearly on another level.
The other facet of Harris' game that's been on display is his clutch play. This season, Harris is averaging 5.3 points a game in the fourth quarter while shooting 51.9 percent from the field and 52.4 percent from three. In "clutch" situations, he's made 21 of 23 free throws. If you've been watching the Sixers all season, you don't even really need those numbers to back up what you've seen: Harris has been a closer.
Much like Simmons, Harris has something to prove against elite teams and in the playoffs. Harris struggled last postseason against Boston and was just OK during the previous postseason run. But none of that was with Rivers and with this version of Harris.
Perhaps these next seven games will give us an idea of what Harris may look like in those clutch situations against stiffer competition.
The bench
The Sixers have options off their bench but it's fair to wonder how great those options are.
Shake Milton is a guy Rivers has looked to as his sixth man. Milton's overall play has been up and down, and he isn't making threes at the rate he's done throughout his career. Milton has been better recently (39.4 percent over his last nine games), but his shot has looked a little flat all season.
Howard is Embiid's primary backup and a clear Rivers favorite. When Howard is good, he's providing energy, setting physical screens, and owning the glass while staying out of foul trouble. When he's bad … it's bad. As mentioned, the Simmons-Howard partnership shouldn't see daylight in the playoffs, but Rivers seems intent on trying to make it work right now.
We all know what Matisse Thybulle brings to the table defensively. He's one of the most disruptive players in the league and arguably the team's second-best perimeter defender. Thybulle has been quietly solid from three (38.1 percent) over the last 17 games. If he keeps that number up, it'll be hard to keep him off the floor.
Furkan Korkmaz is the wildcard of the guard/wing group. When he's hot, he can give a huge boost to some of the Sixers' shooting-inept lineups. Over his last 22 games, Korkmaz has hit over 40 percent of his threes. While Rivers has mentioned using Korkmaz as a playmaker, he's at his best when he's moving off the ball, ready to catch and shoot with his super-quick release. Can Korkmaz survive defensively, especially when opponents target him on that end? That will ultimately determine Korkmaz's role.
Then there's Mike Scott – and possibly Anthony Tolliver. Scott's season has been mired by injuries and inconsistent play. While Rivers would like the option to go to him in lineups with Simmons at the five, Scott hasn't made that a totally viable option. Could Tolliver be a factor? At the very least, this 10-day contract gives Scott competition. It'll be interesting to see how much Rivers plays Tolliver.
And last but not least is Hill. People may be underestimating how big of a role Hill can play in all this. He's not James Harden or Kyle Lowry, but Hill gives Rivers an efficient shooter and ball handler that can play in just about any lineup. His perimeter defense should be a big boost in a series against a team like the Nets. Hill will make his debut soon enough which should only fortify the bench.
Sixers First-Round Picks Since 2000
CHECK IT OUT: See the 100 most popular brands in America