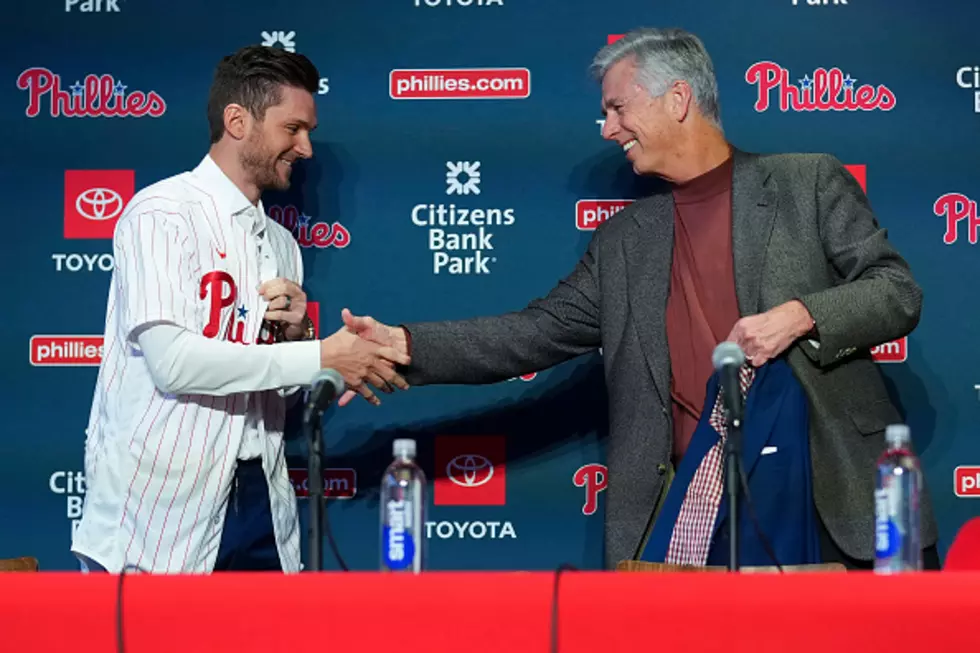 6 Philadelphia Phillies make ESPN's MLB top 100 list
Getty Images
The Philadelphia Phillies are coming off a World Series appearance in 2022, which has gotten them plenty of recognition entering the 2023 MLB season.
New Phillies shortstop, Trea Turner may have had the best WBC of any player, now he and some of his new Phillies teammates are all over a list by ESPN, who released its rankings of the top 100 players in MLB on Thursday.
Turner leads the way for the Phillies, which had six player represented on the list of the Top 100 in the game today.
The six Phillies on the Top 100 list are:
• No. 8, SS Trea Turner
Turner is the complete package. His combination of speed and power at shortstop is the reason why the Phillies invested $300 million in him.
• No. 21, C J.T. Realmuto
The best catcher in the game isn't far off from being a top-20 player but it won't be his defense he needs to improve on to make the leap.
• No. 26, SP Aaron Nola
A stalwart during his eight-year career, Nola has made at least 32 starts in each of the past four full seasons.
• No. 33, SP Zack Wheeler
Injuries have slowed Wheeler at various times of his career but when he's healthy, he's a borderline top-20 player.
• No. 58, RF Bryce Harper
His return will certainly boost the Phillies' chances, and he'll undoubtedly continue as one of the most feared hitters in the game. But for the rankings, availability is as important as productivity, so for now Harper is on the outside of the top 50 -- though, he easily could be in a different place going into next season.
• No. 81, LF Kyle Schwarber
Schwarber went from being DFA'd after the 2020 season to hitting 46 home runs last year for Philadelphia.
To read the full ESPN article with the top 100 list, click here.
So lets take a quick look at the list, with the obvious eye-popping name
25 Atlantic County Burgers You Have to Try!