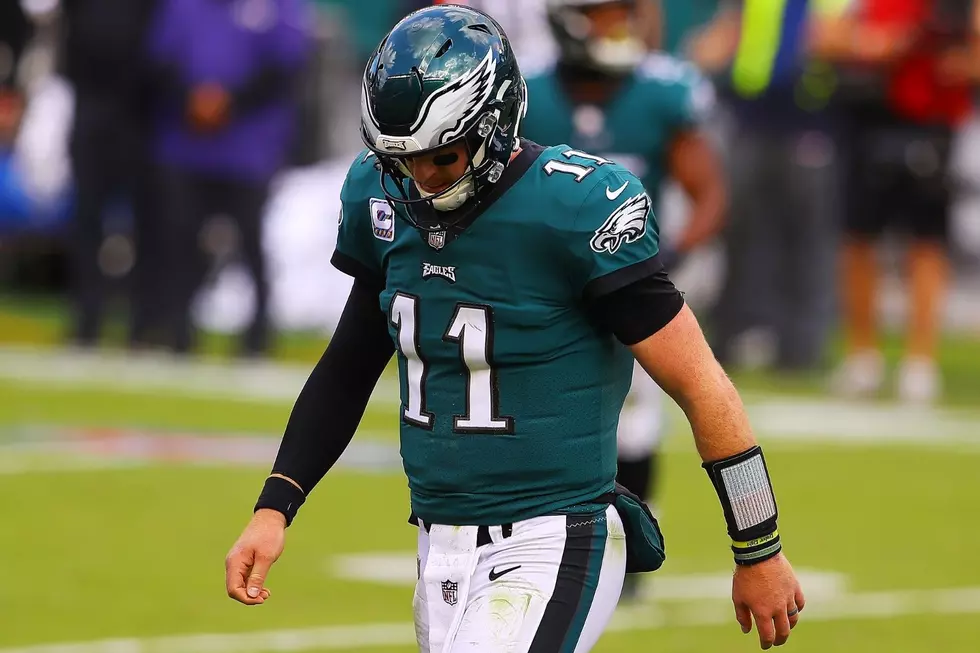 A Closer Look at Carson Wentz's Struggles
(Photo by Mitchell Leff/Getty Images)
It no secret the 2020 season hasn't exactly gone the way Carson Wentz planned.
After three consecutive solid seasons, including a 2017 campaign where many felt he would have been the leagues MVP, Wentz is having a season to forget.
As the 3-7-1 Eagles prepare for the Green Bay Packers, they do so with Wentz ranking 30th in the NFL in passer rating, and leads the league with 15 interceptions.
"I know I can play better every single week," Wentz admitted on Wednesday.
Wentz has struggled with accuracy issues, decision-making and indecisiveness throughout the season, leading to complete just 58% of his passes this season.
Enter your number to get our free mobile app
"I don't feel indecisive out there," Wentz explained on Wednesday.
"There are times in every game, in the past, whenever it is, where you miss a play. You miss a throw. You miss a read. That happens."
It's happening way to often for the Eagles to be a successful offense.
We have discussed at length on The Sports Bash, that while both Doug Pederson could do a better job at moving Wentz around, and tailor the play calling to fit Wentz's strong suits. Wentz is missing a the most basic plays, which is a concerning trend each and every week.
The problems Wentz is having that is the most concerning is on the most basic of plays, as illustrated here by Brian Baldinger of the NFL Network.
On this play, Greg Ward comes in motion, setting him up for a quick, open pitch and catch.  Wentz sees Ward, but simply doesn't pull the trigger.  While its not going to be a big gain, a completed pass makes the down and distance more manageable, to open up more of the play-book.
Here is another example from Baldinger of Wentz not being able to complete basic throws, which is hurting the offense.
A basic route run by tight end Richard Rogers, which would have given the Eagles a first down.  Rogers is open, but the indecision causes Wentz to deliver the ball late and allows the linebacker to come in and make a play.  On second-down, Greg Ward is open in the slot, which would have resulted in a first-down, but the throw is way off-target.  On third-down, Wentz throws another inaccurate pass that hits the turf.
Three plays on first-and-five and three passes that tell the story of all Wentz's issues in 2020.  A late read, an inaccurate pass and indecisiveness.
Eagles vs Giants 2020