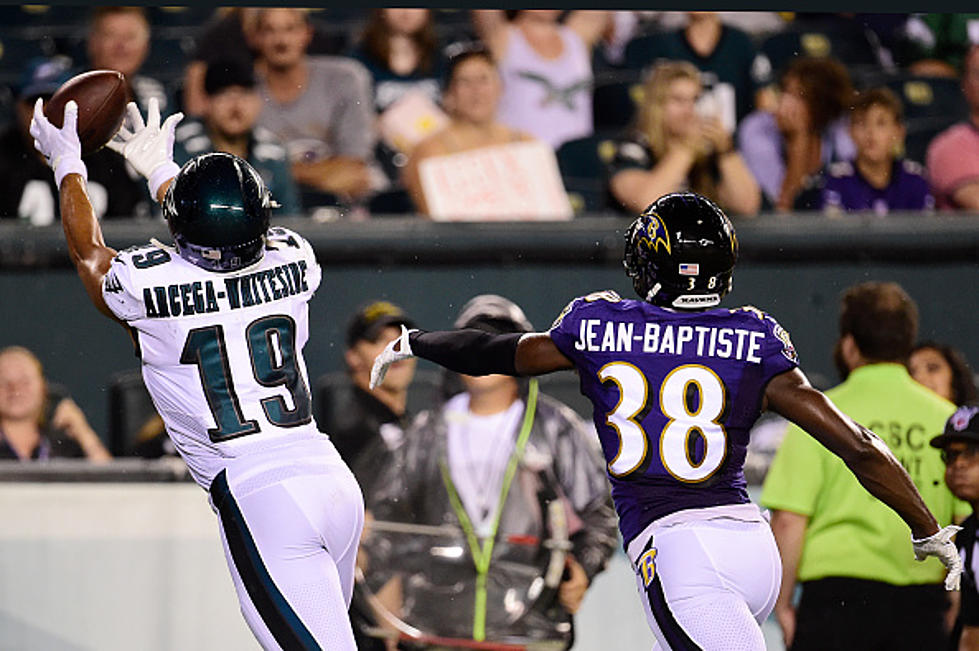 Arcega-Whiteside's big night reflects optionality at WR
Getty Images
While lightning ended the Eagles-Ravens matchup early Thursday night, there was already a prior electric presence at Lincoln Financial Field by the name of JJ Arecega-Whiteside.
The rookie WR had a breakout performance of 8 REC 104 YDS 1 TD.
Both the coaching staff and front office have to feel encouraged to see their 2nd-round pick shine, doing the things that made him a standout at Stanford.
They should be even more encouraged by the way he did it. Arcega-Whiteside made plays on the outside, in reduced splits, and in the slot.
If his versatility against Baltimore is a sign of what he will be capable of over the course of his career, it could provide significant optionality for the future at WR.
His ability to play across the formation should ease the Eagles mind in whatever they decide to do about the future of Nelson Agholor, DeSean Jackson, and Alshon Jeffery.
The trio is locked in as the 2019 starters, but after that the future is cloudy.
Agholor will become a free agent in 2020, Jackson will be 33 in December, and Jeffery will carry a $14 million cap hit.
If Howie Roseman wants to move Agholor at the deadline for a draft pick, or let him walk this spring, Arcega-Whiteside has flashed on the inside.
If Agholor is extended as part of the future, he could be the heir-apparent to Jackson or Jeffery in a few seasons.
Very early on in the rookie's career, it looks like the organization will be ok at WR regardless of what they do.