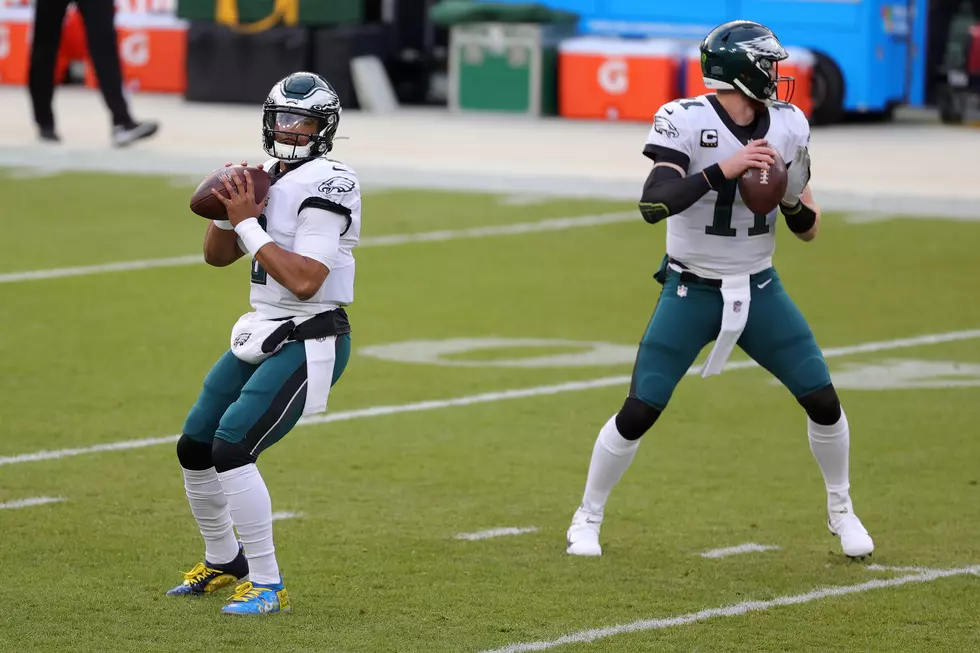 Best-and-Worst-Case Scenarios for Eagles Offseason
Getty Images
The Philadelphia Eagles have plenty needs they'll have to address this offseason, but none is bigger than addressing the Carson Wentz situation.
That's the takeaway from Pro Football Focus', who made the case Tuesday that the Eagles need to focus moving Wentz over anything else this offseason.
When looking at the best- and worst-case scenarios for all 32 teams, both scenarios involve the Wentz situation.
Best-case: They sucker a team into trading a monstrous package for Carson Wentz
It was well documented that Wentz did not have a good 2020 season and many reports have indicated that he would like to be moved.
If Philadelphia can get a Matthew Stafford-type of package for Wentz, then this offseason would already be considered a huge win. On top of leading the league in turnover-worthy plays, Wentz ranked dead last in percentage of accurate passes thrown beyond the line of scrimmage and second-to-last in negatively graded throw rate. He does still have something to offer with the right team, but that team is not the Eagles given their current situation, It's quite clear that he isn't going to produce like an elite quarterback on a routine basis.
The worst-case scenario?
Worst-case: It's Carson Wentz, Jalen Hurts and no WR with the No. 6 pick to begin the year
The Eagles have a big decisions to make when in comes to Wentz.  While the team doesn't want to just give him away, they are hoping to get at least a first-round pick, maybe more.
If they can't move him, that would leave the team with potentially a quarterback competition during training camp with Wentz and Jalen Hurts.
it's vital they nail the No. 6 overall pick. They should obviously be suitors for Justin Fields, like many other teams, but if they lose out on that race they should undoubtedly take the best wide receiver on the board. Heisman winner DeVonta Smith could be that guy.
So while the Eagles have plenty of offseason needs to fix,  like cornerback,  safety,  wide receiver,  linebacker, , offensive line and others, deciding what to do with Wentz is still by far the biggest.
Eagles QBs Drafted Outisde Of The First Round Since 2000