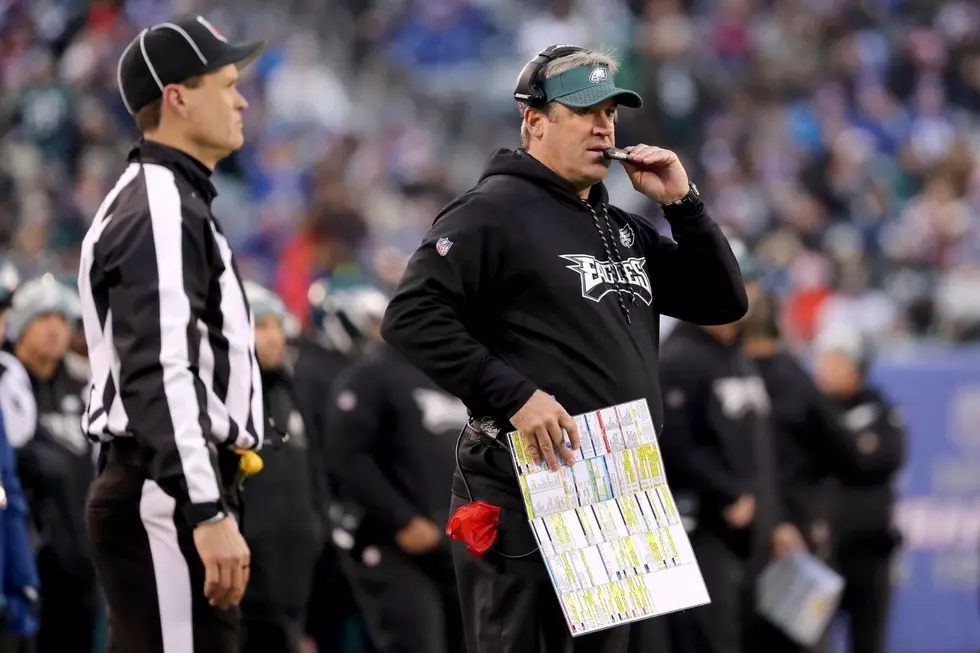 Best and Worst Cases for Philadelphia Eagles in 2020
(Photo by Elsa/Getty Images
The Philadelphia Eagles have made the playoffs three straight seasons, but what will it take to make it a fourth in a row?
Enter your number to get our free mobile app
Will Carson Wentz be closer to the guy we saw in 2017 with an improved defense on the other side of the ball? Or will we see Wentz take a step back and the defense follow him in 2020?
Pro Football Focus examined the floor and ceiling for tall NFL teams including the 2020 Eagles — by running simulations and determined the low-end (10th percentile) and high-end (90th percentile) results.
The losses on the Eagles offensive line could be the biggest issue this season.  With Andre Dillard replacing Jason Peters and Brandon Brooks lost for the season the offensive line, once a force, could fall back to the middle of the pack.
The Eagles need to figure out who will play across from Darius Slay, find Wentz some more weapons and maybe most importantly - stay healthy.
If they don't find those three things 5-11 sounds like a possibility.
How they get there: Wentz remains healthy for the entire year and delivers a performance reminiscent of the one he produced in 2017 ─ a year in which he was a legitimate MVP candidate. Reagor stretches defenses, opening things up underneath for the likes of Zach Ertz. Defensively, the Eagles boast one of the most dangerous four-man pass rushes in the NFL with Fletcher Cox, Javon Hargrave, Brandon Graham and Derek Barnett, and they can throw Malik Jackson into that mix, too. That speeds up opposing quarterbacks and helps the secondary create some splash plays.
Murray was good last year, but its hard to say he was consistently great.  If he is closer to the Wentz we saw in 2017, there is no reason the team can't hit double-digit wins. He also could benefit from having some more play-makers, like DeSean Jackson, first-round pick Jalen Reagor, and Miles Sanders.
On defense, adding Slay, Javon Hargrave and a full season from Malik Jackson could help the Eagles defense take a few steps forward.
KEEP READING: Eagles Quarterbacks With the Most Wins Since 1980