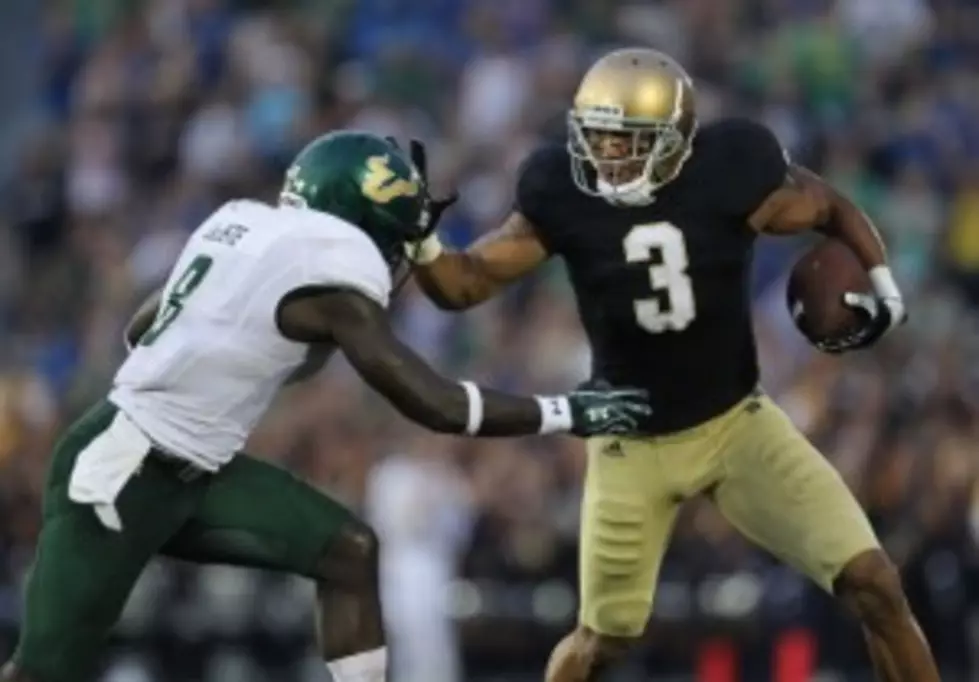 Big Wide-Out Should be on Eagles Wish-List
If coveting thy neighbor's wide receiver is a sin, than kill me off in the "Seven" remake. 
Who wouldn't? After vaulting Matthew Stafford to 5,000-yard status? After racking 213 yards, a record for a post-season debut, and two touchdowns against the Super Bowl champs once removed?
Hell, Johnson had me at a 4.33 40-yard dash -- the same clocked quicks as consensus speedsters DeSean Jackson and Mike Wallace, but with 6'5 on the tape and 240 lbs on the scale.
He's the once-in-never-type player who transforms a franchise. If you can get that, you take it, like the Lions did in 2007.
If you can't, you draft Michael Floyd.
Are the players the same? In a booming compliment to Johnson -- it's not a knock on Floyd -- the answer is "no" definitively.
But he's got talent. Floyd, a graduating senior at Notre Dame, is Mel Kiper's 20th best player available, No. 2 at his position to only the ever-touted Justin Blackmon of Oklahoma State. With the Eagles slated to draft at No. 15 (barring any of Andy's draft day shenanigans), that makes Floyd an attainable commodity without the all-too-costly price of too many draft picks.
It's possible the Eagles cozy up to another year of Michael Vick. Likely the ask for Robert Griffin III is too high. Say some spring surprise plucks Vontaze Burflict and Luke Kuechly (inside linebackers from Arizona State and Boston College) off the board. and Andy Reid could easily be content with the defense's progress, the line's sturdiness and permissive of his own eternal stubbornness.
What then? Scoop up Floyd.
We are talking the recipient of 100 passes from, of all senders, Tommy Rees, Dayne Crist and Andrew Hendrix in an up-and-down and undone 2011. A four-year starter who never posted a sub-700-yard season  for the Irish. The fourth-most scorer at his position since 2008 (37 receiving TDs), despite missing five games (collarbone) in 2009 and three more (knee) in 2008, injuries that haven't surfaced since (Floyd: played in all ND games thru 2011).
Does he have otherworldly speed? A not-so-Tebow rep?
Yes and no. But the Eagles can still use him.
Floyd has the opportunity to fill a role no Eagle has since Harry Carmichael, a body, a force, a royal pain in a defense's [Cover 2 soft spot]. He can be the sum of a fistful of Eagle parts past, with the field-stretching ability of Jackson and physicality of Terrell Owens, with better hands than both.
And the character concerns? Don't fret over his hiccups -- Floyd has multiple DUI arrests on his record -- any more than you did Vick's off-field vices. Be it deference to a winning culture, the fear of God or an empty bag of second chances, solid players with checkered pasts haven't posed problems for this Eagle hierarchy.
What's there to think Floyd will be the first?
Will he be Blackmon? (Who, for record stuck the third-most receiving TDs since 2008, despite debuting a year later than everyone in the top four.) No. But few are.
And while Blackmon will be appreciated by whatever fortunate lap he falls into, he wouldn't be by Eagle fans. Not at the price, given the 2011 precedent set by the Long Lost Lehman Brother, Falcons GM Thomas Dmitroff, who sent Cleveland a first, a second and a fourth-rounder in 2011 and a first and a fourth in 2012 to move up from No. 26 to No. 6 for Julio Jones.
It wouldn't be that steep. But with every team between the Nos. 2 and 13 slots -- the Rams, Vikings, Browns, Buccaneers, Redskins, Jaguars, Panthers, Dolphins, Bills, Chiefs and Seahawks -- in the market for a wideout, the Eagles would have to pony up for the former Cowboy, much more than they'd have to for Floyd.
For a win-now team looking to restock its cupboard -- we are assuming the end of No. 10 here -- Floyd could be too spicy to resist.
(This article was written by Matt Hammond of 973espn.com)