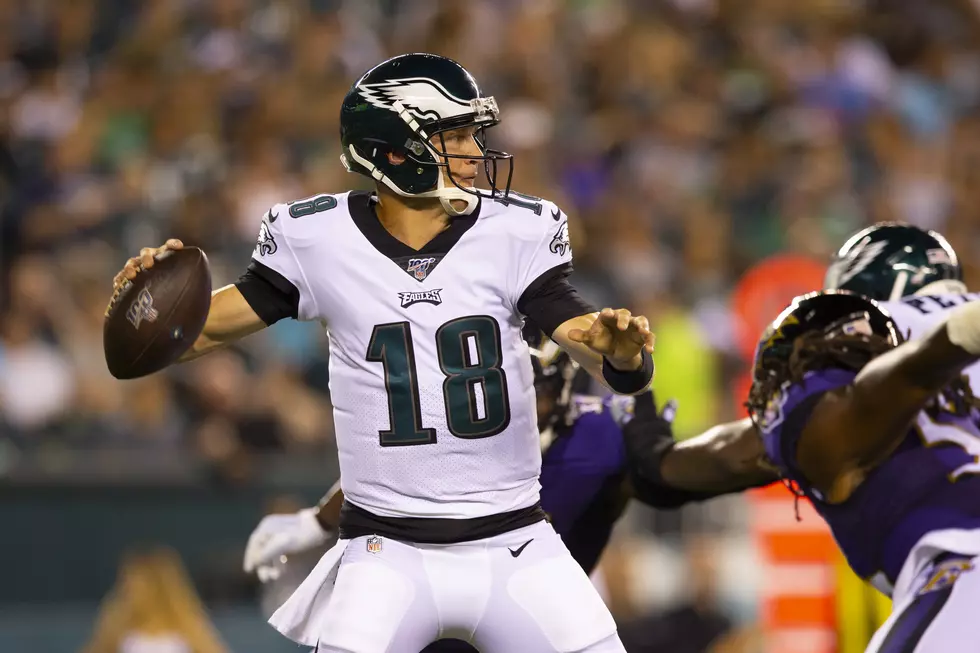 Comfort Factor Returns with Josh McCown
PHILADELPHIA, PA - AUGUST 22: Josh McCown #18 of the Philadelphia Eagles throws a pass in the second quarter of the preseason game against the Baltimore Ravens at Lincoln Financial Field on August 22, 2019 in Philadelphia, Pennsylvania. (Photo by Mitchell Leff/Getty Images)
PHILADELPHIA (973espn.com) — When Josh McCown showed up in Philadelphia less than a week ago with the squared jaw and the perfectly manicured coif, Malcolm Jenkins joked that the Eagles new backup quarterback looked like a superhero.
After 17 NFL seasons, though, the 40-yard-old McCown feels more like a late-model sedan, something he echoed after a slow start against Baltimore in Week 3 of the preseason turned into a gunslinger dropping dimes "faster than a speeding bullet."
"Well it took me a little longer than I'd like," McCown acknowledged in what turned into a 26-15 lightning-shortened loss to the Ravens. "It's kind of like an old '79 Chevy; it takes a while to get cranked up and then you get going. I hate how I started, but I finally got some things going so that was good."
The start was indeed ugly, a fumbled snap, three incompletions and a sack until the tipping point, a textbook out pattern to Greg Ward, the type of throw Nate Sudfeld, Cody Kessler and Clayton Thorson simply can not deliver, at least with any consistency.
"The one to the sidelines to Greg Ward. I think it really helped me settle in," McCown noted. "We had a protection thing. We were able to kind of get things going there at the line of scrimmage as far as getting the protection right and to kind of drop back and get the completion. Greg made an unbelievable catch on that. I think those things like that play there [made me say] 'Okay, I can settle in now.' That play, in general, was pretty good."
Good was a bit of an understatement considering the circumstances. McCown was in Charlotte last week coaching some high school football and preparing to launch a broadcasting career when the Eagles convinced him the opportunity to win a Lombardi Trophy was worth one last dance, a process that dated back to July long before the broken wrist of Sudfeld and the concussion to Kessler made things tricky for Philadelphia in the preseason.
Two NFL sources confirmed to 973espn.com that the Eagles have wanted McCown and his experience to be the backup to Carson Wentz and with the championship window open, McCown is seizing his opportunity.
Against the Ravens McCown took over for Kessler in the Eagles' third offensive series and played through the third quarter, completing 17-of-24 passes for 192 yards with two TD passes, one a beautiful over-the-shoulder throw to rookie J.J. Arcega-Whiteside and the other, a tip of the hat to his processing speed by getting the football out on time to Alex Ellis.
"You know the thing is when you start 0-for-whatever we were, 2, 3, 4, it's just get a completion," McCown explained. "That's what this game is about. You stack some wins, get some completions, get some momentum, and so we did that. From there the guys made plays. We just had to settle in, myself included."
For those who haven't seen all that much of McCown during his 76 NFL starts over the years Thursday might have been a bit of a surprise but not to a former NFC east scout who noted that McCown "is a top-five backup in this league the minute he steps onto the field."
"I thought he did a really good job," Doug Pederson noted. "I had him just highlight plays he knew in four days and just called off of that. He handled it extremely well, bounced back there in the third quarter and led two touchdown drives and kind of got us back in the game. So I was obviously pleased with the way he handled himself."
The Eagles don't want anyone other than Wentz playing quarterback this season but if they are forced to play the backup they got a lot more comfortable after Thursday night.
"That dude's a freakin' baller," Zach Ertz gushed.
-John McMullen covers the Eagles and the NFL for 973espn.com. You can reach him at jmcmullen44@gmail.com or on Twitter @JFMcMullen