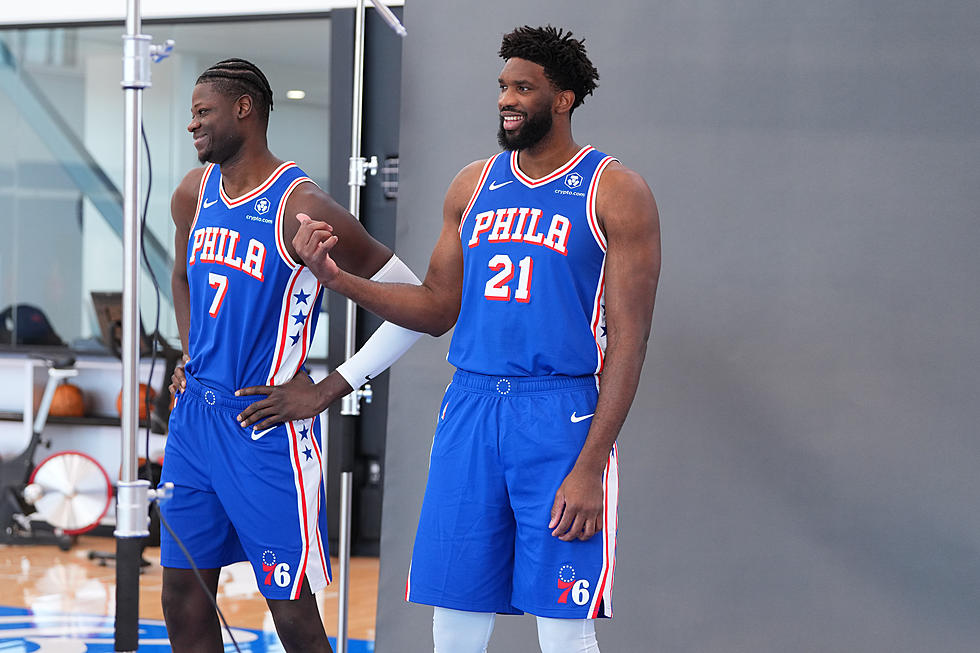 Conceptual offense over role play coming easy for Joel Embiid, Mo Bamba
Photo by Mitchell Leff/Getty Images
FORT COLLINS, CO - Nick Nurse will tell anyone and everyone that he wants Joel Embiid to "take more swings at the ball" this year.
There is no risk too big or attempt at making a defensive play too reckless in his mind.
But, to Embiid, a strong defensive presence goes beyond the blocked shots.
"Well, I led practice in blocks today, so that's a start. But, you know, I've always believed that being a good defender is not blocking shots and getting a lot of steals," Embiid told reporters after Thursday's training camp session.
"The best defenders are just solid, they do their jobs, they don't allow shots, they intimidate the opposing team. I think that's what kind of gets lost in those awards, like Defensive Player of the Year. Like, most of the time, I feel like people just look at who got the most steals, who got the most blocks. But, defense is much more than that."
In the eyes of the big fella, you have to have a high basketball IQ. You have to know where to position yourself. The concept is to make sure that the opposition doesn't get into the paint. Ideally, they don't even attempt a shot or, in Embiid's words, they're scared to do so.
That's why he believes that defense-based awards should go to big men. To him, it's not just about shot-blocking proficiency.
That line of thought might have moments of contrast with what Nurse clearly wants. But, Embiid is quite high on Nurse's offensive concepts.
He thinks the biggest difference between Nurse's concepts and what Doc Rivers had them doing is that there is no painting anyone into a box. They are not defined by roles, big or small.
"I love it, and we all love it. I think this is the best way to win. I've always believed that. I never liked the idea of just being a scorer. I like to do everything on the basketball court. I want to be a playmaker. I want to score. I want to get my guys involved. I want to get them open," Embiid said.
The face of the franchise recognizes that Rome won't be built in a day. The system and style they're implementing will take some time to master. But, Embiid sees no cause for concern. They'll figure it out, and they'll be fine.
"It's fun playing that way, the ball movement, the ball moving side to side. Everybody touching it. That means everybody's happy," Embiid said.
He believes that the wide involvement on offense will inspire more engagement on defense.
"Most importantly, on the other end, everybody does their job because they're seeing the ball, they're touching the ball. Even if they're not shooting, at least they have the ball in their hands. So, I think everybody's buying in and I love it because that's the way I love playing. Jut moving the ball and getting everybody involved," he said.
Even newcomers like Mo Bamba can feel how Nurse's concept-based style is different from how the Sixers played in previous years. The pace and the unpredictability stand out the most.
"Fast, I'd say it's a lot faster. Again, I wasn't here last year. But, last year, when I played against the Sixers, you knew it was one of two things. You knew it was going to be some kind of pick-and-roll or some kind of post-up," Bamba explained.
"But, coach has emphasized a lot of different interchangeable people and players out there offensively, and even defensively."
To Bamba, that interchangeability makes him think about his job on the court a little differently than he would if he was just tasked with being a traditional man in the middle.
But, having to think differently doesn't mean it's a major challenge. Quite the contrary, actually.
"I think it highlights a lot of what I can do out there on the floor. It's just fun to kind of play this style of basketball. I think everybody around the league kind of admired what Coach Nurse has built in Toronto, as far as seeing guys 6'10"-plus on the perimeter," Bamba said.
"Even when he had Kyle Lowry, seeing Kyle Lowry post up. It's just fun, it's a fun way of playing basketball. It gets the most out of everyone out there."
Bamba feels his time in Orlando prepared him for the adjustments he's being asked to make in Philadelphia.
"It's nothing too crazy. I know Coach Mose down in Orlando, I give him credit for what he's built down there. It's somewhat similar. Only difference is we're playing a lot faster."
Ask any player on the roster, the answer will likely be the same. The ball is flying around on offense. They're playing a team game. And the players are really happy about it.
Yes, maybe even James Harden, too.
Check Out Greater Atlantic City, NJ Area Athletes Who Played Games In NFL
Many people are not aware of the number of athletes from the Greater Atlantic City Region who have played in the National Football League. Football players who played at high schools in Cape May, Atlantic, Cumberland, and Ocean Counties have a strong representation in the NFL over the last few decades.
One of the most difficult accomplishments in sports is to make a Professional Sports Roster and earn the opportunity to play in a game at the highest level of the sport. Check out some of the great South Jersey Athletes who have played in games in the NFL:
Gallery Credit: Joshua Hennig/Townsquare Media