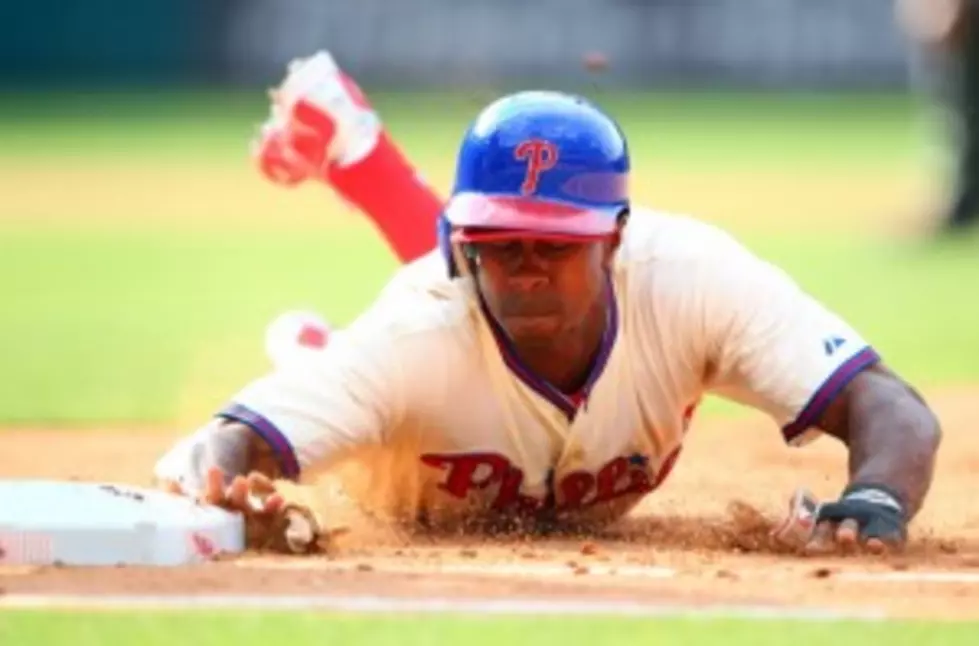 Could Juan Pierre Be the Odd Man out in 2013?
Juan Pierre could be the odd man out in 2013. (Photo by Rich Schultz/Getty Images)
At the Phillies year-end press conference -- an event that, for the first time in a half-decade, was more about facing failure than fielding questions -- Ruben Amaro tolled the death knell for one of the few players who proved himself a positive.
"That may not necessarily preclude him from coming back," Amaro said. "But I think we have some other fish to fry and that may not be the first one."
Why? Specific to the quote, because Pierre's a lefty.
Speaking generally, because he's just not a fit for Philly anymore.
Pierre, who'll be 36 when he debuts with whatever team is lucky enough to have him next season, was partly why the team's average age this season was 28.5, and, since it's but a formality that Placido Polanco's 2013 option won't be picked up, would be the oldest of an old Phillies team next year.
He swings for contact, not the fences, which, for an organization that's become the consummate sucker for the long ball, matters.
But, mostly, it's because he's left-handed, same as three Phillie outfielders under team control for 2013, Domonic Brown, Nate Schierholtz and Laynce Nix, all of whom, again, are younger and fresher and have yet to hit their ceiling.
Still, Pierre, more than anyone else on the current roster, and maybe free agent and trade markets, fits the mold of the guy they need to turn over the roster.
"He obviously had a great year for us," Amaro said, gushing in particular over "more importantly, the influence he had on some of our players, the way he went about his business, his professionalism.
"He was great for us. We were fortunate to be able to get him."
Would be to get him next year, too.
For a team that was, frankly, devoid of leadership throughout a dark season that needed some illumination from, maybe, the guys who'd been there to win five division titles and, in 2008, "it all," Pierre was a beacon. Could've been next year, too.
They need that, maybe, in 2013 more than they did in 2012.
Then there's the production.
Had he qualified, Pierre would've ranked first among NL outfielders in average, and was chiefly responsible for the Phillies ranking No. 9 in baseball in average at his position, which, of course, he only played for 130 games.
"I think what he did this year speaks for itself," Charlie Manuel said.
Three truths, though, speak more loudly.
First, the organization's lust for power. Power-hitting, that is.
"As far as power is concerned, yeah we need some," Amaro said. "I would like to have some power."
Not Pierre's strong suit.
Second, maybe 1A, is the opportunity cost of playing Pierre, which robs developmental time for Brown and Ruf.
Both figure to crush more bombs and plate more Phillies than Pierre, only one has the chops to play center.
Amaro said he was open to dipping into the free agent and trade markets for outfielders, center fielder specifically. That axes the chances of, say, moving Dom Brown to center in the interest of retaining Pierre, at least before gets plucked away from another big-league club.
Speaking of: Lastly, and probably least discussed, is that, believe it or not, the Phillies would likely have to duke it out with the Reds and Orioles and others for Pierre, who could bat leadoff for a team that's not hung up on preserving Jimmy Rollins ego at the expense of competition.
"From a leadoff slot, when you look at our lineup this year, Jimmy Rollins definitely had to hit leadoff for us," Manuel said of a .250 average, .316 on-base percentage guy, who, to his credit, drew the second-most walks in the National League among lead-off hitters with 59.
There are several understandable cases that could be made against re-upping Pierre.
That Rollins bats leadoff shouldn't be one of them.
Though he hit just .249 and reached base at a mere .299 clip in 2012, Pierre's career average and on-base percentage when he's first up are .294 and .343. His three-year averages in his latest seasons before this one are .282 and .312.
Clearly can still lead the charge.
Even with his legs. Pierre's 37 steals this season weren't his 68 in 2010, but would rank second in baseball among leadoff hitters, just four behind Michael Bourn.
Rollins had seven fewer, despite reaching base 76 more times than Pierre.
Maybe the funniest part about it? The guy they say they need from their outfield, and say they see in Rollins, is actually Pierre, to a tee.
"We need people who can hit as close to .300 as possible to create runs," said Amaro, accidentally describing his every-other-day left-fielder.
"I look at Jimmy Rollins as a .280 to .300 hitter," Manuel said of Rollins, who hasn't been that since 2007.
"I don't ever see Jimmy being a .400 on-base percentage guy, Manuel said. "But (Rollins) can do better."
So can the organization, with Pierre.
They won't, and you can't blame them too harshly, especially with Pierre's replacement figuring to be the minor league home run king and its once-upon-a-time top prospect.
But, considering the leadership and ability -- both of which, at the very least, aren't souring with age -- it would be nice if Pierre figured into the Phillies plans.
He might, as a sign-and-trade.
But as the warm and wise left fielder he was for but a short baseball year, he's time here is done, made all-but-official Thursday, a day this city hasn't experienced in shorter than it cares to forget.