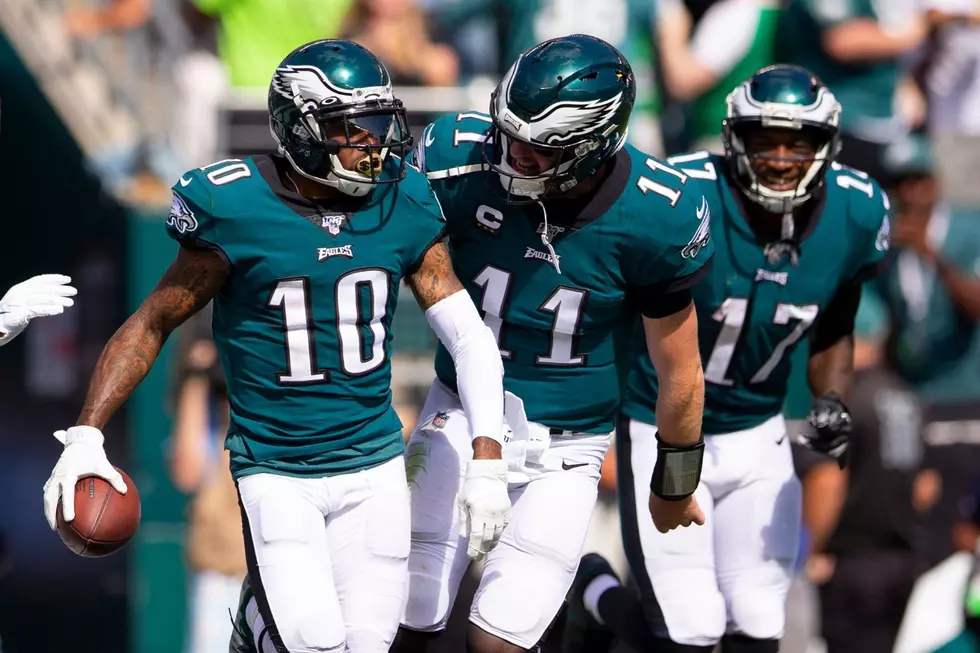 DeSean Jackson and Alshon Jeffery Inching Closer to Return for Eagles
Photo by Mitchell Leff/Getty Images
The Eagles decimated wide receiving group might be closer to full strength this week, as head coach Doug Pederson announced that DeSean Jackson and Alshon Jeffery are both set to practice this week.
Pederson said Jackson, who has been dealing with a hamstring issue most of the season, will do some individual work at practice today and Jeffery will continue to ramp up his activity, but stopped short at saying either would be ready to play this Sunday in Pittsburgh.
"Yes, both guys are getting closer," Pederson explained. "In DeSean's case, it's just a matter of just continuing to manage him, make sure he's more than --- we say 100 percent, but 100 percent as he enters himself back into practice and gets himself accumulated again. Honestly, it's just going to be something we're going to have to monitor, I think with him. He's going to have to monitor it and just making sure that we're giving him enough rest during the week to prepare for Sunday."
The team has been without Jackson and Jeffery most of the season, along with rookie wide receiver Jalen Reagor who was place in the injured reserve and is out at least two more weeks, but likely longer.
Last week in San Francisco, the team played with Greg Ward, Travis Fulgham, rookie John Hightower and Deontay Burnett, so getting Jackson and Jeffery back would mean Pederson would have to make some decisions on who plays going forward.
"Honestly, I hope we have those tough choices to make with the guys we got, the guys we got coming down the pipeline here," Pederson admitted on Monday. "That would be a great situation because right now, we're not in that situation. So it would be great to have those choices."
"Quite honestly, we'll figure that out when we get to that point and we cross that bridge. Right now, obviously with a guy like Travis, he's earned his spot to come up and play and help us compete and try to win on Sunday."
Pederson also said today the second-year man J.J. Arcega-Whiteside would be back at practice after missing last week with a calf injury. He suggested that Arcega-Whiteside would still be a part of the wide receiver rotation once he is healthy enough to play.
"J.J. is still a part of what we're doing," Pederson explained. "In fact, he'll be out there today, he'll practice today and looking forward to getting him back in the offense and working with the guys. It will be day by day with him, but optimistic that he'll be ready for Sunday."
Enter your number to get our free mobile app
Eagles QBs Drafted Outisde Of The First Round Since 2000