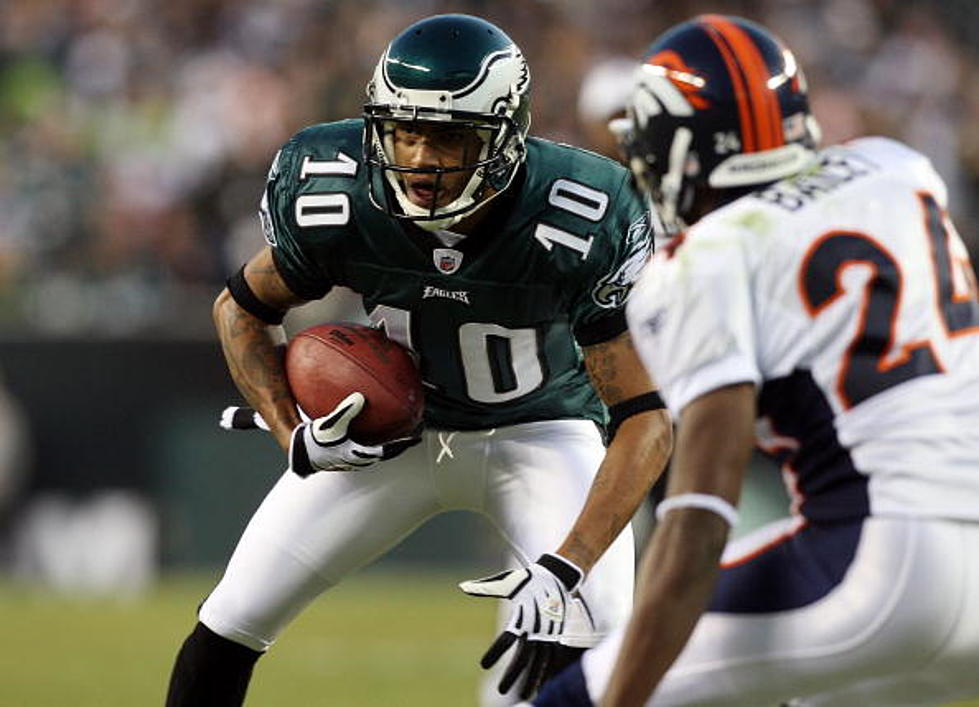 Eagles Bring DeSean Jackson Back
(Photo by Jim McIsaac/Getty Images)
PHILADELPHIA (973espn.com) - Sometimes you can go home again.
The Eagles have acquired speedy wide receiver DeSean Jackson.
Originally a second-round pick by Philadelphia in 2008, the 5-foot-10 Jackson, now 32, quickly turned into one of the league's top big-play threats with the Eagles, a dominant speed receiver and excellent punt returner who earned three Pro Bowl nods and an All-Pro berth after the 2009 season.
Ultimately things turned sour with Chip Kelly after Jackson's best statistical season, an 82-catch, 1,332-yard campaign in 2013. Jackson remained arguably the top deep threat in football through three years in Washington and two in Tampa Bay as the Eagles have struggled to replace what he brought to the offense.
Even post-30 Jackson led the NFL by averaging 18.9 yards per reception last season and he's been a 1,000-yard receiver five times in his career. He finished with just 41 receptions last season, however, while missing four games.
Philadelphia reportedly gave up a 2019 sixth-round pick in order to secure Jackson before he hit the open market. If Tampa Bay was unable to trade Jackson it likely would have released the veteran. The Eagles also got a 2020 seventh-round selection in the deal.
Jackson had one year left on his deal at a $10 million cap number but the Eagles have reportedly agreed on a three-year extension for $27M which lowers that number and gives Jackson $13M in guarantees.
The move could complicate things with Nelson Agholor moving forward as well because he is set to play under his fifth-year option of $9.387M, a number that becomes guaranteed on Wednesday at 4 pm ET, the start of the new league year.
All options are on the table including a trade, release or restructure but it's unlikely the Eagles carry Agholor, with Jackson and Alshon Jeffery, at his current projected number.
In other news, the Eagles decided to decline their option on veteran offensive lineman Stefen Wisniewski, making him a free agent when the new league year starts on Wednesday.
Meanwhile, Super Bowl LII MVP Nick Foles did land in Jacksonville as expected, inking a four-year with an annual value of $22M per year and $50M guaranteed.
-John McMullen covers the Eagles and the NFL for 973espn.com. You can reach him at jmcmullen44@gmail.com or on Twitter @JFMcMullen