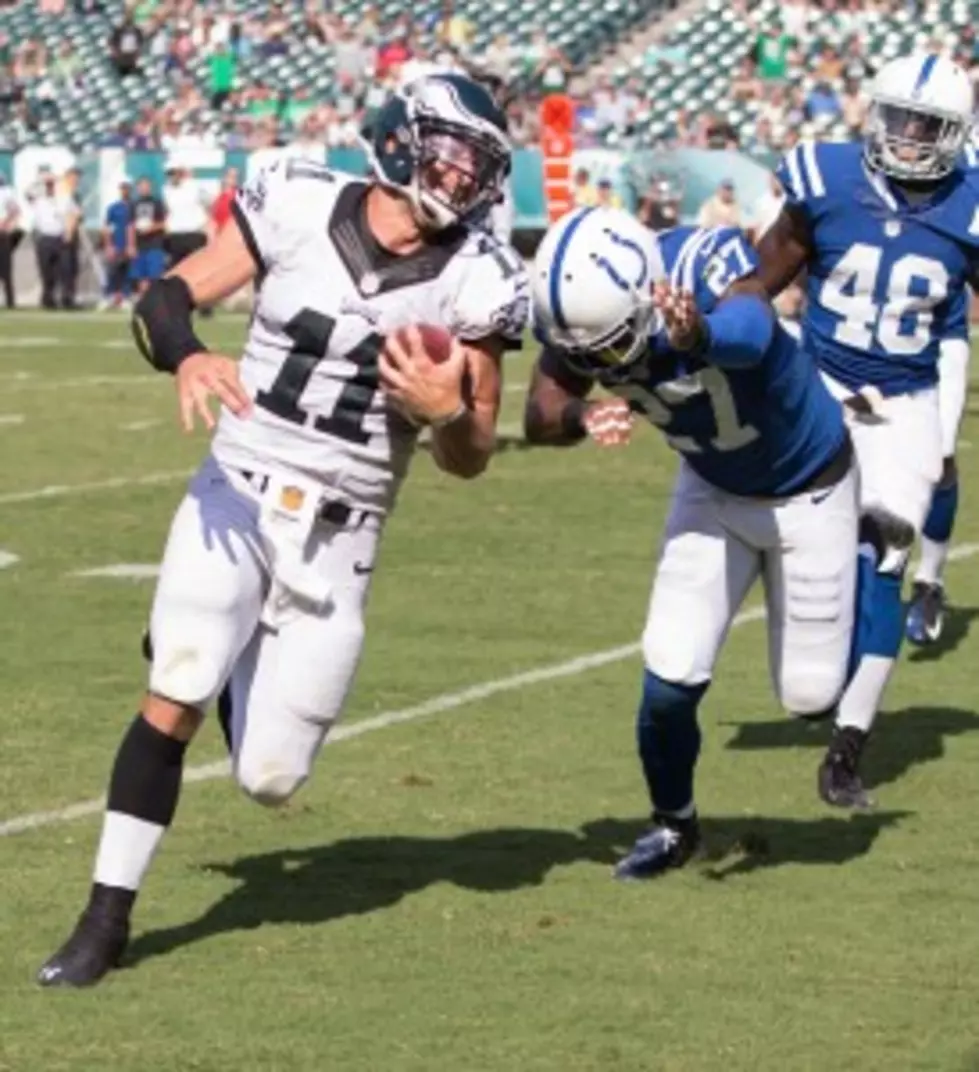 Eagles Camp Notes: Counting Down to 53
Tim Tebow completed 6-of-12 passes for 69 yards in the Eagles' preseason opener Sunday. (Photo by Mitchell Leff/Getty Images)
PHILADELPHIA - Training camp is history and we are half-way home in the necessary evil that is the preseason so it's time to take a stab at how the final 53 is shaping up for the Philadelphia Eagles.
The cut to 75 is on Sept. 1 this year and the final blow to fledgling players will be four days later. The waiver-claiming period ends at noon on Sept. 6 and teams can then start to assemble their 10-man practice squads.
In: Sam Bradford, Mark Sanchez, Tim Tebow
Out: Matt Barkley (traded)
The Skinny: You don't pay a player $13 million to be a backup so those who thought there was going to be an open competition between Bradford and Sanchez were kidding themselves. That said, if there was one, the oft-injured Bradford would have lapped the inconsistent Sanchez at this point. The arm talent is as advertised with Bradford and he can look like an All-Pro in 7-on-7s. The next step is health and consistency from week to week. Sanchez, meanwhile, is a top-tier backup but his poor mechanics, particularly his shoddy footwork, will always show up over long periods of playing time. Barkley is the better QB than Tebow but Kelly likes the specialization the former Heisman Trophy winner brings to the table and the coach will be able to spin Barkley off for a late-round draft choice.
In: DeMarco Murray, Ryan Mathews, Darren Sproles, Kenjon Barner
Out: Raheem Mostert, Kevin Monangai
The Skinny: This shapes up as one of the deepest backfields in football with an All-Pro as the bell cow (Murray), a tremendously talented former top-15 pick who ran for over 1,200 yards in 2013 as the caddy (Mathews), and perhaps the best third-down back in the game (Sproles). Barner played himself onto the roster after returning punts for TDs in the first two preseason games. His presence as a kick returner could allow Sproles and Josh Huff to focus purely on their offensive duties.
(Listen to John McMullen discuss who should make the 53-man roster)
In: Jordan Matthews, Nelson Agholor, Riley Cooper, Josh Huff, Miles Austin, Seyi Ajirotutu
Out: Jeff Maehl, GJ Kinne, Quron Pratt, Rasheed Bailey, Freddie Martino, Michael Johnson, Josh Reece
The Skinny: Matthews is the team's top receiver and will handle the slot duties while Cooper and Huff are currently penciled in on the outside. Rookie first-round pick Agholor is poised to surpass Huff soon and will likely be a starter by Week 1. The team raves about Austin's veteran presence both on the filed and in the locker room, while Ajirotutu's special teams prowess gives him the edge over longtime Kelly favorite Maehl.
In: Brent Celek, Zach Ertz, Trey Burton
Out: Andrew Gleichert, Eric Tomlinson, Justin Tukes
The Skinny: So much depends on Ertz and how quickly he can return from a core muscle injury that required surgery. Week 1 seems awfully optimistic but if it is going to be early in the season, the Eagles will stick to the status quo and keep just three tight ends. If it's an injury that is going to linger Gleichert seems to have surpassed Tomlinson in the staff's mind because he is more of an all-around tight end. Either way, expect both rookies to be on the practice squad as insurance for Ertz.
In: Jason Peters, Allen Barbre, Jason Kelce, Andrew Gardner, Lane Johnson, Matt Tobin, John Moffitt, Julian Vandervelde
Out: Dennis Kelly, David Molk, Josh Andrews, Kevin Graf, Mike Coccia, Malcolm Bunche, Brett Boyko, Jared Wheeler
The Skinny: You usually want to keep nine but Barner's push for a roster spot has to affect another position and the Eagles don't have a ton of depth here so they will be able to mix and match from week to week and bring guys back if need be. The starting group is set now that Gardner has seized control of the right guard spot with Tobin set to dress on game days as the swing tackle and Vandervelde the interior backup. The Eagles will also look to keep Moffitt around in the hopes he can reach his ceiling as a player. Look for Malcolm Bunche to make the practice squad.
In: Fletcher Cox, Bennie Logan, Cedric Thornton, Vinny Curry, Beau Allen, Taylor Hart, Brandon Bair
Out: Brian Mihalik, Alfy Hill, Travis Raciti, Jeremy Towns,
Comment: The starters are very good. Cox is the best defender the Eagles have and Logan has had the best preseason of any Philadelphia defender. Thornton, meanwhile, remains the Birds most underrated player, and Curry is always valuable as an edge pass rusher. The depth from there is shaky although Allen is a decent two-down run stuffer. The staff loves Hart, who has remade his body and gotten stronger but he hasn't flashed on the field yet. Bair is a hard worker has no real difference-making skill.
In: Kiko Alonso, DeMeco Ryans, Mychal Kendricks, Jordan Hicks, Najee Goode
The Skinny: This might be the Eagles deepest position group with three legitimate starters for two spots, a promising rookie and a solid special teams player in Goode. Currently the plan is to start Alonso and Ryans and have Kendricks rotate in as well as play in the nickel with Alonso.
In: Connor Barwin, Brandon Graham, Bryan Braman, Brad Jones, Marcus Smith
Out: Diaheem Watkins, Deontae Skinner, Dasman McCullum
The Skinny: The depth here is especially shaky as the team just doesn't believe in Smith, who is currently nursing a hamstring injury. Jones, meanwhile, is best suited for the inside, and Braman is really only a special teams player. Barwin and Graham will need to play a lot of snaps.
In: Byron Maxwell, Nolan Carroll, Eric Rowe, E.J. Biggers, Jaylen Watkins
Out: Denzel Rice, Randall Evans, Marc Anthony
Comment: Things are shaking out with Maxwell and Carroll starting on the outside with Carroll kicking inside in the nickel as Rowe enters. Biggers is the veteran insurance in case Rowe isn't ready early and Rice could push Watkins off this roster but the Florida product gets one last chance as Rice gets stashed on the PS.
In: Malcolm Jenkins, Walter Thurmond, Chris Maragos, Ed Reynolds
Out: Chris Prosinski, Jerome Couplin, Brandan Bishop
The Skinny: Jenkins is the leader of the defensive backfield who will get most of the looks as the team's single-high safety much like last season. The Eagles love the ball skills of Thurmond at safety but it remains to be seen if the former CB can hold up in run support. The depth is nonexistent as Maragos makes his money on special teams and Reynolds only stays because there are no other options. A waiver wire pickup is conceivable here.
In: Donnie Jones (P and holder), Cody Parkey (PK), Jon Dorenbos (LS)
The Skinny: A solid unit although Parkey looks primed for a somewhat inconsistent sophomore season.
-John McMullen covers the Eagles and the NFL for 973espn.com. You can reach him at jmcmullen@phanaticmag.com and on Twitter @JFMcMullen