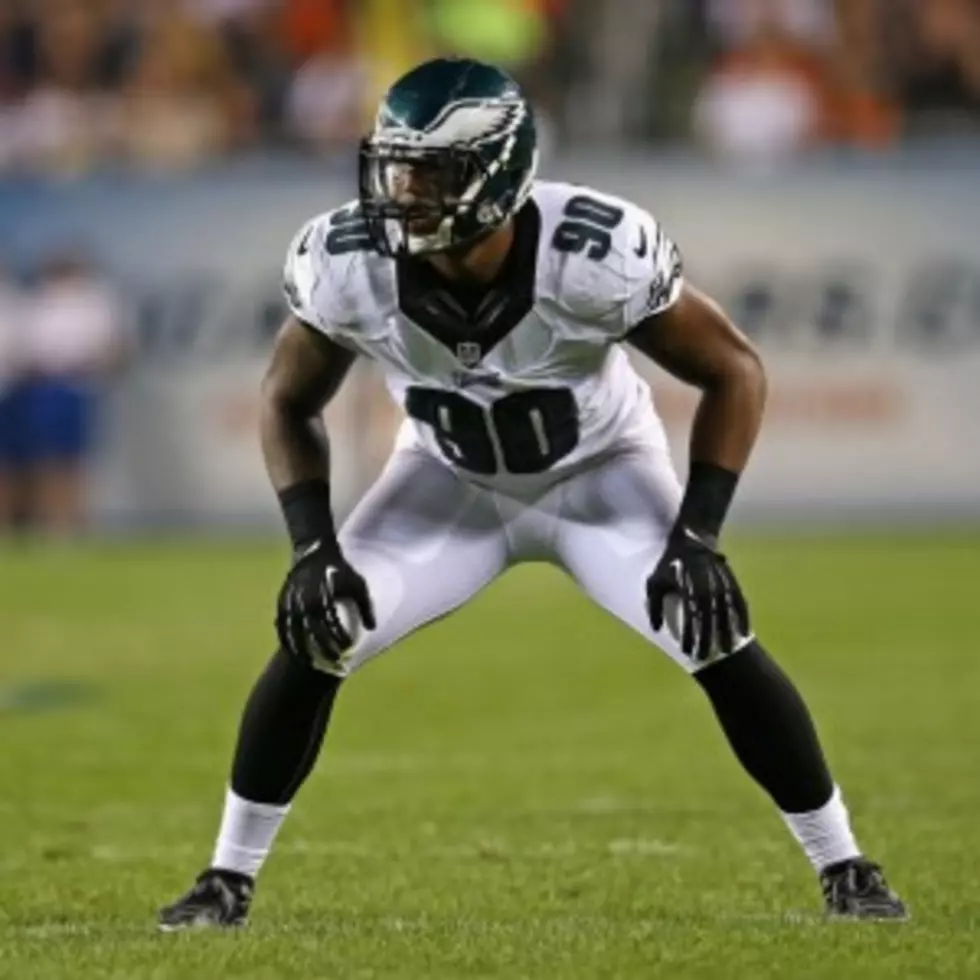 Eagles Camp Notes: Marcus Smith Hamstring Injury Strains Eagles' Depth at OLB
Eagles second-year OLB Marcus Smith was carted off the practice field with an apparent hamstring injury. (Photo by Jonathan Daniel/Getty Images)
PHILADELPHIA - An ACL injury to coaching-staff favorite Travis Long put oft-criticized 2014 first-round pick Marcus Smith back into the conversation as the potential backup to starters Connor Barwin and Brandon Graham at outside linebacker but the Louisville product took a major step backward during Thursday's joint practice with the Baltimore Ravens.
Smith was forced to leave the field on a cart after suffering a right hamstring injury during a special teams drill. The rangy linebacker came up lame on kickoff coverage and limped off to the side before being removed with the cart as a precaution. An MRI has been scheduled for Friday to determine how serious the problem is.
In Smith's absence, special teams stalwart Bryan Braman and natural defensive end Vinny Curry were running with the second unit.
Braman is a hard worker who looks like a beast going straight ahead but he has no real feel for the position and isn't a legitimate option for the third slot behind Barwin and Graham. The Eagles certainly want Curry's pass-rushing ability on the field as much a possible but expecting a 280-pound end to play in space in probably asking a bit too much.
If Smith is out for an extended period, the possibility exits that either Kiko Alonso or Mychal Kendricks could be moved outside at times in order to get the team's best defenders on the field although both Chip Kelly and Billy Davis have claimed they have no real interest in doing that. Another option could be veteran Brad Jones, who has cross-trained on the inside and outside, and has starting experience in Green Bay.
Sam Bradford is expected to make his preseason debut Saturday against the Ravens even if Kelly won't admit it.
"We have training today and training tomorrow,'' Kelly said before practice. "If Sam rolls his ankle today, then he's not going to play on Saturday.''
Sam didn't roll that ankle and more importantly hasn't has any swelling in his twice, surgically-repaired knee so it's time to take the shrink-wrap off.
"Through the first three weeks (of camp), (the knee has) held up great," Bradford said after another solid practice. "There's been no swelling. I haven't had to sit out any days."
"The plan is to have a great day today," Kelly said. "We have not talked about (Saturday yet). We have today's training and tomorrow's training, then we'll sit down as a staff tomorrow afternoon and outline who's playing what and what's going on Saturday night.''
Bradford claimed he hasn't talked to the head coach about playing time this week but "our conversation last week was I'm going to play.  I'm hoping he hasn't change his mind.
"I wouldn't hate going to ground once, getting up, and knowing I'm going to be OK."
Kelly believes Bradford is ready so there is little doubt the presumptive starter will get at least a cameo appearance on Saturday night.
"I've seen (Sam) make a logical progression," Kelly claimed. "Which is kind of what we anticipated. It's the plan we had for him all along. That he would be ready to go at the start of preseason camp. And he's done it. He's had no ill-effects. There's never been any day where we had to go, 'Hey, his knee's bothering him. We need to have him take a few days off. And I think he's getting more comfortable with what we're doing scheme-wise.'"
THURSDAY'S CAMP CONFIDENTIAL:
- It was a tough day for the Eagles' reserve corners. Everybody took turns getting beat by 6-foot-6 rookie Darren Waller on 50-50 balls. The raw Georgia Tech alum didn't discriminate, getting the best of Denzel Rice, Marc Anthony (the Cal comer not J-Lo's ex-husband) and Jaylon Watkins.
-On the positive side in coverage, Kendricks and safety Walter Thurmond flashed a good rapport in zone schemes, while veteran corner E.J. Biggers had a productive day and picked off Baltimore backup Matt Schaub and took it to the house.
-In the race for third-string QB Matt Barkley outplayed Tim Tebow again, with the highlight being a seam pass to rookie tight end Justin Tukes for a TD in a two-minute drill.
-Safety Earl Wolff, who continues to struggle with his surgically-repaired knee, missed practice again and Kelly claimed he is having his knee looked out, presumably by Dr. James Andrews.
-John McMullen covers the Eagles and the NFL for 973ESPN.com. You can reach him at jmcmullen@phanaticmag.com or on Twitter @JFMcMullen