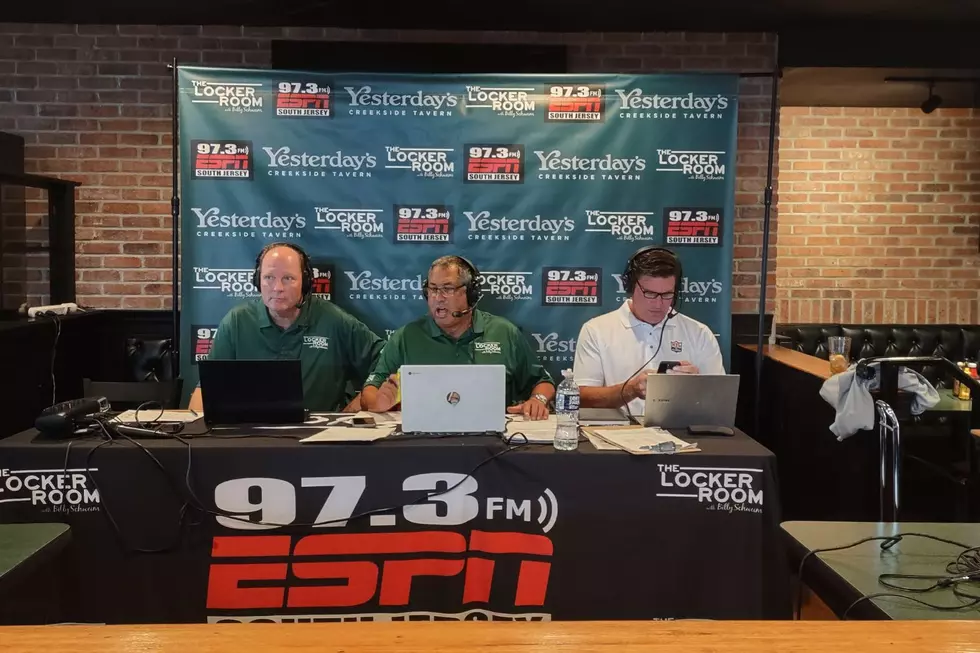 Eagles Hot Start is Headline as The Locker Room is on the road
Photo by Josh Hennig/Townsquare Media
The Philadelphia Eagles are 3-0 heading into Sunday's game against the Jacksonville Jaguars and the return of Super Bowl Winning Head Coach Doug Pederson. The last time the Eagles got off to a 3-0 start was 2016 with Pederson as Head Coach and 2014 under Chip Kelly's leadership. In both of those seasons, the Eagles lost their fourth game and would miss the playoffs.  Let me tell you why this year will be different: While the Jaguars are 2-1 and in First place in the AFC South, they have not played in front of a hostile environment like Philadelphia, whose fan base is hungry for a championship! The Jaguars have played in front of Washington and Chargers fans, those people are nothing like what Philadelphia brings to the table and I expect Lincoln Financial Field to be rocking this Sunday.
The Locker Room with Billy Schweim will be back on the road, broadcasting Live from Yesterday's Creekside Tavern on Roosevelt Boulevard in Marmora! Catch the show from 10am to 12pm at Yesterday's, your the headquarters to watch all the Eagles' action this season!  Last week, we gave away $50 Gift Cards to Hand and Stone locations in Somers Point and Egg Harbor Township.  This week, we will be giving away an A.J. Brown Eagles Replica Jersey, courtesy of Pro Image Sports and Fan Treasures.  One lucky fan who comes out to Yesterday's in Marmora for our Eagles pregame show will walk away with this great prize!
While the Eagles are off to a great start, the Phillies are on another losing streak and are playing uninspired baseball.  The Phillies scored a total of three runs and were swept by the Cubs in Chicago earlier this week. Now they have a weekend series against the Washington Nationals and the impending weather will make this a rough series with the potential of multiple double headers.  At the start of action on Friday, the Phillies have a half game lead the Milwaukee Brewers for the final Wild Card National League Playoff Spot.
On Saturday's The Locker Room with Billy Schweim, Pete Thompson and 3-timeAll-Big Ten Linebacker Brad Quast join me in the studio. We will talk about the Eagles and their hot start plus their standing a top the NFC East  The Sports Book Consigliere Dave Sharapan checks in from Las Vegas with his unique perspective on sports and his best plays for this weekend's biggest football games. In Hour Two, we will talk Phillies Baseball and go "On the Mound with Tommy Greene" brought to you by Aaron Bada's GSF Golf and Performance Club. Tommy will give his explanations for why the Phillies are losing to the Cubs and struggling to lock up a playoff spot.
On Sunday, we will be Broadcasting Live at Yesterday's Creekside Tavern in Marmora for our Eagles pregame show starting at 10am.  Come on out and join me, Mike Carlin, and our special guest: former Mainland Regional Star Football player and Kansas City Chiefs Wide Receiver Dave Klemic.  Don't forget that we will be giving away a Replica A.J. Brown Eagles Jersey, Courtesy of Pro Image Sports and Fan Treasures; You must be in attendance at Yesterday's to win!!  Every Sunday we talk with Fox 29 News Sports Anchor Scott Grayson for his "Keys to the Game" brought to you by Van Brill Pools.  Each week, Scott gives his insight on the Eagles before kickoff. In Hour Two, we talk with my Fantasy Football Guru Brian Hartley, brought to you by Padula Masonry.  Brian will give us the latest starts and sits for NFL Sunday. 
So come out and join us as we broadcast Live at Yesterday's this Sunday for our Eagles pregame show and don't miss out on any of the action this weekend in The Locker Room with Billy Schweim, every Saturday and Sunday from 10am to Noon, on 97.3 ESPN Radio
Most Accomplished South Jersey Male Athletes From Each High School