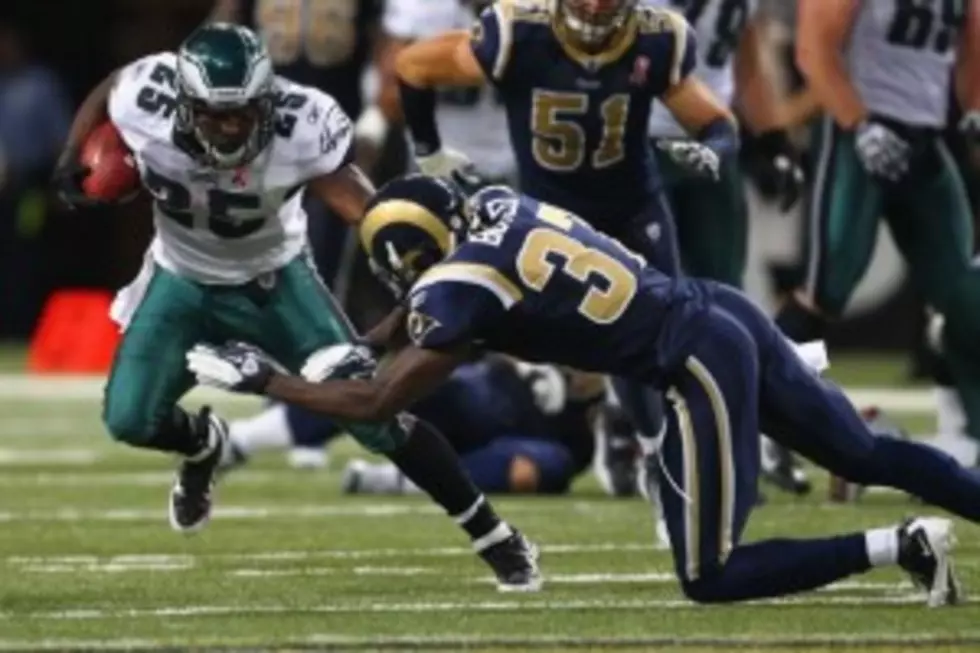 Eagles Inactives, Pick and Matchup to Watch vs Rams
Through four games, McCoy is on pace to rush 240 times for 768 yards with four touchdowns and catch 40 passes for 256 yards. (Photo by Dilip Vishwanat/Getty Images)
The Eagles suffered their first loss of the season in San Francisco, 26-21, at the new Levi Stadium on Sunday.  In that game, Philadelphia became just the second team ever to lose despite scoring at least three return touchdowns.
The  Eagles have won the last three against the Rams, including the 2011 season opener at the Edward Jones Dome, as well as 10 of 12 meetings in the regular season since 1986.
In the 2012 draft, the Eagles took quarterback Nick Foles in the third round, Rams quarterback Austin Davis went undrafted to St. Louis.  He was a walk on at the University of Southern Mississippi and broke many of Brett Favre's records during his collegiate stay. He has spent time in St. Louis, Miami and back to St. Louis and now has been announced the Rams starting quarterback for the rest of the season by head coach Jeff Fisher.
The Eagles and Rams all-time series is tied at 19-19-1.
(ESPN.com NFL insider KC Joyner looks at the match-up)
The Eagles will be missing four starters, linebacker Mychal Kendricks is out again for the third straight week with a calf injury, he will be replaced by the combination of Emmanuel Acho and Casey Matthews – a huge drop off.   The return of Lane Johnson allows Todd Herremans to move back to right guard, after bumping out to right tackle for one week. Johnson's return should help energize a run game that has been non-existent the past two weeks.   Matt Tobin will start for the second week in a row in place of Evan Mathis at left guard.  Finally, for the third time, David Molk will start at center in place of Jason Kelce who is out following sports hernia surgery.
On the Rams injury front, NFL Network's Ian Rapoport reports Tavon Austin will play Sunday against the Eagles.  Austin has been out since week two with a MCL sprain and man the slot in three-wide sets and face off with Philadelphia's best corner Brandon Boykin, who also missed time this week with a tight hamstring.  Rams starting cornerback Trumaine Johnson has been ruled out for the game meaning rookie E.J. Gaines will be start.    The biggest loss so far for the Rams has been losing defensive end Chris Long who had ankle surgery.  Without Long, the Rams have just one sack all season and have allowed a 100 yard rusher in every game this season.
Without Long, the Eagles might finally be able to create some running room against a Rams defense that ranks 30th in rushing defense at 155.0 yards allowed per game.
(Listen to this week's The Outside View with Frank Cusumano)
(ESPN's Sal Paolantonio talks about the match-up to watch)
Rams offensive line vs Eagles defensive front:  Right tackle Joe Barksdale has been playing as well as any tackle in the NFL,  Barksdale is parker right next to right guard Davin Joseph to provide solid running lanes for running back Zac Stacy, who has rushed for 181 yards on an average of 4.3 per carry.  If the Rams can control the clock with the run game it could become another frustrating game for the Eagles offense which has lacked consistency and rhythm that we saw in 2013.
Eagles' inactives:  QB Matt Barkley, DB Jaylen Watkins, C Jason Kelce, OL Dennis Kelly, WR Jeff Maehl, LB Mychal Kendricks, DE Taylor Hart
Rams' inactives: QB Case Keenum, CB Trumaine Johnson, RB Tre Mason, CB Brandon McGee, OL Barrett Jones, WR Chris Givens, S Maurice Alexander.
Reaction: Eagles quarterback Nick Foles has been very inconsistent this season, but has been putting up some pretty big numbers in the process.  This could be the game to put the solid numbers and a solid game all-together.  The Rams have only sacked opposing quarterbacks one time this season, and the return of Johnson should help stabilize somethings up front for the Eagles struggling offensive line.
Running back LeSean McCoy has been horrendous averaging a career-low 2.7 per carry. The All-Pro running back finished with just 17 yards on 10 attempts last Sunday, and is even missing blocks, which could be a sign of how frustrated he is, allowing the lack of yards affect the rest of his game.  The feeling is McCoy is fine, the offensive line is a big issue with his struggles, McCoy is a second level runner who hasn't been able to get to the second level very often this season.
The Eagles need to get Darren Sproles back into the game plan.  He was a huge factor in wins over Jacksonville and Indianapolis.  In the last two weeks, the Eagles offense has run 124 plays and Sproles has touched the ball just eight times. In the previous two wins, Sproles had 26 touches for 263 yards, today the Eagles need to find ways to get him the ball in space and let him loose.
Austin Davis is a big unknown, he was an undrafted kid, who just might be a late-bloomer. Davis has good size and has stuck with his NFL dream and its paying off.  The 25-year-old Davis completed 30 of 42 passes for a career-high 327 yards with three touchdowns and two interceptions in a 34-31 home loss to Dallas on Sept. 21 and will be getting the explosive Austin back this week to an offense that is ranked ninth in total offense (368.3 yards per game) and ninth in passing (264.3) despite playing with Davis who is the third Rams quarterback this season.
The Pick:  Eagles 35, Rams 17