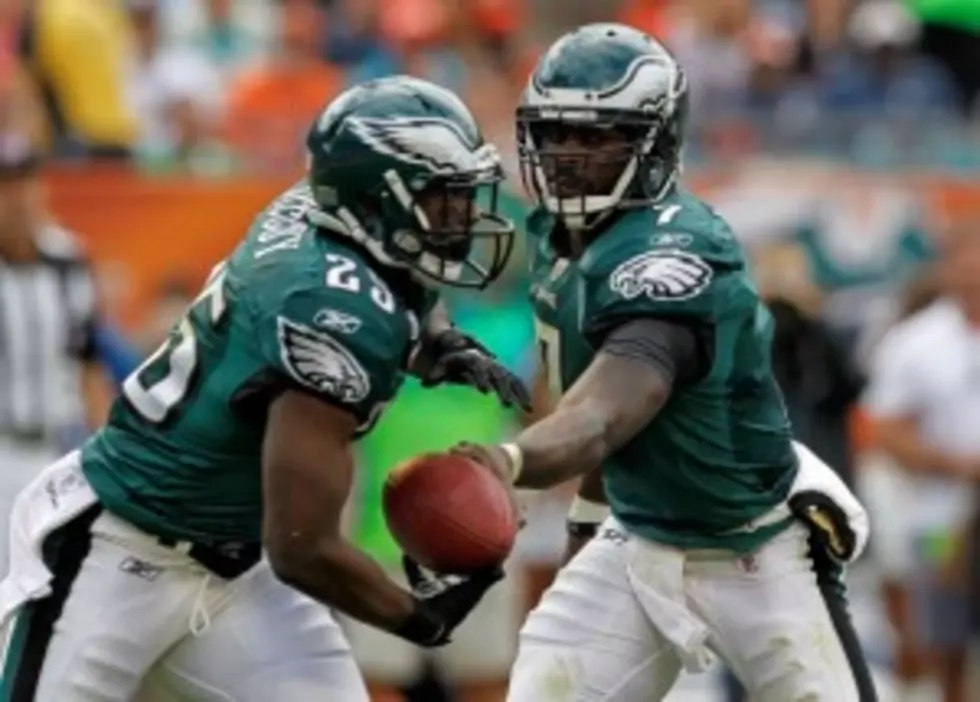 Eagles' McCoy and Vick Still Dealing With Injuries
Michael Vick hands off to LeSean McCoy, the duo still are out with concussions.(Photo by Mike Ehrmann/Getty Images
)
Eagles running back LeSean McCoy and quarterback Michael Vick did not participate in practice on Wednesday and their status for Sunday's game against Dallas is not certain.
"First of all, I want Mike to get healthy, head coach Andy Reid explained. "That's what I want him to do. I want to make sure he goes through that. I haven't gotten beyond that thinking right there. Just make sure he's alright [and] Nick continues, if he's in there, to play well. If I had to tell you today, you're probably going to see Nick again here. He's got to concentrate on getting himself better and ready to go until [Vick is healthy]. We'll cross all that other stuff as it goes. I want Michael to get healthy."
The chances that we see McCoy this week agaisnt the Cowboys?
"Yeah, probably a long shot," Reid admitted. "As we're sitting here today, I don't know if it's a long shot, but he's not ready today."
Reid said McCoy is still in Phase 1 of his recovery, and is unlikely to practice at all this week and Vick could be cleared to return as early as Thursday. If McCoy and Vick are ultimately ruled out, dynamic rookie Bryce Brown would be the starting running back and rookie quarterback Nick Foles would start for the third week.
Defensive Tackle Fletcher Cox also did not participate in Wednesday's practice due to a tailbone contusion but he does anticipate playing on Sunday night.
"Yes, I still expect to play Sunday,' Cox stated. "It's day to day. There is not a lot that I can do in the training room other than they treat it a little bit and that'll make it feel better."
Jason Avant who missed last weeks game against Carolina was back at practice on Wednesday.
Center Dallas Reynolds was a no-go on Wednesday, he has an ankle sprain that wouldn't allow him to practice. Evan Mathis practiced at center today and Danny Watkins who was also back and a full participant in practice after suffering ankle problems recently took reps at left guard.
Following practice, many Eagles players commented on the releasing of Jason Babin:
Nick Foles: "The one thing that I've learned about football is that it is a business. I love every teammate here, but it's a business and you just have to go with it. There's been guys that have been released before and we just have to come together. I talked to Babin earlier and I wished him the best of luck. That's just part of it and that's what I'm learning."
Fletcher Cox: "I've learned, as a rookie, that this is a business and things happen like that."
Evan Mathis: "It's an interesting situation. As players we have to trust any kind of situation like that when they're made by our coaches and management."
Mike Patterson: "I guess in a way you kind of expect something to happen. You could look at it that way if you want to but you just feel like the team is trying to make the best choice for us to win games. That's the only thing as a player [that] you look at it."
DeMeco Ryans: "It happens. Nothing really surprises me in the league anymore."
Trent Cole: "I was surprised and, like you said, it's the NFL. I've been in the league for eight years now and seen people come and go and it's just business. There's nothing you can really say. That's between him and the franchise and that's it. We're going to miss him. He was part of our d-line; we were tight. We're a close-knit group. He's a great player. He's a very aggressive player you want to have on your team. He's going to find another home."
Jeremy Maclin: "As of right now, the position that we're in, I don't think anything is a shock. I think we're kind of expecting the unexpected. Like I said, that's what they felt like was best for the team, so that's what they felt like they needed to do."
Wednesday Practice Report
Did Not Participate In Practice
Wednesday DT Fletcher Cox (tailbone), RB LeSean McCoy (concussion), RB Chris Polk (toe), C Dallas Reynolds (ankle), QB Michael Vick (concussion)
Limited Participation in Practice
Wednesday T King Dunlap (knee)
Full Participation in Practice
Wednesday WR Jason Avant (hamstring), WR Riley Cooper (knee), RB Stanley Havili (ankle)