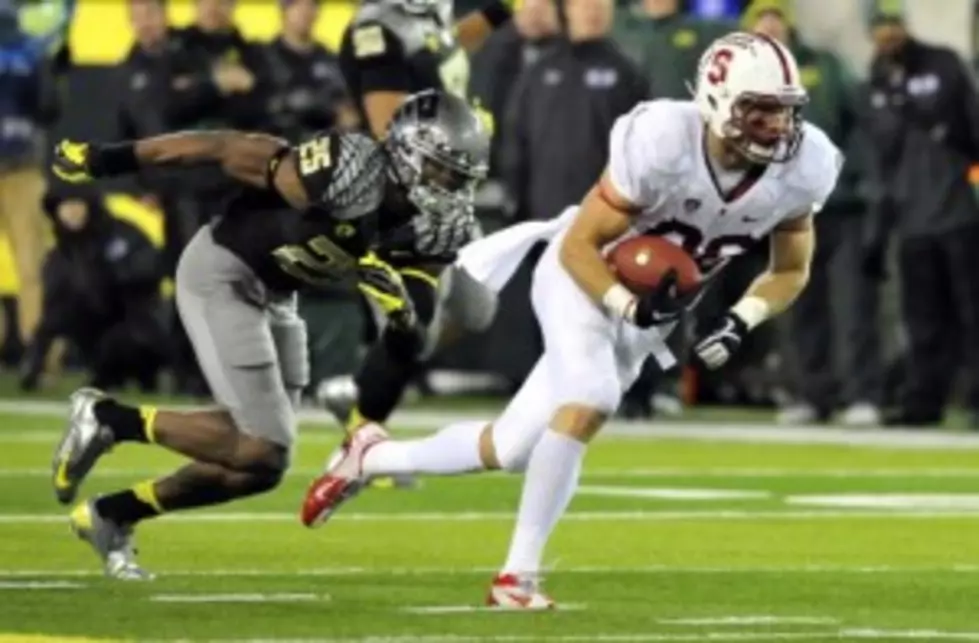 Eagles Pick Two More in Draft
Eagles selected Stanford TE Zach Ertz with the No. 35 overall pick. (Photo by Steve Dykes/Getty Images)
With their first selection of the second round, the Eagles selected Stanford tight end Zach Ertz with the No. 35 overall pick.
"He's just an outstanding prospect," said Eagles head coach Chip Kelly about Ertz.  "He's a mismatch nightmare if you get him isolated on a defensive back. He's very difficult to cover, just because of his size, but he's also too athletic to put linebackers on him."
Kelly was paying attention when Ertz, who replaced Coby Fleener and led the Cardinal in catches (69), yards (898), and touchdowns (6), averaging 13.0 yards per reception.  He torched the Ducks for 11 catches, 106 yards and 1 touchdown last season in a Stanford win over Oregon in 2012.
"Unfortunately, I know Zach personally," joked Kelly. "He actually caught the tying touchdown pass against us [while at Oregon] in our one loss of the season to Stanford."
Ertz creates a ton of mismatches in for defenses, combined with Brent Celek and James Casey, the Eagles have three legitimate players in the passing game and you can expect to see all three play together.
"We are going to go three tight ends in a game," explained Kelly.  "Now, if they go three linebackers, we spread them out and if they go DB's, we smash you. So, pick your poison."
While Ertz is a poor blocker and may never be an asset in the run game, he knows he can add another dimension to the Eagles offense.
"I think I'm a very good route runner, I have pretty good ball skills, I think I play fast and I think I'm a complete tight end," said Ertz. "However the coaches use me, I'll do great at and I'm going to work very hard at it."
The Eagles also selected LSU defensive tackle Bennie Logan with the No. 67 overall pick, spending most of his time playing the three-technique tackle in a 4-3 look.
He recorded 12.5 career tackles for loss and five sacks, but his motor has been questioned.  However, he could be a strong third tackle as part of a rotation. It will be interesting to see where Logan, who is blessed with nice length, plays in the Eagles' new three man front.
"We think he has the ability to be a three-down player,' said Eagles GM Howie Roseman.  "I think he's stout against the run but I also think on third down he can be an inside pass rusher for us. So that's what we really liked about him and getting him in [the third round], we were really fortunate. We had him in the second round and we were fortunate that he fell to us."
One of the things the Eagles lied about Logan was that while LSU he was used in a few different ways, but will be used mostly as an interior player here in Philly.
"He was a versatile player for them (LSU)," said Roseman.  "They are multiple as well, so they were able to move him around. He could play very well. He's stout against the run. He can give you some inside pass rush. He can push the pocket. He can work the edges. So, he's an interesting guy [and] we feel fortunate to get him here."
So after grabbing a pair of offensive players in the first two rounds, the Eagles went for a defensive player in the third round and will select next in the fourth round, pick 101 overall.
Could Syracuse quarterback Ryan Nassib or Arizona's Matt Scott be on their draft board at the spot?  A few other names to look at are center/guard Barrett Jones of Alabama, defensive tackle Jesse Williams, also from Alabama and T.J. McDonald the USC safety.