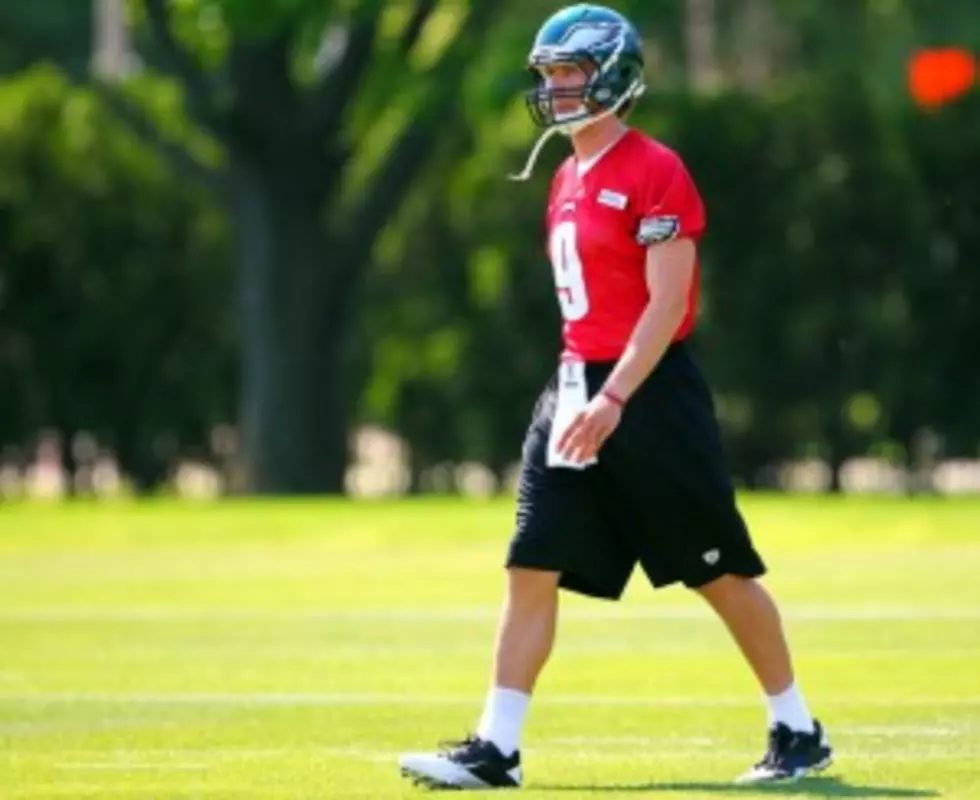 Eagles Rookie Impressive in Debut
Andy Reid thought Nick Foles had a strong performance in Thursday's preseason opener save some obvious mistakes, but the Eagles' coach didn't see enough to make any decisions about moving him up the depth chart – at least not yet.
"He's progressing. He did some nice things," Andy Reid said following the game.  "I mentioned about keeping your eyes down the field on the one long ball to [WR Damaris] Johnson where he had to move and then make the throw. That just came very natural to him. He felt the pressure, he scooted to the right, kept his eyes downfield, knew he had the receiver and gave him a catchable ball."
Foles started and played through the third quarter.  That will change starting this week when the Eagles travel to New England for their second preseason game on Monday, but Reid will not commit to Foles being the back-up just yet.
"You know me and you [media] have been around me long enough to know that everything is open," explained Reid.  "I keep it wide open at all positions. Whoever is playing the best is going to play. We keep it nice and simple that way."
Foles left a mostly-strong impression on Thursday.
He showed a strong arm while completing 6-of-10 passes for 144 yards and two touchdowns. Reid noted that Foles kept his eyes down the field and showed good arm strength and a surprising amount of mobility.  Meanwhile Kafka was intercepted by Pittsburgh's Al Woods while attempting a short pass, but Eagles offensive coordinator Marty Mornhinweg isn't ready to panic.
"I know Mike Kafka pretty well and exactly how he can help this football team and exactly how he would operate in a league game," Mornhinweg stated.  "He's done just a little bit of that for us and he's been here for quite some time. He's a talented, young, sharp, really sharp player. I've certainly got great confidence in Mike in the role that he's in at this point."
Kafka finished 5 of 9 for 31 yards and an interception.
"I will tell you: he does have some work to do," admitted Mornhinweg.  " However, this setback, because of his experience with our offense, is not going to come into any decision-making type of process because we know exactly what his strengths are and how he can help this football team. I don't see this as a knockback for him. I see this as a, let's get healthy and we're back rocking and rolling."
While Mornhinweg stated there is no decision to be made on the back-up quarterback, criticism of Kafka, the 2010 fourth-round pick out of Northwestern that he is more of a dink-and-dunker and lacks the ability to get the ball deep to DeSean Jackson or Jeremy Maclin could be fair.
While Kafka was mostly conservative with his throws, Foles was a bit more aggressive, most notably on a 70-yard touchdown pass to Darmaris Johnson.  Foles often was avoiding pressure before finding an open receiver
"His accuracy has been really good. If you see an errant ball on occasion, in most of those cases, it's because he was unfamiliar with the play and he wasn't staying true to his read or his progression and then all of the sudden, he has to throw the ball away or the pass-rush gets to him and he's errant because he wasn't quite quick enough," Mornhinweg said.  " But I have felt very comfortable with him when he knows exactly what he's doing in a particular play. I think he's executed at a high level. His challenge is the whole offense and getting all these reps because he's quite a natural player it appears."
Notes: Eagles RCB Nnamdi Asomugha has no concussion symptoms, and is day-to-day...Jeremy Maclin practiced fully at Eagles camp Sunday after straining his hamstring in warmups ahead of Thursday's preseason opener...Eagles rookie SLB Mychal Kendricks has not worked with the nickel defense so far training camp...Eagles 2011 second-round pick Jaiquawn Jarrett was demoted to the third-team defense as the team resumed training camp practice on Sunday.