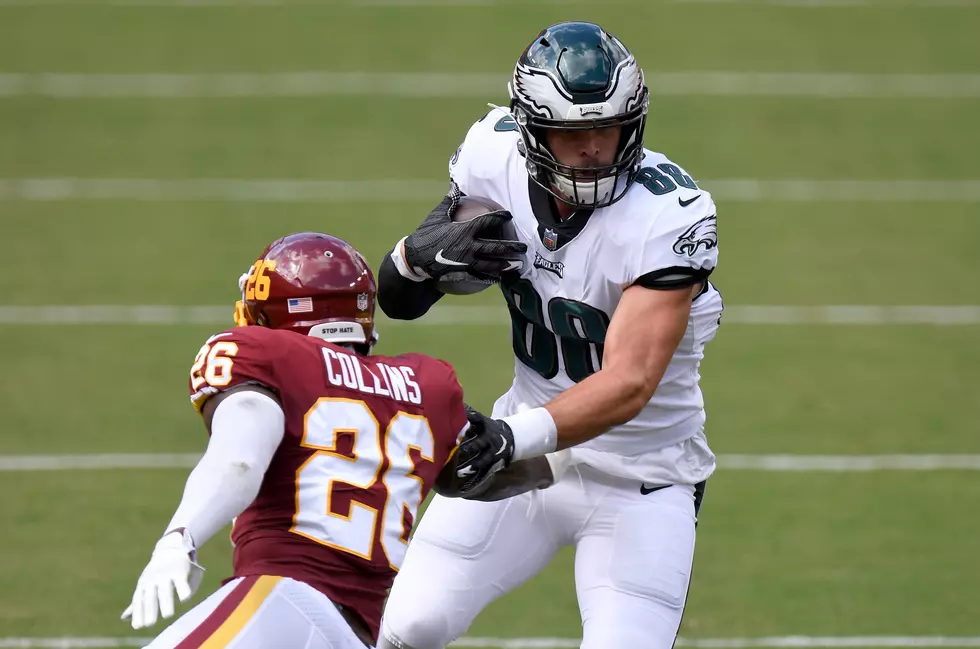 Eagles Starting to get Healthy Ahead of Dallas Game
Greg Fiume/Getty Images
The Eagles are starting to turn the injury corner.
The team has been without both tight starting tight ends, Dallas Goedert and Zach Ertz, the past few weeks, but getting one of them back would really be a big lift to the Eagles offense.
Goedert seemed poised for a big season, catching eight passes for 101 yards and a touchdown in the Eagles' Week 1 loss to Washington. He had eight targets in the Week 2 loss to the Rams, before he went down with an ankle injury in Week 3.
Today they activated the 21-day practice window on Goedert, putting him one step closer to returning to the field.
"He's doing extremely well," Pederson said. "I'm excited to get him back and sort of integrated into practice, even if it's on a limited basis. We just got to see where he is each day and see where his comfort level is and how he responds with a little more of an intense I guess work out on his injury."
Also set to return to the practice field is rookie wide receiver Jalen Reagor.  He was activated from IR earlier this week and while its not a given that he will play, there have been some reports suggesting that he could be ready for Sunday night, after missing the past few weeks with a thumb injury.
"Jalen is going to practice," Eagles head coach Doug Pederson said today. "He is going to be out there today. He is another one that we need to get back into the offense and see where he is at the end of the week."
Pederson also said right tackle Lane Johnson, running back Miles Sanders and defensive tackle Malik Jackson are all day-to-day.
The head coach also added that rookie tackle Jack Driscoll and veteran Jason Peters are both close to returning. He added that Peters, who has been cleared to return to practice, would play either left tackle or right guard when he is ready to return. 
Wide receiver Alshon Jeffery's foot is now cleared, but he is still being slowed by a calf injury that kept him out of last weeks game against the Giants. 
"His foot has been cleared to practice," Pederson said. "But he sustained a calf injury a couple weeks ago so he's still kind of nursing that and so he's more day-to-day. When he's healthy, he'll be out there and ready to go."
Finally some good news on the injury front as the Eagles hit the midway point of the season.
Enter your number to get our free mobile app
Eagles Head Coaching Wins All-Time