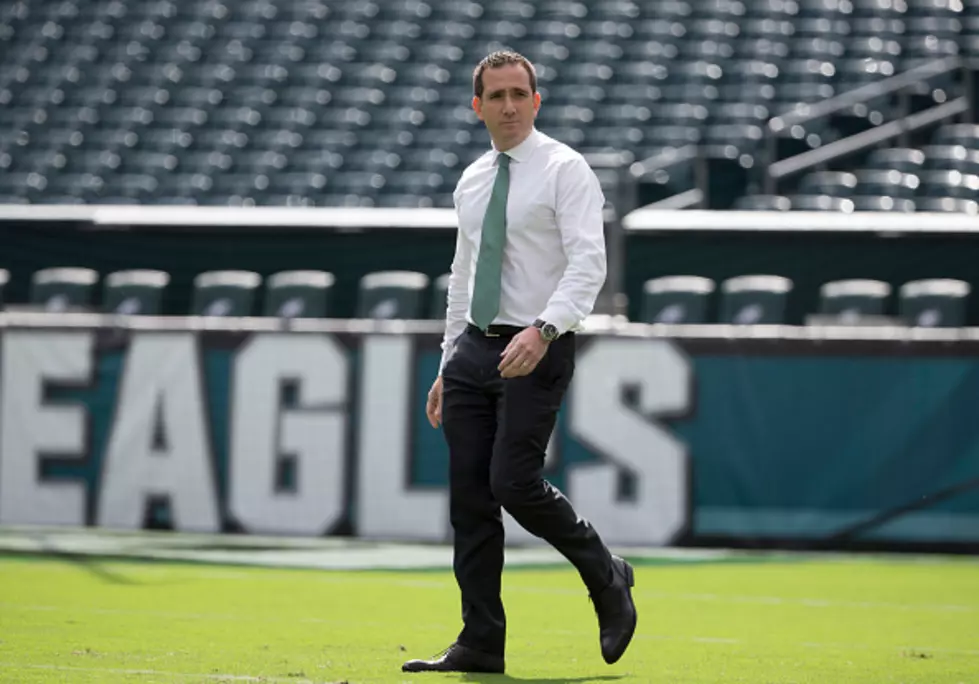 Explaining the Eagles' Inaction at WR
Photo by Mitchell Leff/Getty Images
PHILADELPHIA (973espn.com) - On the surface, it does make some sense.
The Eagles have a significant need at receiver in a year where free agency is pedestrian outside of Amari Cooper and the draft is flush with potential first-round talents, the deepest class in recent memory.
Philadelphia did try to send a second-round pick to the then-Oakland Raiders at the 2018 trade deadline for Cooper and was outbid by division-rival Dallas, which sent a first-rounder out west for one of the best route-runners and most dynamic players in the league. Once Cooper hit free agency there was at least some concern in North Texas that the Cowboys were cap-strapped and would be unable to keep certain players -- a truism but Byron Jones and Robert Quinn were sacrificed to keep Dak Prescott and his top WR together.
The Eagles were all-in on Jones at cornerback, who ended up in Miami, but never serious about Cooper this time around because of the price tag, which ended up at five years and $100 million with $60M or so in guarantees.
Once the Cooper domino fell the other WRs were far more pedestrian with most centering on two who came off the board yesterday as potential options for the Eagles because of their speed -- Robby Anderson and Breshad Perriman.
The Eagles have had some interest in Anderson over the past two years, taking the New York Jets' temperature at the trade deadline. According to an NFL source, Anderson's camp was hoping to be in the $12M to $13M AAV category in free agency, a market that never developed and the Eagles were certainly not interested in.
If things came down to a much more manageable level, say $7M to $8M, Howie Roseman likely would have re-considered but a reunion with his former Temple coach in Carolina, Matt Rhule, got Anderson a $10M AAV.
Perriman, ironically a first-round bust in Baltimore who some believed the Eagles should have taken instead of Nelson Agholor in the 2015 draft, revitalized his career in Tampa Bay last season. He landed with the Jets as a replacement for Anderson on a one-year, $8M deal which would have been palatable enough from a monetary standpoint for the Eagles.
The wild card was the trade market where two top-of-the-line receivers were in the move, All-Pro DeAndre Hopkins for pennies on the dollar from Houston to Arizona and Stefon Diggs, the former Minnesota star who tortured the Eagles cornerbacks last season, who generated a first-round pick and more from Buffalo.
Even the top WRs in this draft -- Oklahoma's CeeDee Lamb and the Alabama duo of Henry Ruggs and Jerry Jeudy, are unlikely to develop into what Hopkins is, and will likely need at least some time to match Diggs-level production.
Yet the Eagles never got seriously involved in discussions for either player although the reasons were different. In Hopkins' case, Philadelphia made a call but it was a precedent issue because he wanted a new deal with three years left on his current one, an untenable way of doing business for Howie Roseman.
As for Diggs, that deal came together quickly with really only New England and the Bills involved after some prodding from the player on social media. It was the rare case Philadelphia didn't even bother with a feeler because keeping away a volatile personality away from Carson Wentz was more important.
The overall shift in thinking, though, is directly related to the draft and the idea of acquiring a talented young player who can grow from Day 1 with Wentz, instead of a proven commodity who has had success in other offenses with other QBs and may start the blame game during the inevitable ups and downs of an NFL season.
Eschewing anything meaningful on the open market, however, does virtually pigeonhole Rosmean into taking a WR in first-round next month turning the oft-repeated cliche of "best player available" into "best receiver available."
-John McMullen covers the Eagles for SI.com. You can listen to John every day at 4 ET on ESPN 97.3 in South Jersey and reach him at jmcmullen44@gmail.com or on Twitter @JFMcMullen