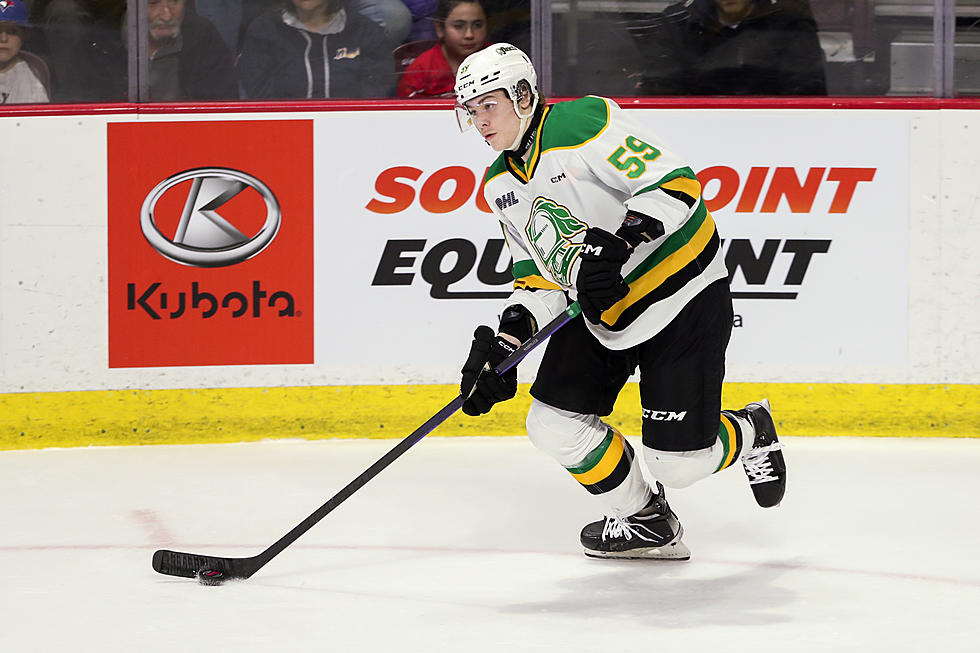 Flyers Focus on Upside with Bonk
Dennis Pajot/Getty Images
By the time the second pick of the first round for the Flyers rolled around, the high of selecting a player with the potential of Matvei Michkov was still alive and well. 
If Michkov is a swing for the fences, the selection the Flyers made at 22nd overall is more of a conservative pick.
Oliver Bonk, a right-handed defenseman from the OHL's London Knights, was the pick.
There were other prospects available that may have more results entering the draft. There may have been forwards who can help further build the foundation. But the Flyers have also been outspoken about building from the blue line. It's why they added Bonk to the fold to join another right-handed defenseman acquired this offseason, Helge Grans.
Many people focus on goal totals or point production and turn that into evaluations of a player's potential. There are additional roles needed to build a contending team. Steady defense is one of them.
Bonk, the son of former NHLer Radek Bonk, is an upside play for the Flyers. He provides consistency in the defensive zone. He could amount to something that becomes a solid part of the defensive foundation. It's not going to be a sexy pick, but it can be an effective one.
"Oliver's a defenseman we're very high on," assistant general manager Brent Flahr said in a statement. "A coveted, right-shot defenseman. He's very cerebral, an excellent puck mover, solid defender and he just steadily improved throughout the season. He's a good-sized kid, but he's just growing into his body and we feel he's just scratching the surface at this point."
And that's the reason why the Flyers feel they can focus on the upside. In a rebuild, several years away from competing, they have time to see just how much Bonk is just scratching the surface. They have time to see where he fits.
Considering how important stability is for the blue line, Bonk could become a really solid fit. The Flyers have already shipped Ivan Provorov to Columbus in a trade and are preparing to send Tony DeAngelo in another. Travis Sanheim's name is in trade rumors. Justin Braun retired. 
Cam York is really the focal piece of the Flyers future on defense. They have Ronnie Attard and Egor Zamula in the system already with brief NHL experience. Emil Andrae just signed his entry-level contract last season. Grans will also add to that group trying to form a core. But it's still a thin blue line that needs to add as many pieces as possible. Taking Bonk provides another component to that.
So while the Flyers had options, they chose to turn to the area that they feel is the foundation of success in the NHL: defense. They chose the upside of a budding defensive prospect in hopes that it will come to fruition. Now the real work begins in developing Bonk to his fullest potential.
Kevin Durso is Flyers insider for 97.3 ESPN. Follow him on Twitter @Kevin_Durso.
Philadelphia Flyers Uniforms Through The Years