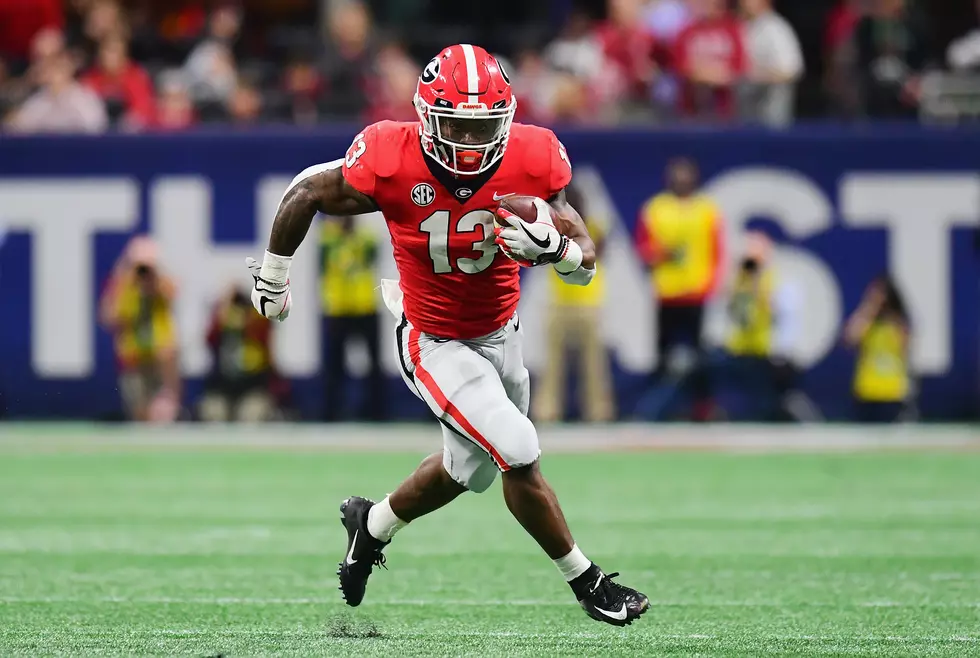 Four Dark Horse Candidates to Make Eagles' 53-Man Roster
Scott Cunningham, Getty Images
The names change every summer, but a player or two on each team across the league is likely to rise from relative obscurity to put themselves in contention for an elusive roster spot. These players -- often undrafted rookies, late-round picks or veteran journeymen -- enter training camp largely as afterthoughts, but it's their consistency, attention to detail, and resolve that enable them to defy the insurmountable odds. Here are four dark horse candidates with an outside chance of becoming this year's roster surprise.
Elijah Holyfield, RB, Georgia
You may remember that Holyfield was signed to the Eagles' active roster on New Years Eve ahead of the playoff run. While he didn't see game action, he's had months to delve into the playbook, which gives him a considerable advantage over undrafted free agent hopeful Michael Warren -- and the argument can be made that Holyfield possesses greater upside than recently re-signed Corey Clement.
Holyfield is a powerful runner between the tackles, equipped to thrive in short-yardage situations. His punishing running style, coupled with outstanding contact balance navigating through traffic and physicality in the open field, makes Holyfield an ideal complement to Miles Sanders and Boston Scott. The 22-year-old lacks experience in the passing game, but made gradual strides as a pass-catcher last summer with the Panthers.
Still considered a raw, albeit talented prospect, if Holyfield can continue to demonstrate encouraging signs of development, his physical tools may ultimately be too enticing to ignore.
Luke Juriga, C/G, Western Michigan
Juriga, a four-year starter at Western Michigan, was a highly coveted prospect following the 2020 NFL Draft. In fact, the former Bronco received $116,000 in guaranteed money, per NJ.com's Mike Kaye.
Juriga, who played right guard his first three seasons before moving to center in 2019, parlayed a decorated collegiate career into an invite to the prestigious East-West Shrine Bowl. While Juriga impressed with a strong week in St. Petersburg, he undoubtedly faces an arduous path to the 53-man roster in Philadelphia. His chief competition is expected to come from versatile second-year pro Nate Herbig – who surprisingly made the steep climb to the final roster in similar fashion last season.
Raequan Williams, DT, Michigan State
I was a bit surprised to see Williams slip through the cracks on draft weekend. He started 42 consecutive games in the trenches for a formidable Michigan State defense, was coming off of a five-sack senior campaign as an interior defender, and represented himself well at the East-West Shrine Bowl.
Yes, Fletcher Cox, Javon Hargrave, Malik Jackson, and Hassan Ridgeway sit atop the defensive tackle ranks, but injuries have ravaged the position in recent years, making a compelling case to carry five on the 53-man roster. Whether it has been Destiny Vaeao, T.Y. McGill, Bruce Hector, or Anthony Rush, the Eagles have had to rely on deep reserves in critical spots the past few seasons. The team could opt to roster Williams as an intriguing developmental prospect, rather than risk exposing him to waivers.
The former Spartan will likely be in a hotly contested position battle with Anthony Rush and Albert Huggins throughout the summer -- for a spot that may or may not even exist -- but Williams has the skill set to evolve into a contributing rotational defender in time.
Riley was a defensive back that stood out to me when assessing the position in the months leading up to the draft, and the toughness, instincts, and football intelligence showcased on tape were confirmed when I saw him in-person at the East-West Shrine Bowl.
A 2019 Jim Thorpe Award semifinalist, Riley started all 13 games for the Knights in 2019, compiling 79 tackles (8 for loss), four sacks, six passes defended, and three interceptions. All told, Riley's gaudy college production included 201 tackles (17.5 for loss), 21 passes defended, 6.5 sacks, seven interceptions, three forced fumbles, and two fumble recoveries.
At six-foot, 205 pounds, Riley has the intangibles, ball skills, and range to play anywhere on the back end. If Riley asserts himself on special teams, the versatile playmaker has an outside shot of cracking the final roster.
Enter your number to get our free mobile app
South Jersey Athletes Who Played/Coached in NBA and MLB